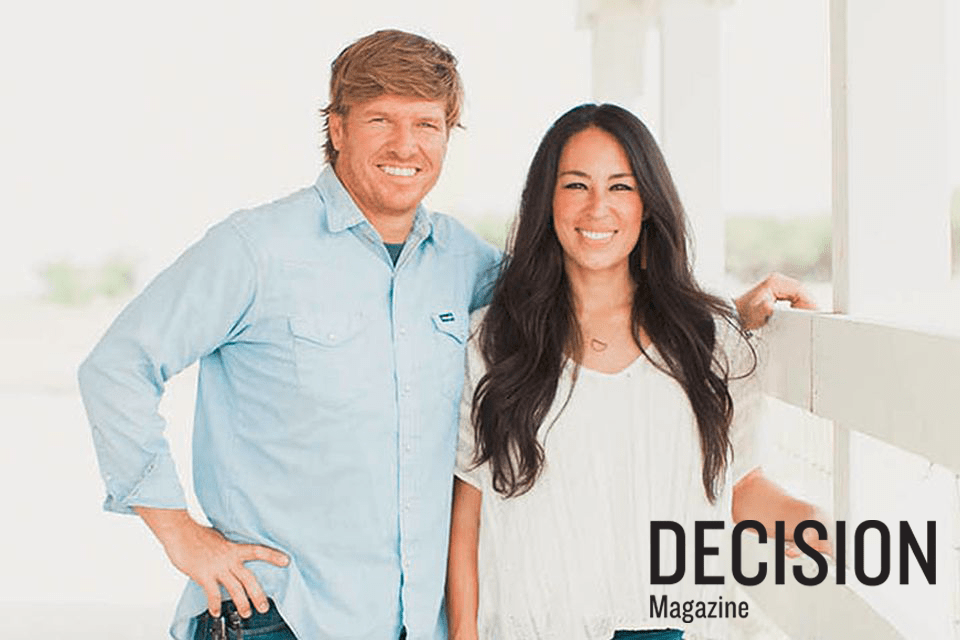 Since it first aired in 2014, popular home improvement show Fixer Upper has garnered as many as 8 million viewers per episode, making it one of the highest-rated shows of its kind.
As a result, husband-wife duo Chip and Joanna Gaines, the stars of the show, have cultivated quite a following.
Chip's sense of humor and Joanna's impeccable eye for design are what has attracted this following, but the true foundation beneath each home they build or renovate is their faith.
The Gaineses do not shy away from faith on television. In one episode, Chip and their four children prayed over the family farm. In another, they renovated a home as a surprise for some missionary friends who returned stateside for furlough.
Subscribe to Decision
Get your own subscription, or renewal, or bless someone by giving Decision Magazine as a gift.
SUBSCRIBE NOW
Pastor and author Max Lucado was even featured this season. The Gaineses, who live in Waco, Texas, worked on a renovation project for his newlywed daughter, and Lucado and his wife wanted to make a contribution to the home: a piece of art bearing a poem Lucado had written and read for the young homeowners' recent wedding.
"We have been surprised at the impact of our faith through the show," said Chip. "We haven't been overtly evangelical, but the rich feedback we have received on family and love all source from our faith. Jesus said the world would know His disciples by their love for one another, and we've glimpsed this in practice and strive for it every day."
Chip's faith journey can be traced back to a Billy Graham Crusade the year after he was born.
"The impact that man has had on my life is immeasurable," Chip said.
In 1975, his mother, Gayle, attended a Billy Graham Crusade in Albuquerque. Gayle was changed that night, and Billy Graham's influence on her would extend to the rest of the family.
"Even though my mom had been baptized at the age of 8, she decided to go forward to answer the invitation. My parents made attending church a priority, (which) strengthened their marriage, and they involved themselves in a young couples Sunday school class."
While Mr. Graham influenced Chip's family life, it was another Graham family member who personally mentored him in living out his faith: Danny Lotz, Mr. Graham's late son-in-law.
Danny Lotz, one of Chip's mentors in the faith, with his wife, Anne Graham Lotz. Danny Lotz went to be with the Lord on Aug. 19, 2015
As a young man, Chip—who attended Baylor University, as did Lotz's three children—spent a week in the home of Danny and Anne Graham Lotz.
"He wasn't a pastor, but he was influential in showing me how to live out my faith, even in a secular environment," Chip said. "He impacted my life by spurring me to shape my choices with my faith and to walk in my faith regardless of my 'calling.'
"He challenged me to process what God was doing in my life and to train my mind with God's truth. I learned so much from him, and he always spoke so highly of (Mr. Graham), who he said talked the talk and walked the walk. So, to this day I think about talking the talk and walking the walk because of Billy Graham and Danny Lotz."
Faith-Building Obedience
Some years after his time with Lotz, Chip married Joanna. They were expecting their second child when they sensed God directing them to close Magnolia Market—the home furnishings store they opened together—to focus on raising their children.
Joanna remembers feeling as though her dream was dying as they closed up shop on the last day.
But more vividly than her sadness, she remembers the peace she felt when God reminded her—on that day—to simply trust Him with her dreams, and with Magnolia Market.
"God taught me to study the Word and believe it, even when it hadn't been fulfilled yet. I really had to cultivate a place of faith that I never had before. I had to trust Him as He would speak His promise to me," she explained.
"Jesus said the world would know His disciples by their love for one another, and we've glimpsed this in practice and strive for it every day."
-Chip Gaines
"This trust brought peace, although my circumstance hadn't yet reflected His promise. 
His Word doesn't return void, and God was working in my heart to establish deeper levels of trust that I now look back on and am thankful for."
Some time later, a production company heard about the Gaineses' home renovation business and Joanna's background in design—and a show was born.
God has taught the Gaineses to trust Him with everything—and to make Him their everything.
"Our family has made a commitment to put Christ first, a lifestyle our parents modeled for us very well," Chip said. "They showed us how to keep our marriage and family centered around God."
The Off-Camera Gaineses
The Gaineses have served at Antioch Community Church throughout their entire marriage—and Joanna has attended there since childhood.
"They genuinely love Jesus," said Antioch pastor Jimmy Seibert. "They've also been very involved with the local body of believers—leading small groups, discipling people, going on short-term mission trips. They have always been wholehearted in the way they serve through the church and in the community."
The Gaineses' time and energy have shifted as the show's popularity has increased, but they stay connected with their church family. Seibert and others within their fellowship of believers see Chip and Joanna as ministers of the Gospel through what they do with their public platform.
"Every layer of society counts—healthcare, education, sports, entertainment. Chip and Joanna are literally just living out what they preach," Seibert said.
"They are givers by nature. If we need anything, they are quick to find out how they can help, whether financial or practical."
Chip and Joanna contribute to the well-being of the church and the community by mentoring young Waco residents and employing many members of Antioch.
They are in a small group, and are both in accountability and prayer groups.
"Chip and Joanna were faithful before they became famous, and I believe they will be after their popularity fades," Seibert says.
Joanna sums it up this way: "Whether you are staying home with your children and raising … babies or you are the CEO of a multimillion dollar company, let God speak into your life. I think that is the key—fixing our eyes on Jesus." 
 ©2016 BGEA
Give To Where Most Needed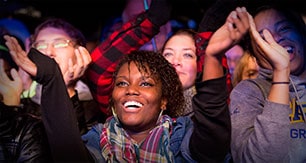 Help us fulfill our mission of proclaiming the Gospel of the Lord Jesus Christ to all we can by every effective means available to us and by equipping others to do the same.