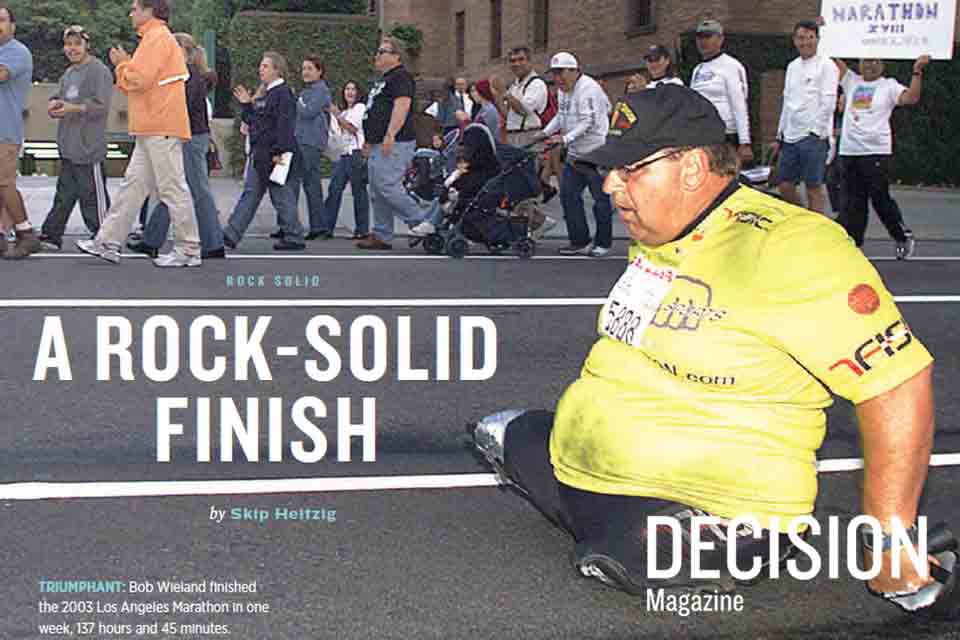 Bob Wieland came in dead last in the 1986 New York City Marathon—19,413th place. His time? Four days, two hours, 47 minutes and 17 seconds. Here's the thing, though: Wieland has no legs, due to a Vietnam mine. A leather saddle strapped beneath his torso, knuckles padded, he used his arms to propel himself forward at a rate of less than one mile per hour to the finish line. "I lost my legs," he said, "but I didn't lose my heart." The Apostle Peter came to the end of his race in a similar manner—beset by difficulties but full-hearted, with his eyes toward Heaven.
"May the God of all grace, who called us to His eternal glory by Christ Jesus, after you have suffered a while, perfect, establish, strengthen, and settle you" (1 Peter 5:10). Over the past year, we've looked at many great truths Peter wrote about. In these last verses of his first letter, Peter summarized six key truths we should take with us through life—truths that will help us finish strong in our own races.
GOD'S CHARACTER
Peter called God "the God of all grace." He didn't call Him the God of all justice or fairness, though He is. He didn't refer to Him as the God of all truth or all righteousness, though God is certainly both of those. Peter wanted to focus on God's amazing grace. Why? Because too often we forget about that covenant of unmerited favor with which God has blessed us. The Apostle John wrote that "the law was given through Moses, but grace and truth came through Jesus Christ" (John 1:17).
Subscribe to Decision
Get your own subscription, or renewal, or bless someone by giving Decision Magazine as a gift.
SUBSCRIBE NOW
Under the law, God demands righteousness from man; under grace, God gives righteousness to man. Under the law, righteousness is based on our good works; under grace, it's based on His completed work on the cross. Under the law, it only takes one sin to make you a sinner; under grace, it only takes one Savior to fix it all and make you a saint. Grace is God's favor to unfavorable people. It's based not on what we deserve but on what Jesus did.
GOD'S CALLING
And God's grace extends into eternity. Peter wrote that He has "called us to His eternal glory" (1 Peter 5:10). Because God covers you in His grace, He can call you to His glory. Knowing that lets you see beyond the immediate to the eternal.
Sometimes we forget this. I was talking about Heaven with a pastor friend of mine, and as we discussed the millennial kingdom of Christ, he paused and looked at me. "We're going to get to see that. That's actually going to happen!" We'd both studied about the kingdom, we've taught it, we know what other scholars have said about it, but it struck us both at that moment. "This is real! We're actually going to experience all of these things." C.S. Lewis said, "Christians who do most for the present world are just those who thought most of the next … Aim at Heaven and you will get earth 'thrown in': aim at earth and you will get neither."
When we look beyond what Paul called "our light and momentary troubles," we can see how these troubles are "achieving for us an eternal glory that far outweighs them all" (2 Corinthians 4:17, NIV). It's going to get a lot better. Beyond all the hurt is Heaven.
GOD'S CONDITION
In His grace, God has called us to glory with Him, but there is a condition—we must do this "by Christ Jesus" (1 Peter 5:10). God's grace and glory are available to you, but they aren't automatic. You don't enjoy them just because you're alive. You don't get to Heaven just by being born; you get to Heaven by being born again. Jesus said, "I am the way, the truth, and the life. No one comes to the Father except through Me" (John 14:6). Heaven is exclusive.
At some of the funerals I've attended, you'd think by listening to the officiating preacher that all you have to do to get into Heaven is be born—live how you want, make any choices you want, and at the end, we'll find some preacher to push you into Heaven by saying nice things about you. I've seen the looks on people's faces wondering if they're at the right funeral—That's not the guy I knew! He wouldn't have given God the time of day.
With Jesus, you get the whole package—abundant, Spirit-filled life now and Heaven to come—but these things only come through Christ.
GOD'S CURRICULUM
Notice God's curriculum: Peter wrote that it's by God's grace and calling and according to His condition that you'll get to Heaven, but only "after you have suffered a while" (1 Peter 5:10). Suffering is part of God's curriculum to mature us. Every person experiences pain, but only the child of God experiences purposeful pain. For the believer, the truth of Romans 8:28 helps us find our way through hard times: "All things work together for good to those who love God, to those who are the called according to His purpose."
Remember two things: God is sovereign, and your suffering is only for "a while." The devil may be attacking you, but God is allowing it and using it to grow your trust in Him and mature you in your faith. And, as hard as your suffering may be, it won't last forever. God has called you to His "eternal glory" (1 Peter 5:10). Whatever hap-pens in this life, it's only temporary, especially compared to eternity.
GOD'S COMMITMENT
As you contemplate God's purpose for your suffering, bear in mind His commitment. If He lets you suffer for a while, it's for a purpose—and afterward, He will "perfect, establish, strengthen, and settle you" (1 Peter 5:10). Peter stacked up all these similar words to make a point: Though Satan wants to wear you down and weaken you through these trials, the opposite will actually hap-pen: you will be strengthened and established in your faith.
GOD'S COMPENSATION
Finally, Peter encouraged us with God's compensation. You might be wondering, What does God get out of giving us grace to live, calling us to glory, and, through Jesus Christ, providing us with eternal benefits and current refinement through our own experiences? Glory. "To Him be the glory and the dominion forever and ever. Amen" (1 Peter 5:11).
When it's all over and you're in glory, you'll be able to look back and say that everything God did and allowed was perfectly justified. People like to say they'll have questions for God when they get to Heaven, but once we see the big picture, I think we'll get it; I think we'll be able to respond to Him with praise and glorify His name.
When you think about making a rock-solid finish—finishing the race of life with strength, honor, dignity and integrity, like Peter did—you'll probably realize you've had a few missteps along the way. We all fall short. But God's grace is so much bigger and richer than any mistake we've ever made or could make.
Let His undeserved favor flow into your heart, healing and nurturing you as you run your race. And take heart! The One who loves you and offers forgiveness and strength "has begotten [you] again to a living hope through the resurrection of Jesus Christ from the dead" (1 Peter 1:3). D ©2015 SKIP HEITZIG
UNLESS OTHERWISE NOTED, SCRIPTURE QUOTA-TIONS ARE TAKEN FROM THE HOLY BIBLE, NEW KING JAMES VERSION. THE VERSE MARKED NIV IS TAKEN BY PERMISSION FROM THE HOLY BIBLE, NEW INTERNATIONAL VERSION, ©1973, 1978, 1984, 2011 BY BIBLICA, INC.® USED BY PERMISSION. ALL RIGHTS RESERVED WORLDWIDE.
Give To Where Most Needed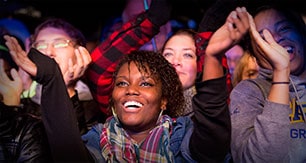 Help us fulfill our mission of proclaiming the Gospel of the Lord Jesus Christ to all we can by every effective means available to us and by equipping others to do the same.