2020 has been an interesting year, to say the least. For many, it may be hard to find things to be thankful for this year. Perhaps that describes you after a season of coronavirus, societal unrest, political divisiveness and economic upheaval.
While you may not be in a very thankful mood, the Bible has some incredible things to say about the importance of thankfulness in any and all circumstances. No matter your current situation, gratitude is key to your walk with Christ.
Why should we give thanks?
First, we should give thanks because the Bible repeatedly instructs us to give thanks. It's amazing how many verses offer insights or guidance, while simultaneously highlighting the importance of gratitude. In Colossians 3, where Paul is describing the character of those who have placed their faith in Jesus Christ, he states, "And let the peace of God rule in your hearts, to which also you were called in one body; and be thankful." (3:15) A couple verses later, Paul adds, "And whatever you do in word or deed, do all in the name of the Lord Jesus, giving thanks to God the Father through Him." (3:17). As if to reinforce the importance, he goes on to say, "Devote yourselves to prayer, being watchful and thankful." (4:2)
To summarize, as a Christian you should let the peace of God rule in your heart, let your every action honor the Lord, and devote yourself to prayer … and be thankful!
Second, we should give thanks because it is warranted regardless of our situation. 1 Thessalonians 5:16-18 says, "Rejoice always, pray without ceasing, in everything give thanks; for this is the will of God in Christ Jesus for you." While it's easy to become bogged down in our daily struggles, God has offered a better path.
In fact, this short passage perfectly encapsulates a plan to embrace the love of the Father and turn away from the despair of the world. First, rejoice in God every moment of every day. Hard times come, but God is with you. Second, enter into God's presence in prayer … at all times! Let it be a way of life. Third, be thankful for God's many blessings in your life.
Finally, we should give thanks because we have the utmost reason to be thankful. We serve an everlasting God who loves us so much that He paid the ultimate sacrifice so we may spend eternity with Him. We may experience hardship on earth, but that will one day fade in the light of His glory. 1 Chronicles 16:34 says, "Oh, give thanks to the Lord, for He is good! For His mercy endures forever." His mercy doesn't endure for a day or a year or even a lifetime. The mercy of God – exemplified by Jesus' death and resurrection – is the same today as it was in the Old Testament, and will be the same long after the darkness of this world is behind us.
My friends, these few verses only scratch the surface of what the Bible has to say about thankfulness. While many are desperate for hope, we have so many reasons to show gratitude. This Thanksgiving, I invite you to examine your life, your faith, your past and your future.
Rest in God's presence and thank Him for His blessings.

Will Graham
Give To Where Most Needed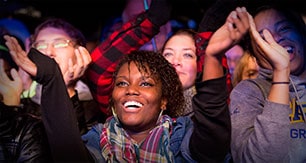 Help us fulfill our mission of proclaiming the Gospel of the Lord Jesus Christ to all we can by every effective means available to us and by equipping others to do the same.