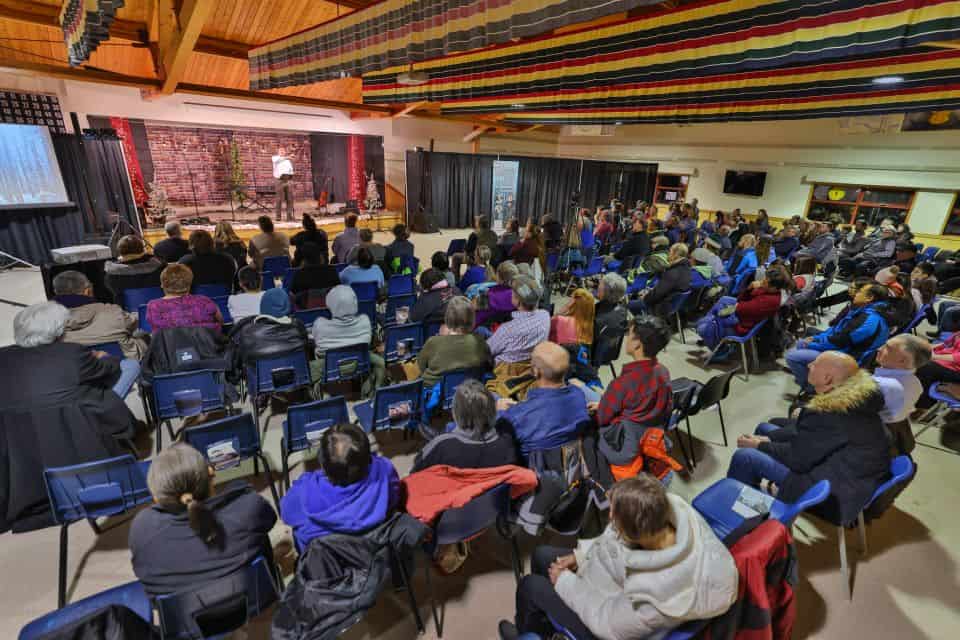 A terminal illness didn't stop David* from making his way through the frigid, dark winter of Hay River, Northwest Territories, to attend the third and final event of Will Graham's Northern Canada Christmas Tour.
David didn't know it, but he had an appointment with God.
"I wasn't supposed to make it even this long," said the 58-year-old brain cancer patient, with surprising calm. "I surprised the doctors."
"It takes guts to take a stand for Christ. But you'll never regret it. Don't let this moment slip by."
—Will Graham
Diagnosed with brain cancer in January, David struggled through treatments until connecting with Kevin,* a Christian who helped him out and invited him to attend the final stop of the November-December tour, which included evangelistic events in Fort Chipewyan, AB, and Fort Smith, NWT.
Subscribe to Decision
Get your own subscription, or renewal, or bless someone by giving Decision Magazine as a gift.
SUBSCRIBE NOW
David listened carefully as Will proclaimed the Good News: "The wages of sin is death, but the free gift of God is eternal life in Christ Jesus our Lord" (Romans 6:23, ESV).
"It takes guts to take a stand for Christ," Will told the 165 people in attendance at Chief Lamalice Complex. "But you'll never regret it. Don't let this moment slip by."
David didn't. After Will asked people to respond to the Gospel by leaving their seats and coming forward, David, who was sitting with Kevin, simply stood up and—without saying a word to Kevin—silently went forward.
"Will said he'd made a lot of mistakes, and it was God who helped him," David said later. "I thought He could help me, too."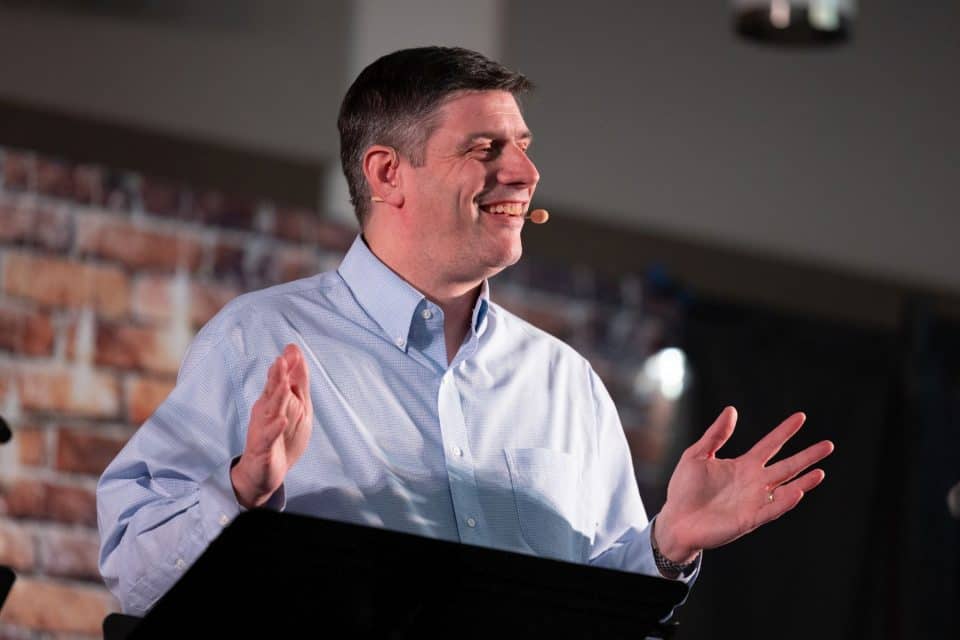 Separated from his wife and estranged from their adult children, David knew he'd made a lot of mistakes in life. But with this life drawing to a close, he sensed the need to make sure there would be a good life to come. A life in Heaven with His Lord and Savior.
In fact, David was astonished to realize that the likely reason he outlived his doctors' grim predictions was so God could rescue him through the Hay River stop of the Northern Tour.
"It just blows me away," he admitted. "It's the only reason I can think of."
In Fort Smith, NWT, Cheryl* was struggling after her oldest daughter, and her daughter's father, died in 2022.
"It's caused anger and depression and a lot of sadness," she quietly explained at the second event of the Northern Canada Christmas Tour. "I asked God some really hard questions."
Still, Cheryl grew up respecting Billy Graham, and the Holy Spirit used that to nudge her into ignoring the bitter cold weather, putting her anger toward God aside, and simply showing up at the Fort Smith event. She heard music and testimonies from George Canyon and Brooke Nicholls, then listened to Will Graham's message of hope through Jesus Christ.
The Lord worked through that message to touch Cheryl's broken heart, and when Will invited people to leave their seats and accept Christ in repentance and faith, Cheryl said yes.
"I just wanted to go forward and give my life back to Jesus," she explained, adding she was tired of being angry and depressed. Cheryl's decision was a major step in a new direction; her grief had caused her to pray less, skip church services, and even question if she was still a Christian.
The grief and hurt are still present, Cheryl said with moist eyes that showed her emotion. "But now I'm waiting for where the Lord is going to lead me."
In addition to Cheryl and David, almost 70 others responded to the Gospel in Hay River, Fort Smith, and Fort Chipewyan. ■ ©2022 BGEA
*Names changed to protect privacy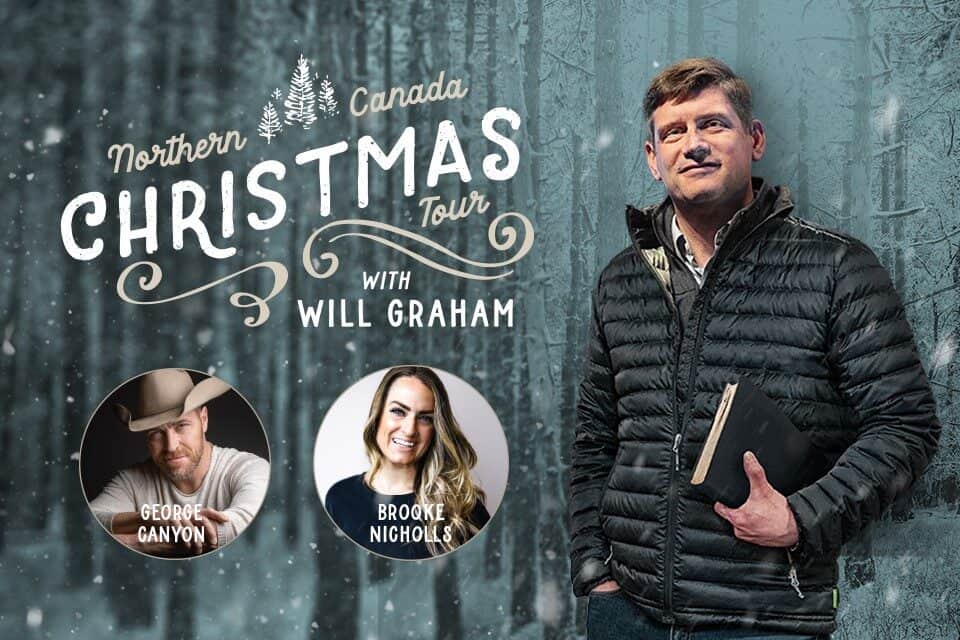 Hope for the Forgotten
Northern Canadians, especially those living in small, isolated communities, often feel forgotten and undervalued by the rest of the country. This is especially so for those pastors struggling to keep their tiny churches alive with precious few resources.
The Lord touched Will Graham's heart to respond to this need and, thanks to supporters like you, the Billy Graham Evangelistic Association of Canada has made it a priority to partner with northern churches and proclaim the Good News to as many northerners as we can.
"We're excited, thankful, and feeling blessed," said Sam Acey, pastor of Hay River Pentecostal Church in the Northwest Territories. Hay River, Fort Smith, and the northern Alberta settlement of Fort Chipewyan hosted Will on his Northern Canada Christmas Tour in November and December.
"No one comes here, and we can't even get to other places," Pastor Sam pointed out. "So for a team like BGEA of Canada to come here and bring hope, it's inspiring."
> > View photos and stories from the Northern Canada Christmas Tour
Give To Festivals and Celebrations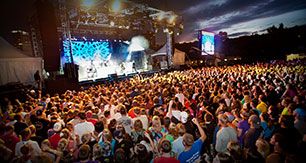 Your support will help us proclaim the Gospel of hope in Jesus through our Festival and Celebration evangelism events, which feature inspiring music from well-known Christian artists, powerful stories of transformation and Gospel messages by Franklin and Will Graham.