Canada is a country where more and more people know less and less about Jesus Christ or the Bible, according to the Billy Graham Evangelistic Association of Canada.
That's why the organization is inviting Canadians interested in evangelism to deepen their passion for sharing the Gospel during a national conference in Niagara Falls.
The Canadian Evangelism Congress is scheduled for Sept. 26 and 27 at the Hilton Hotel and Suites.
It's intended for pastors, church leaders and anyone else who wants to see more Canadians impacted by the Gospel.
As of Thursday approximately 180 people were expected to attend from across Canada, said association spokesman Frank King.
"There's a huge spiritual hunger in Canada, but Canadians aren't turning to the church like they once did," said David Macfarlane, the association's director of national initiatives.
"So we need to re-evangelize our nation. We want Canadians to find the hope we've found in Christ."
The association was founded by Billy Graham, a well-known American evangelical Christian, in 1950. The Canadian association was established in 1953. It partners with churches and Christian communities across the country and around the world to proclaim the Good News of Jesus Christ.
Derrick Mueller, the association's regional manager, will be one of the speakers at the congress.
He said he will talk about what the religious landscape looks like across Canada, as well as how evangelical Christians can be successful in their outreach.
Mueller, who works for the Billy Graham organization, said according to Statistics Canada, 25 per cent of Canadians don't associate with any religion.
He said that number is going up.
"Our landscape is changing and immigration is on the rise, so we're bringing a variety of different views — a lot of different faiths, a lot different language barriers … change in value system, different agendas."
Jim McBeth, lead pastor at First Baptist Church in Fort Erie, will attend the congress. He will be joined by Laurie Taylor and Adrien Wilsonne, who are also pastors at the church.
"We've been to those kind of events before. They're always worthwhile," said McBeth. "There's usually good speakers, good workshops."
He said it's important to get a sense of current trends in evangelism.
"It's a challenge in our culture today to connect the Gospel to the culture around us. The last 40 years, our culture has become more and more secularized, so a lot of people don't see the Gospel as being relevant to their lives."
McBeth said he believes some people have been turned off the church, for various reasons.
"It's just been a general trend that way from the idea that Christ can be central to our life, and for a lot of people it's kind of a foreign idea to them now," he said.
"You look at the … people that I connect with in our community, I would be surprised if 25 per cent of them attend church on any kind of regular basis."
McBeth said the church has to not only present the Gospel, but also do more to serve the community around it.
"What are some of the needs of the community? How can we be part of helping people, not just in a spiritual way but physical, material, emotional, all those things are part of people's lives? The church is here not just for people that are already members, but for the larger community."
King said they picked Niagara Falls for the congress because of its iconic location and "the hope that some church leaders would attend because they could combine the congress with a vacation."
"From some conversations I've had with pastors, that has in fact happened," he said, adding this is the first year for the congress.
Macfarlane, who speaks at churches and Christian events across Canada, said traditional outreach methods no longer work as well as they once did in a society that is so secular and multicultural, and where many believers have lost their passion to reach their neighbours for Christ.
The congress is designed to present new and innovative ways to connect churches and Christians to their communities. It's also designed to bring together Christians to encourage each other and share their own outreach methods.
Macfarlane, who pastored numerous Canadian churches that experienced growth through creative evangelism and discipleship, will be one of the main speakers.
Another speaker will be Will Graham, the grandson of Billy Graham and a vice president with the association, who has preached in more than 30 Canadian cities.
Some speakers will lead break-out sessions on a variety of evangelism-related topics.
Registration for the two-day congress costs $199. The fee includes breakfast and lunch on both days, snacks and refreshments, and resource materials.
For more information, visit billygraham.ca/congress or call 1-800-293-3717.
Give To Where Most Needed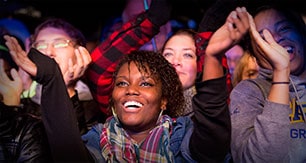 Help us fulfill our mission of proclaiming the Gospel of the Lord Jesus Christ to all we can by every effective means available to us and by equipping others to do the same.