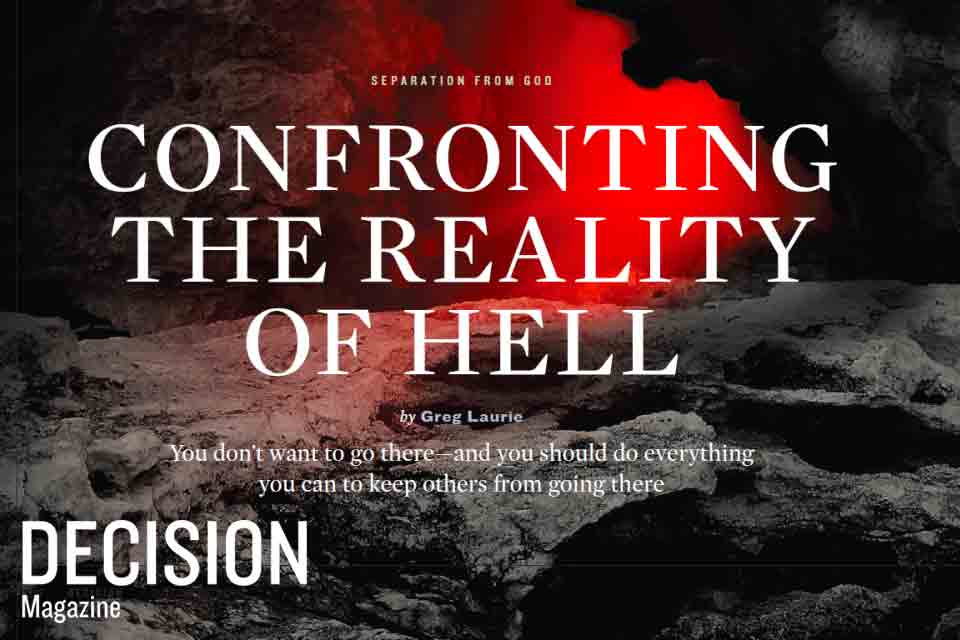 GREG LAURIE is the senior pastor of Harvest Christian Fellowship in Riverside, Calif. and Harvest Orange County in Irvine, Calif. He is the featured speaker of the Harvest Crusades, and he serves on the board of directors for the Billy Graham Evangelistic Association.
WHY IS IT THAT MANY OF THE PEOPLE WHO TELL OTHERS TO "GO TO HELL" TURN AROUND AND TELL POLLSTERS THEY DON'T REALLY BELIEVE HELL EXISTS? A GALLUP POLL INDICATED THAT AMERICANS ARE MORE LIKELY TO BELIEVE IN HEAVEN THAN IN HELL.
That's like saying more Americans believe there is a California than an Arizona! I don't mean to compare Arizona to Hell, but imagine the absurdity of reading a headline that says, "According to the latest poll, belief in Arizona is down." The existence of a place has nothing to do with how many people believe or don't believe in it.
HELL IS FOR REAL.
There really is a Hell. It's a miserable place of torment where one is separated from God for eternity. Consider this: Jesus Christ spoke more about Hell than all the other preachers of the Bible put together!
Subscribe to Decision
Get your own subscription, or renewal, or bless someone by giving Decision Magazine as a gift.
SUBSCRIBE NOW
Most people think they are going to Heaven when they die. In fact, for every American who believes he's going to Hell, 120 believe they're going to Heaven.
But this belief is in direct contradiction to what Jesus said: "Wide is the gate and broad is the way that leads to destruction, and there are many who go in by it. Because narrow is the gate and difficult is the way which leads to life, and there are few who find it" (Matthew 7:13–14).
Some might think Jesus would never have discussed such a thing as Hell. He is, after all, the personification of love and compassion. But it is precisely because of this that He often spoke of it! Because He loves us, He warns us.
SO WHAT IS HELL LIKE?
Hell is eternal separation from God. Jesus indicated that the death of one's body is nothing compared to the everlasting banishment of the soul from God. To help us understand what Hell is like, the Bible gives us three distinct descriptions:
Hell is like a garbage dump.
The word that is often translated Hell in the New Testament is gehenna. This was a place where the garbage was dumped in New Testament times. Every kind of garbage was thrown there, along with corpses of criminals. Worms bred and fed in the filth, and smoke constantly rose from the fires burning there.
Hell is like a prison.
Jesus told a parable about a king's servant who was sent to jail for cruel and unforgiving behavior. Then Jesus added this warning: "This is how my heavenly Father will treat each of you unless you forgive your brother or sister from your heart" (Matthew 18:35, NIV).
Hell is a place of complete darkness.
Jesus does not merely describe Hell as dark, but as "the darkness," as if to emphasize that it will be infinitely worse than any physical, moral, mental or spiritual darkness experienced here on earth (see Matthew 8:12, 22:13, 25:30).
MISCONCEPTIONS ABOUT HELL
Many think that Hell is nothing more than an eternal "party place." But in Hell there will be no partying. There will be torture, suffering and eternal separation from God.
Others say that Hell is temporary, or that it is figurative, or that it's not as bad as some imagine. But in Luke 16, Jesus tells us about a rich man who died and went to his torment. In this account, three things are made clear:
People in Hell suffer. The word torment is used four times in the text, and the man's suffering was so severe, his only hope was for just a drop of water to cool his tongue.
Once in Hell, a person cannot cross over to Heaven. The man is told that there is a "great gulf" separating the two.
People in Hell are conscious and fully aware of where they are and where they have been. Just as there is memory in Heaven, there is also memory in Hell. Physical death is not the end of existence, but a change in the state of existence. And it's eternal.
WHO WILL BE IN HELL?
Everyone who rejected God's offer of forgiveness through Jesus Christ will be in Hell. There is no second chance or reprieve at that point. The time for appeals is over; Judgment Day has come.
And why are these people there? Because they did not believe. In John 3:18, we read, "He who believes in Him is not condemned; but he who does not believe is condemned already, because he has not believed in the name of the only begotten Son of God."
IS HELL FAIR?
You may ask, "How can a God of love send people to Hell?" You may be surprised by the fact that it is because He is a God of love and justice that He invented Hell. You see, Hell was not made for people. It was created for Satan and his fallen angels. But when we reject God's love, we make the choice to separate ourselves from Him. J.I. Packer writes, "Scripture sees Hell as self-chosen. Hell appears as God's gesture of respect for human choice. All receive what they actually choose, either to be with God forever, worshiping Him, or without God forever, worshiping themselves."
Hell is simply one's freely chosen path going on forever. We want to get away from God, and God, in His infinite justice, sends us where we want to go.
Every one of us has sinned and will face Hell if we do not turn to Jesus Christ. But God has a much better plan, and it's called Heaven.
HOW THEN SHOULD WE LIVE?
So how should the knowledge of Hell affect the Christian? It's a sad fact that many believers today are more concerned with their own comfort than the salvation of souls. I believe that if God opened the window and gave us a glimpse into Hell, we would understand the urgency of our mission to preach the Gospel.
Eternal destinies are at stake and we are thinking of comfort? News flash: It's not about us; it is about those who are lost. God cares about them and so should we!
So get out and befriend them, engage them and offer the Good News of Heaven to a world bound for Hell. D ©2015 GREG LAURIE
UNLESS OTHERWISE NOTED, SCRIPTURE QUOTATIONS ARE TAKEN FROM THE HOLY BIBLE, NEW KING JAMES VERSION. THE SCRIPTURE QUOTATION MARKED NIV IS TAKEN BY PERMISSION FROM THE HOLY BIBLE, NEW INTERNATIONAL VERSION ®, ©1973, 1978, 1984, 2011 BY BIBLICA, INC.™ USED BY PERMISSION. ALL RIGHTS RESERVED WORLDWIDE.
Give To Where Most Needed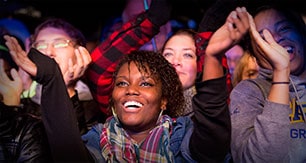 Help us fulfill our mission of proclaiming the Gospel of the Lord Jesus Christ to all we can by every effective means available to us and by equipping others to do the same.