On Saturday morning, Rick Benner was asked, "Do you want to go?" His answer was simple. "Yes. I want to help."
As a result, early Sunday morning, the former pastor climbed into a Billy Graham Evangelistic Association truck in Calgary along with his wife Sally, Holly Lafont and Selma Boldt, and started driving to Humboldt, Sask. — the eye of the hurricane of Canada's grief and anguish after the tragic crash that killed 15 members of the Humboldt Broncos junior A hockey team and injured 14 others Friday evening.
It was eerie timing. The 66-year-old from Okotoks and his wife had just pulled up to the Billy Graham Evangelical Association building in northeast Calgary early Saturday to finish a four-day course that must be completed annually for all volunteer grief chaplains, when they heard the tragic news about the crash of the Broncos' bus with a semi-trailer as it headed to a game in Nipawin.
"I walked into the building and said to the manager of chaplains, "did you hear about the terrible tragedy in Humboldt?' That's when I was asked if we wanted to go. I said 'yes.'"
The four crisis-trained volunteer chaplains arrived in Humboldt just in time to attend the moving Sunday night vigil at Elgar Petersen Arena — the Broncos' home rink and the heart of the community of 6,000 souls.
"The vigil was beautiful — very healing for the community and the country," Benner said from Humboldt.
On Tuesday, Benner says he spent some time praying with the Broncos chaplain, Sean Brandow, whose moving sermon at the Sunday vigil has pushed the small-town pastor of the Bible Church into the national limelight at a time when all he wants to do is minister to the families of the players who died — and whom he loved — as well as the survivors of the crash.
"His phone literally doesn't stop and he's hurting, too. He is grieving, so we were able to pray for Pastor Sean," said Benner. "A lot of time, the caregivers forget that they need to take care of themselves, too."
Benner says Broncos head coach Darcy Haugan, who was also killed in the crash, was a very close friend and parishioner of Brandow.
Reached briefly Tuesday, Brandow said he was on his way to Saskatoon to minister to the survivors still in hospital and their families.
Lafont, who also lives in Okotoks and is the team lead on this trip, said Humboldt and surrounding towns are doing a lot right to help the community grieve, including the Sunday night vigil.
"It was a really good beginning to the community's grieving process," said Lafont.  "We know from studies and just working with people that the sooner you can get people talking about a situation and sharing their feelings about it, the better their chances of moving through the grieving process in a healthy way."
Despite what some may think, media coverage is often helpful, too, as those left behind can share their stories if they want to and recognize their own feelings and sentiments in the items they read or watch.
"We've met a lot of people today who say they are grieving but they don't know why. Some of them say they didn't know any of the coaches or players who were killed or injured, so why are they so sad?" said Lafont.
"That's where we can explain that their reaction is very normal and we can validate their feelings, which is so important."
Earlier in the day, Lafont and Boldt took doughnuts to first responders who would have been met with carnage at the crash site. On Wednesday, a special luncheon is being held for first responders and medical personnel.
These chaplains have been invited to attend — to lend a listening ear or whatever is needed.
"We want to soothe broken hearts just by being there and praying with people about Jesus' love and understanding when appropriate, or just listening and weeping when they weep," said Rick Benner.
Sally Benner added that sometimes the best response is just your presence and to say nothing. After school was out in Humboldt on Tuesday, many students headed to the rink, just to stand at the memorial photos and flowers that remain in place and sob.
"We just stood back and prayed for their precious hearts," said Sally. "Sometimes there really are no words, but there is love."
Indeed there is. From every corner of the country, everyone is standing with Humboldt.
Give To Rapid Response Team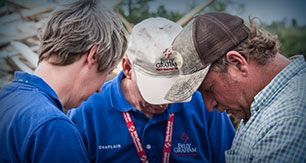 Your gift will provide for the training and deployment of our Rapid Response Team chaplains, who are deployed when natural or man made disasters strike in Canada and abroad. RRT chaplains serve and support hurting people affected by crisis, and share the message of hope found in Jesus.