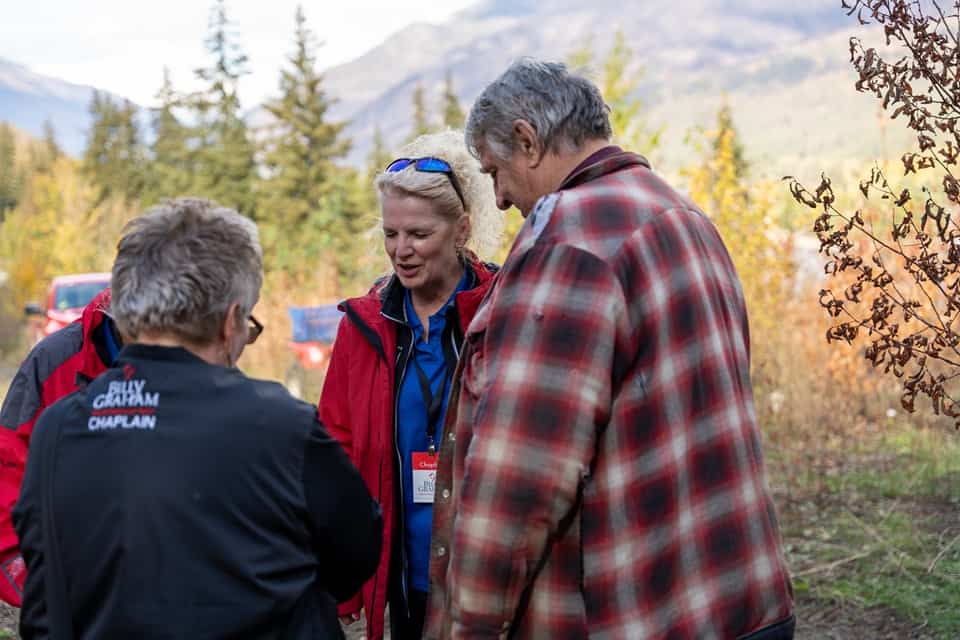 One of the worst wildfire seasons in British Columbia history left people shocked and traumatized as their homes and possessions were turned into charred ashes in the West Kelowna and North Shuswap areas.
The loss was staggering: almost 300 houses were damaged or destroyed in the two regions, leaving thousands of people homeless and struggling to find a way forward.
In the midst of this, Canadian supporters like you made it possible to send 24 Billy Graham Rapid Response Team (BG-RRT) to the province to minister in Jesus' Name to residents, volunteers, and first responders.
In West Kelowna, Roy,* was hurting after the property he lived on was wiped out, destroying all his possessions. Then he met John, a crisis-trained BG-RRT chaplain, and God began to turn his life around.
John engaged Roy in conversation and learned he had once attended a church, but left after realizing it was not Christian. That said, Roy didn't understand the basics of following Jesus Christ and that opened the door for John to share with Roy our Steps to Peace With God booklet.
When they reached the end of the booklet and Roy had an opportunity to pray for salvation through Jesus Christ, He said he had done so already in the church he'd left. John explained what it meant to pray to the God of the Bible and that convinced Roy. He prayed with John and, in humble repentance and faith, asked Jesus to be the Lord of His life.
Even as John quietly celebrated this new member of the body of Christ, he encouraged Roy in his faith and prayed for him.
During their month-long deployment in the two wildfire-damaged regions, the Lord opened doors for BG-RRT chaplains to pray with almost 450 people. Along the way, six people dedicated or rededicated their lives to the One who is "the way, and the truth, and the life" (John 14:6, ESV).
"We are all so thankful to be witnesses to the faithfulness and healing touch of the Lord our God," said Holly Lafont, who manages the BG-RRT ministry.
Will you pray for the people of North Shuswap and West Kelowna? And please consider how you can partner with BG-RRT chaplains as they "Go into all the world and proclaim the gospel to the whole creation" (Mark 16:15).
*Name changed to protect privacy
Give To Rapid Response Team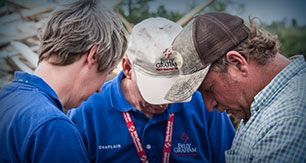 Your gift will provide for the training and deployment of our Rapid Response Team chaplains, who are deployed when natural or man made disasters strike in Canada and abroad. RRT chaplains serve and support hurting people affected by crisis, and share the message of hope found in Jesus.