For decades, Chip Ingram has been teaching men and women how to become better spouses. But it's not because he's an expert. It's because he learned through his own need.
Long before he was helping other couples navigate the waters of marriage, Ingram and his wife, Teresa, needed help for their own relationship. Motivated by pain from dysfunctional families, they sought counseling. Now, he is able to give people the wise counsel he desperately needed and received.
"I came to a point where I realized I didn't do relationships God's way. My way didn't work. Before I got married I realized that Christ should be Lord of my life, including my relationships," he remembers. Even still, he said his expectations of marriage were unrealistic, and realized that he and his wife had difficulties communicating.
Now, the Ingrams have been married for 32 years and their marriage has never been stronger. "I'm more in love with my wife and more deeply satisfied in marriage than ever. I long for that for other people." He teaches that the benefits of a good marriage go beyond the man and woman involved. The couple's children also feel more secure and often make better mate choices for themselves.
"The greatest thing you can ever do for your children is to love your spouse. They need to feel safe. How they respond to the opposite sex is often based on how their parents related to each other. Kids model what they see in us, whether or not we realize it."
He says the key ingredient to a strong, lasting marriage is loyalty to Jesus Christ. "When two people are in a Christ-centered marriage, they are saying they are not going to allow anyone to take His place in their lives. When you let another person take God's place, it ruins the relationship," he explained. "God designed marriage where He wants to be the center. When Heis, good things happen."
Years of observation have shown him that having Christ in the center of a marital relationship gives it lasting power, since other human beings are guaranteed to hurt our feelings or let us down. "When the focus is primarily on Christ, your security isn't wrapped up in how the other person does or does not respond. Also, you need Christ first in your life, because you can't give to someone else out of nothing. Only when you are filled up with Christ is when you can risk and give when they don't give back."
Investing in the Most Important Earthly Relationship
Along with commitment to Christ, maintaining romance is essential to the health of a marriage. Ingram explains that having fun and dating are really critical, and it is important to invest in the most important earthly relationship. We can do this by getting away with our spouse—away from kids, work, everyday pressures—and investing time into our marriages.
He adds that while investing time into our marriage also can mean investing money, the dividends are well worth the investment. "We are smart enough to know that if we drive thousands of miles in our car without changing the oil, bad things are going to happen. Many people take better care of cars than marriage. It costs money to tune up your car, and it often costs money to tune up your marriage—and your marriage is infinitely more important than your car."
He advises that each married couple spend some time alone, away from all distractions and relax together, pray together, and "put gas in the spiritual tank."
Nevertheless, a strong, Christ-centered marriage takes hard work. "Whether you are an artist, a business owner or an athlete, anything requires practice and hard work. Get help through counseling. Go through exercises to learn how to communicate better. Other than your relationship with Christ, your marriage is the most import one you can have. We always reap what we sow, and God honors hard work at relationships."
Chip Ingram is an accomplished author and the senior pastor of Venture Christian Church in Los Gatos, California. He is also president and teaching pastor of Living on the Edge, an international discipleship media ministry that provides teaching through radio, TV, and interactive online discipleship pathways.
Give To Where Most Needed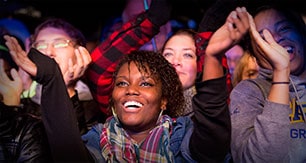 Help us fulfill our mission of proclaiming the Gospel of the Lord Jesus Christ to all we can by every effective means available to us and by equipping others to do the same.