Her father was an alcohol and drug addict. Her mother struggled to keep the dysfunctional family—including four children—afloat.
So it's not a surprise to hear Monique Dion admit that her 1950s childhood in Montreal wasn't happy,
"My parents divorced when I was 16," Monique remembered. "So I made a vow to myself that I'd never be left alone with four kids, no job, and no money. I promised myself that I'd never have children or depend on a man."
The young woman poured her energy into studying. She completed a bachelor's degree in advertising, finance, and marketing at the University of Montreal, and then a master's degree at McGill University in marketing.
"Soon enough, I had a job, a boyfriend, and was living promiscuously," Monique said.
Then, in her mid-20s, Monique's brother Michel became a Christian and introduced their mother, Micheline, to Christ.
Subscribe to Decision
Get your own subscription, or renewal, or bless someone by giving Decision Magazine as a gift.
SUBSCRIBE NOW
"Michel was really zealous," Monique remembered. "For me, that didn't work. It turned me off to the faith completely. But now, I know that God was beginning a work in me at that time."
The turning point for Monique came in 1986, when her mother gave her Peace With God, a book written by Billy Graham. Thirty years old at the time, Monique had a job in Montreal, a higher pay grade because of her education, and on all accounts should have been content. Instead, she began to question the purpose of her life.
Why am I here? She asked herself. What's the point?
One morning, Monique picked up Peace With God and started reading. She was so captured by Dr. Graham's Gospel presentation that she had trouble putting the book down. At the end was a prayer, which Monique prayed to commit her life to the Lord. It was an answer to seven years of praying by Michel, and a joyous news to her mother.
"Michel was and is a mentor to me," said Monique. "He answered my questions on tithing and many other things. I'm so grateful for his perseverance in prayer for me."
Her decision to follow Christ turned out to be a great comfort to Monique in the months ahead.
A short time after this momentous turning point in her life, Monique went through another major change: accepting a job offer in Toronto. But missing family and friends in Quebec, she quit within a few months and returned to Montreal, depressed and discouraged.
"Had God not entered my life, I don't think I would have lived too long or have meaningful work and a wonderful family."
For a time, she was jobless and without an apartment—staying at a friend's house, free of charge, for eight months until she found permanent work.
"That was the start of my real spiritual life," Monique said. "The Lord took everything away from me, and then I gave everything to Him."
As Monique began to build a life again in Montreal, she started attending a small Baptist church. She joined prayer meetings and Bible studies, and helped oversee the congregation's finances.
"It was like my second family," Monique said. A student at heart, she read the Bible and as many Christian books and Decision magazine articles as she could find.
"I was so thirsty to learn, and I loved to study and read," she said. "I applied the disciplines I learned and grew in my walk with the Lord, but it didn't spare me from difficulties."
In her mid-30s, Monique married her husband, Alain.
"When I was 16, I vowed that I wouldn't have a family," she recalled. "Deep down, however, I wanted one." But it wasn't a smooth relationship. Husband and wife came from dysfunctional families, and after three years of marriage they separated. But they didn't give up.
"With the help of Christian counseling, our church family, and God's power, we were reunited and are still together," Monique said. The couple also endured the pain of two miscarriages before finally having their son, Max, who is now a thriving 13-year-old Christ follower.
"God did a double miracle for our family—he healed our marriage and gave us Max," Monique said.
Today, she continues to rely on Christ for strength and peace in the midst of many extended family difficulties, and loved ones who are not believers. She's also using her career experience in a full-time job with a Christian non-profit organization, and is very active in her church, Église Nouvelle Vie (New Life Church) south of Montreal.
"Monique is a beautiful lady," said Christine Hollands, the church's human resources manager. "She's a deacon and a mature believer and very engaged in her Christian walk."
Monique is involved in the church's Christian education ministry and, with Alain, volunteers in the couples ministry.
As Monique looks back on her life, she is very grateful for how God used the Billy Graham Evangelistic Association to change her for all eternity.
"Dr. Graham became like a spiritual father to me, ministering through BGEA resources," she said, noting that she volunteered as a counselor during his 1990 Crusade in Montreal.
"Had God not entered my life, I don't think I would have lived too long or have meaningful work and a wonderful family," Monique added.
Through all her experiences, one Scripture verse has been a constant favorite: "Delight yourself also in the Lord, and He shall give you the desires of your heart" (Psalm 37:4, NKJV).
Monique explains, "It's the verse that has brought me through many challenges—always being obedient and faithful that God knew (my struggles) and would give me the desires of my heart, as I long as I stayed close to Him."
Looking to the future, "My mission is to be an ambassador for Christ, wherever He leads me," she said. "He's led me from my conversion to where I am today, so that I can make His Word known to the Quebec people.
"In every good and difficult thing, He can use it for the furthering of His kingdom."
Tell us how God changed your life through the Billy Graham Evangelistic Association and we might share it—with your permission—on our website and in Decision magazine. Just visit BillyGraham.ca/yourstory, type out some basics, provide your contact information, and send it to us.
Give To Where Most Needed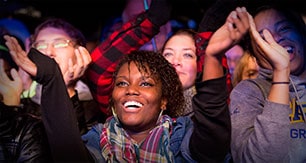 Help us fulfill our mission of proclaiming the Gospel of the Lord Jesus Christ to all we can by every effective means available to us and by equipping others to do the same.