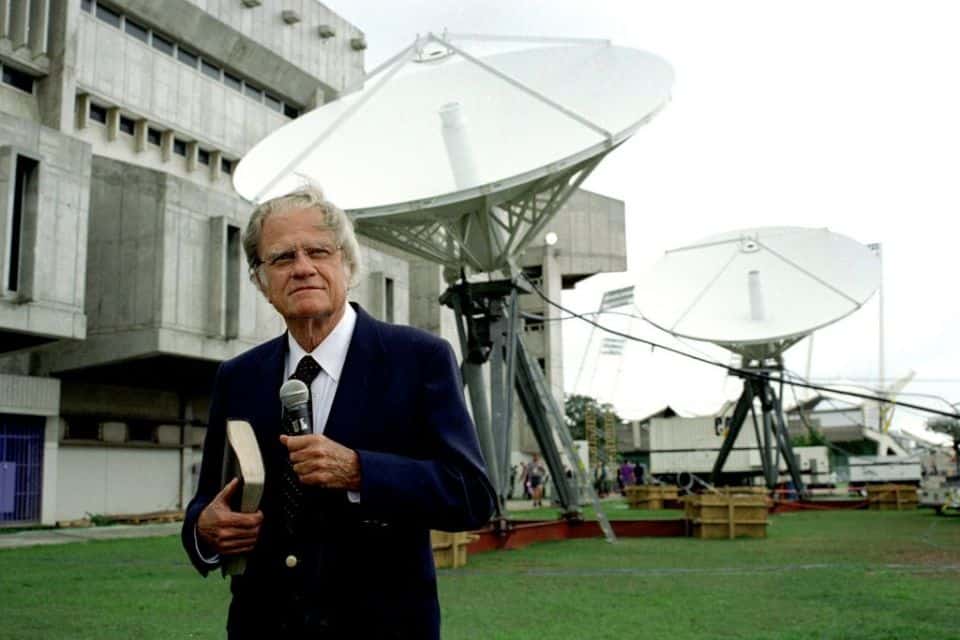 UPDATE – August 20, 2018 – The Billy Graham Channel is now permanent on SiriusXM channel 460. Read more.
Scrolling through satellite radio, what catches your ear? Music? Comedy? If it's news, there's a lot of bad news out there.
Are you ready for some Good News?
Continuing Billy Graham's legacy of sharing the Gospel by radio, the Billy Graham Evangelistic Association (BGEA) launched a special channel on SiriusXM satellite radio. In conjunction with the evangelist's 99th birthday on Nov. 7, The Billy Graham Channel (channel 145) started airing on Nov. 6 and has been extended for programming through Nov. 26.
Listeners can hear messages that Billy Graham preached throughout the world during his six decades of ministry, along with reflections from family and friends.
The channel will ultimately point people to the hope found in Jesus Christ.
Which is exactly the kind of birthday present Mr. Graham would appreciate, said Jim Kirkland, BGEA's director of audio media services.
"We're praying that it'll be a gift of life-changing magnitude for many listeners," he said.
With over 32 million subscribers—many of whom have families or travel often with multiple people—SiriusXM offers an incredible platform for sharing the Gospel.
Kirkland said the prayer is that God will use the channel for "divine appointments."
As people scroll through SiriusXM channels or learn about The Billy Graham Channel, he's praying they'll "be compelled to stop on [channel] 145 and hear the message God intends for them."
"SiriusXM is promoting the channel on a number of their other channels, both talk and music, and Christian and secular, as well as Twitter and Facebook," Kirkland said.
"During this 12-day period, between 10 and 20 percent of the U.S. population will have access 24 hours a day to Billy Graham's timeless, Christ-focused messages," he added.
The satellite radio is streamed within the U.S., Puerto Rico and Canada.
Listeners will hear Billy Graham's messages from his Crusades and evangelistic events from six decades of ministry around the world. That includes topics still relevant today—the issues, questions, dangers or longings of the human heart.
More than that, they'll hear an answer—our need for forgiveness and hope through a relationship with the Lord Jesus Christ—and frequent invites to find peace with God through repentance and a relationship with His Son. Listeners will be encouraged to visit TheBillyGrahamChannel.com to find out more.
Billy Graham's son, Franklin Graham, and daughter, Anne Graham Lotz—along with other family members and friends—will offer personal reflections on the evangelist's life.
The channel will also showcase remarks from Presidents Jimmy Carter, Ronald Reagan, George H.W. Bush, Bill Clinton and George W. Bush.
It Began with Airwaves
It was 67 years ago that Billy Graham agreed to begin a nationwide Christian radio program, The Hour of Decision, if enough donations came in. They did, and he needed a method for handling the unexpected influx of financial support for his fledgling ministry.
That's how the Billy Graham Evangelistic Association came to be in 1950. God blessed Billy Graham's ministry and he led evangelistic outreaches and Crusades for six decades, preaching to nearly 215 million people in live audiences across 185 countries and territories.
The BGEA is currently in its seventh decade of reaching people around the world with the Gospel of Jesus Christ. The Billy Graham Channel is the latest vehicle for taking that Good News to a large audience.
"This channel will provide the gift of messages that point people to the gift of hope found in Jesus Christ," Kirkland said.
"Mr. Graham is having the birthday, yet the people listening receive the present."
Learn more about how you can hear The Billy Graham Channel. Listen in your car, on your smartphone, on the SiriusXM App, on your smart TV or over the internet.
Do you want peace with God? Start here.
Give To Where Most Needed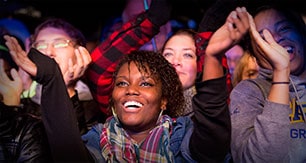 Help us fulfill our mission of proclaiming the Gospel of the Lord Jesus Christ to all we can by every effective means available to us and by equipping others to do the same.