Ever walked so long your feet grew tired and weary? Or held something so heavy your arms started to shake?
Think about the relief you felt when you finally got to rest and the weight was taken away.
Hope is a lot like that. It's freeing having God with you.
"Just knowing that your sins are forgiven … the lightness," said Shiro Olson. "[I remember] how light I felt after giving it all to Him.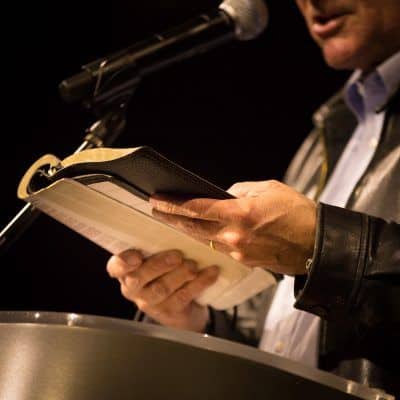 "Are you spiritually empty? Have you been wasting your life?" Franklin Graham asked as he preached from Luke 15.
"I know it's not always a smooth road, but I know Jesus has got this."
Shiro took a moment to reflect after her two daughters made a decision to accept Christ on Saturday.
Franklin Graham had just preached in their city for a second night as part of the Greater Vancouver Festival of Hope. That night's message was about the Prodigal son.
"[Like this boy], many of you have been wasting your life and have nothing to show for it," Franklin said. "You look back over your shoulder and you realize you've blown it."
It was a message that even impacted little 10-year-old Keshi and her sister, Carla, who's 8.
"I just wanted to ask God for forgiveness because I don't want to be like that," Keshi said, referring to the well-known Bible story.
"I thought today would be a good day to start a new life with Him."
As counselors talked with her two girls, Shiro basked in the moment, hugging them and caressing their heads. She was so surprised when they wanted to walk forward that she asked them again and again. But they were certain.
"It was unbelievable when they said they wanted to come forward," she said. "That was exciting."
"God will always love us and be there for us, no matter what happens," Keshi said, explaining what she'd just learned. "You can never go too far that He can't forgive us."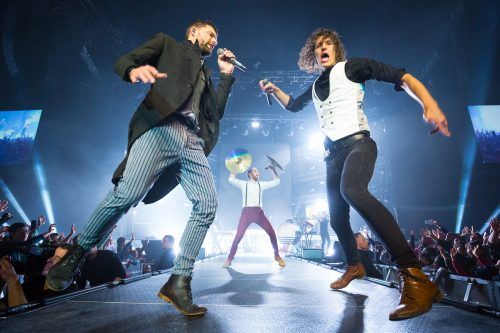 Known for their high energy and instrumentation, For King & Country put on a great show.
Simple Truth
Shiro heard about the 3-day Greater Vancouver Festival of Hope on the radio. Knowing some of her favorite bands would be there—like For King & Country and The Afters, who performed Saturday—she knew she had to attend.
Friday, Shiro came without her family, landing a perfect seat near the backstage entrance. That meant she got some time to meet Festival host Jasmine Tate, as well as Phil Wickham, who performed that night.
"I took selfies with him and some of the ladies who walked forward," she said.
Shiro, who's from Kenya, recalled the many Crusades and events the Billy Graham Evangelistic Association has had in her native country over the years.
"[The message is] simple; so simple. But it's so impactful," she said.
"My past before I knew Christ and how I tried to do everything myself … if I could just make someone understand what it's like," Shiro said. "We belong to God."
Franklin's message echoed that truth.
"People are looking for purpose. They're looking for meaning in their life but something deep down is missing. … There's an emptiness," he said.
"God's got a plan for your life. He wants you to have peace, joy. He wants you to be fulfilled."
Connection That Changes Lives
Just hours before the Festival of Hope began on Saturday, Shiro and her husband, Norm, were at church with their girls and Norm's employee, Taylor.
Tagging along with the Olsons to the Festival on Saturday, Taylor too ended up giving his life to Christ.
"We just heard the same message at church [earlier today]," he said in awe. "And I was asking questions about John."
Ironically, those who accept Christ at a Franklin Graham Festival receive a copy of the Book of John with helpful resources to understand what it says.
"I'm definitely gonna read it thoroughly," Taylor said, gripping the pamphlet tight.
He admitted he'd been running from God, sort of like the Prodigal son, but knew it was time to stop.
"Everyone in my family grew up in different religions," he explained. "It was hard, and I kind of backed away [from God]. That was me running."
"I wanted to accept God."
And so Taylor did, along with more than 560 others who made decisions for Christ at the Festival on Saturday.
Norm plans to keep checking on Taylor and has already invited the 20-year-old to a weekly mens small group.
"He can come to church with us too if he's interested," Norm said, giving Taylor a smile.
And that's what it's all about.
Not judgement, not hatred, not condemnation. But being present, offering a hand, and speaking simply to the tough places in people's lives.
That's what was on display in Vancouver Saturday night. And prayerfully, there's much more where that came from.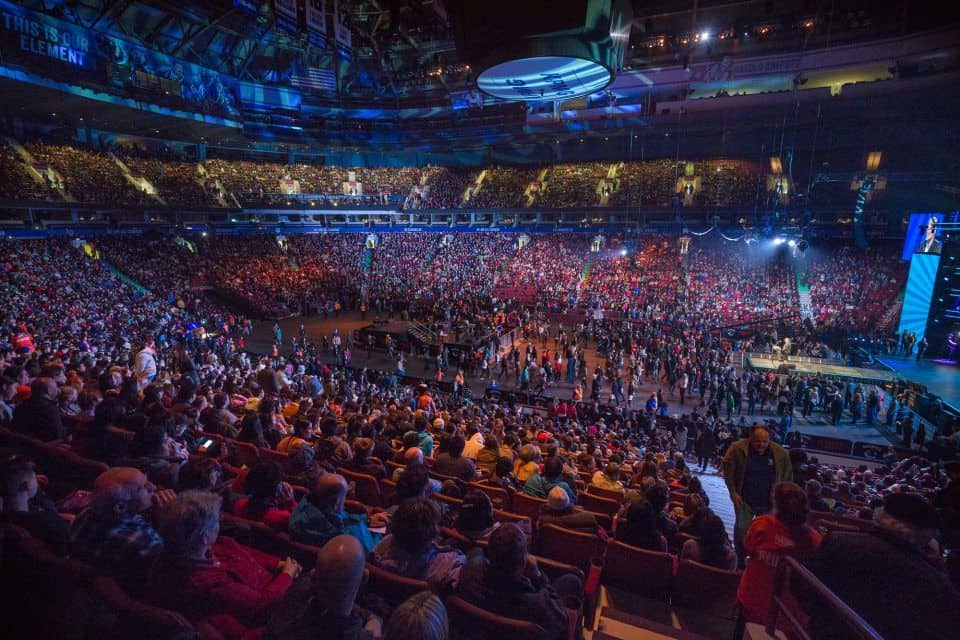 Give To Where Most Needed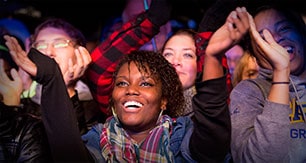 Help us fulfill our mission of proclaiming the Gospel of the Lord Jesus Christ to all we can by every effective means available to us and by equipping others to do the same.