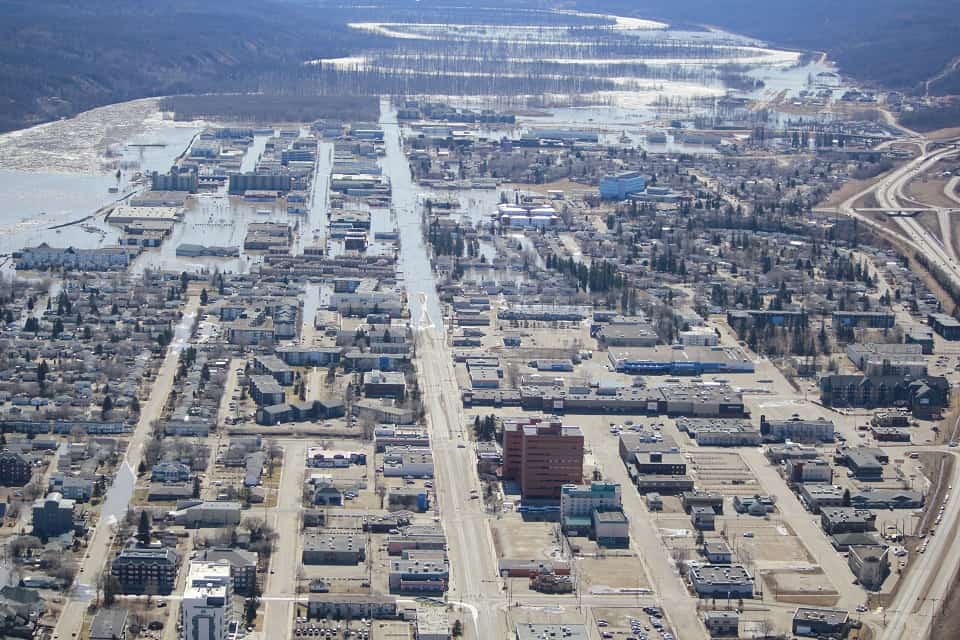 For Chris, it all started with listening in on an outdoor conversation near his house.
Subscribe to Decision
Get your own subscription, or renewal, or bless someone by giving Decision Magazine as a gift.
SUBSCRIBE NOW
That conversation involved two crisis-trained Billy Graham Rapid Response Team chaplains praying with a pair of young, enthusiastic women who were volunteering to help Samaritan's Purse clean out a flooded home in Fort McMurray, Alberta.
In late April, hundreds of homes were damaged in the remote northern city when an ice jam caused the Athabasca and Clearwater rivers to spill their banks. The flooding occurred around the four-year anniversary of the Fort McMurray wildfire, which destroyed thousands of houses and left a scar on the community that's still healing.
Thanks to prayers and donations from ministry supporters, RRT chaplains and Samaritan's Purse volunteers responded to an invitation from the regional municipality to offer physical and spiritual help to anyone in need. Just as they did in 2016 after the Fort McMurray wildfire.
As the two chaplains prayed with the Samaritan's Purse volunteers, Chris—who was cleaning up his own flooded house next door—listened attentively.
When RRT Chaplain Steve Taylor noticed the neighbor looking on after the prayer ended, he asked: "Aren't these girls great? Wouldn't you like to have daughters filled with the love of God?"
It was a gentle invitation to a spiritual conversation. And when Chris agreed, Abby, one of the Samaritan's Purse volunteers, joined the conversation by sharing a palm-sized BGEA of Canada
booklet titled "Steps to Peace With God."
After going through the booklet, Steve invited Chris to receive God's gift of forgiveness and new life in Jesus Christ. And again, Chris agreed. The good news doesn't end there, however.
As Chris continued talking with Steve and Abby, his friend, Jonathan, came out of his house and began listening in on their conversation.
That's when Merle Doherty, the other RRT chaplain, and Lauren, the other Samaritan's Purse volunteer, initiated a conversation with Jonathan and discovered that, like Chris, he was willing to talk about spiritual matters.
"These days, it's rare to have a conversation about church and God," Jonathan said, while leaning on a giant dumpster filled with water-logged household items. "So when the opportunity came up, I enjoyed it."
Jonathan, a 40-year-old Newfoundlander living in Fort McMurray during an extended work assignment, grew up in a Christian home. He said he occasionally read the Bible and attended church about as often.
For those reasons, Jonathan said, he believed he was Heaven-bound.
"You think you're good to go," he explained in his gentle East Coast accent. "You try to follow the Ten Commandments and you think if you're doing your best, you'll be going to Heaven."
But after learning about Chris' Christian conversion, just 30 minutes earlier, Jonathan was stirred to the realization that his eternity might not be as sure as he previously thought.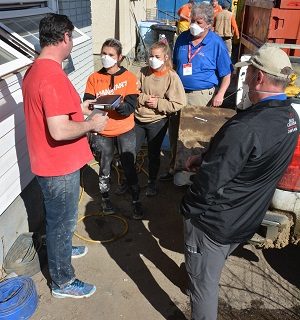 As Merle and Lauren used the "Steps to Peace With God" booklet to explain to Jonathan about God's offer of salvation through faith in Christ, he listened more intently.
"I just felt like I should do it—like it was the right thing to do," Jonathan said of reciting the sinner's prayer and inviting Jesus to be his Savior and Lord.
For 19-year-old Lauren, helping lead Jonathan to profess his faith in Christ was the first time God had used her to transform a stranger into a brother in Christ. "I was extremely excited and my heart leaped for joy," Lauren recalled. "Then I was thinking, Wow, we serve a very good God and this is all His doing." Jonathan agreed. "It felt like a little weight came off my shoulders—a weight I can't say I knew was even there.
Now I know I'm good to go (to Heaven), rather than just thinking it."
Several days later, still astonished at the Lord's amazing work in bringing two men to faith in Christ in less than an hour, Merle noted: "It was a glorious God-moment. As much as it was fast, their hearts were absolutely open. It was awe-inspiring to see God so meticulously at work."
During their time in Fort McMurray—and Fort Vermilion, another northern Alberta community ravaged by spring flooding—RRT chaplains prayed with 1,200 people. Twenty of them committed or rededicated their lives to the Lord because they heard and believed that "while we were still sinners, Christ died for us" (Romans 5:8).
Many more lives need to be changed forever by the Gospel, in Canada and around the world. You can make that happen when you partner with the Billy Graham Evangelistic Association through your donations and prayers.
"There is joy before the angels of God over one sinner who repents" (Luke 15:10).
Give To Rapid Response Team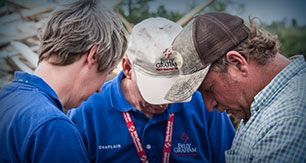 Your gift will provide for the training and deployment of our Rapid Response Team chaplains, who are deployed when natural or man made disasters strike in Canada and abroad. RRT chaplains serve and support hurting people affected by crisis, and share the message of hope found in Jesus.