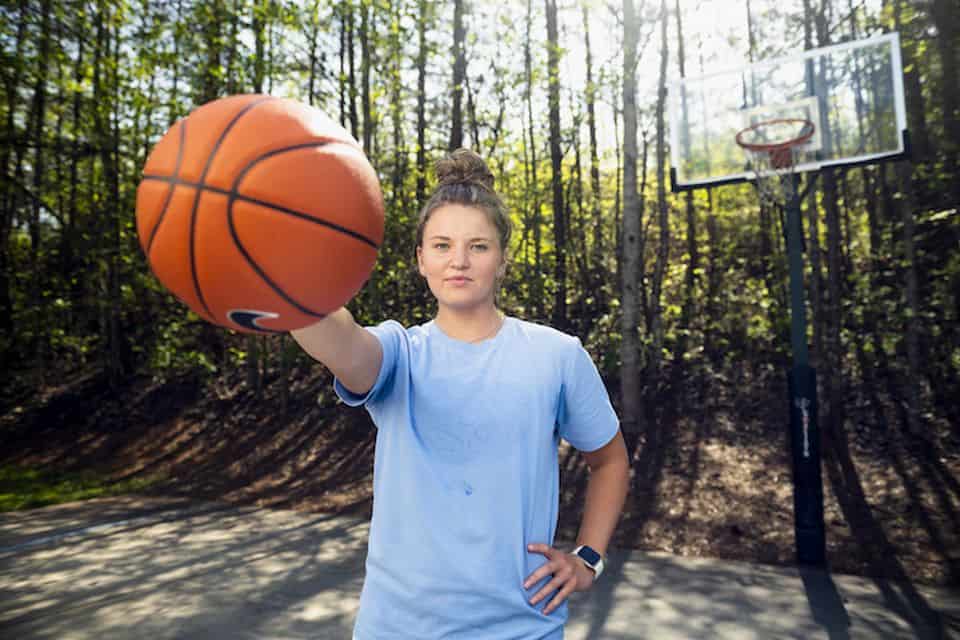 Even as a little girl, Leah Church had big goals. "I remember telling my mom that I wanted to use basketball as a platform to share Jesus, and I would pray for that," said Leah. She had professed her faith in Christ at age 5 during a children's basketball awards program at her church.
Subscribe to Decision
Get your own subscription, or renewal, or bless someone by giving Decision Magazine as a gift.
SUBSCRIBE NOW
But there was only one college basketball uniform she longed to wear—the Lady Tar Heels.
"I had been a diehard Carolina fan since I was 7 years old, and I attended basketball camp on the UNC campus all the way through until I think I was like 16 years old," Leah said in a phone interview from her childhood bedroom that is still adorned in hues of Carolina Blue. "And so, that's where, obviously, I wanted to go to school and play basketball."
Growing up in Purlear, North Carolina, as the daughter of an associate pastor-turned-missionary evangelist, Leah and her older sister were homeschooled by their parents. Every morning, their school day began with Scripture memory, prayer, hymn singing, Bible study, and reading books about missionaries and people of the faith.
"I don't really care if I raise Albert Einsteins," her mom was fond of saying. "I'd rather raise Billy Grahams."
When Leah wasn't studying or competing in church league basketball or for the area homeschool team, she would practice dribbling and shooting in her driveway for hours at a time. And every summer she attended the weeklong basketball camp in Chapel Hill, North Carolina, under the tutelage of Hall of Fame college women's basketball coach Sylvia Hatchell.
But the summer before her junior year in high school, Leah feared that her chance of playing college basketball for the Lady Tar Heels was out of reach. She could hardly play a three-minute stint at camp that year before having to rest. Her nearly yearlong recovery from surgery to remove a six-pound noncancerous tumor from her abdomen had drastically limited her ability to showcase her skills for the UNC coaches.
"I remember just crying after camp and feeling like I'll never come back from this," Leah recalled. "Like Carolina will never want me."
Back home, Leah worked out relentlessly to regain her strength and stamina. She joined a travel basketball team that competed against college prep teams along the East Coast from New York to Florida while garnering All-Conference and MVP awards.
And in 2016, during her senior year in high school, she caught the attention of ESPN and USA Today after her mom posted a video online of her shooting uncontested three-pointers at the local YMCA gym. The news outlets credited her with setting a world record for making 32 consecutive three-pointers in one minute. The feat transformed Leah into a viral sensation on social media. She kept shooting that day for about two hours while her mom videoed and her dad passed her the ball. When she was done, she had made 55 consecutive shots en route to swishing the nets 120 times from behind the three-point line, all in a single five-minute span.
Despite her best efforts, Leah didn't receive a scholarship offer from UNC upon graduating high school. So she accepted an invitation from rival North Carolina State University to join the Lady Wolfpack as a "preferred walk-on," including an opportunity to earn a scholarship.
"I moved on," she said, "to the point where I had repainted my room from Carolina Blue to a neutral white."
Then about a month before she was scheduled to move to the N.C. State campus in Raleigh, Leah got an email from a UNC women's assistant basketball coach asking her to call Coach Hatchell as soon as possible.
A few days later, she found herself sitting in the legendary coach's office, the same coach whom Leah had mailed a prayerful "get well" card to about two years earlier when Hatchell was battling leukemia. The coach had recently rediscovered Leah's card in her desk drawer and couldn't get the young woman off her mind. It's been nearly six years since that meeting, but Leah can still quote verbatim what her role model told her.
"Leah, the Lord told me to offer you a scholarship to come play basketball at Carolina, and all you have to do is say yes."
Stunned, Leah sat there with her mom and sister. Her dad was away on another mission trip. With tears streaming down her cheeks, she realized that the dream she had written about in her childhood journal was actually coming true. And before long, her bedroom was repainted Carolina Blue, and her Carolina bedspread and pillowcases were back.
"My first game at Carolina, when I had that jersey on and the national anthem was playing, I just remember, literally, tears going down my face because I'd grown up playing at summer camp in this gym that had so much history," she said. "You look around and you see all the banners and all the tradition. Every time we ran out onto the court, we ran out through that same door that Michael Jordan would run out of, and that was just really cool."
Leah made some history in that legendary gym as well. As a freshman, she scored 19 points, including two three-pointers in overtime, to lead the Lady Tar Heels from a double-digit deficit to victory against archrival Duke University. Her sophomore season, she made another three-point shot in the closing seconds of the game as the Tar Heels defeated defending national champion Notre Dame. And she was on the court when her hero and mentor claimed her 1,000th victory as a head coach.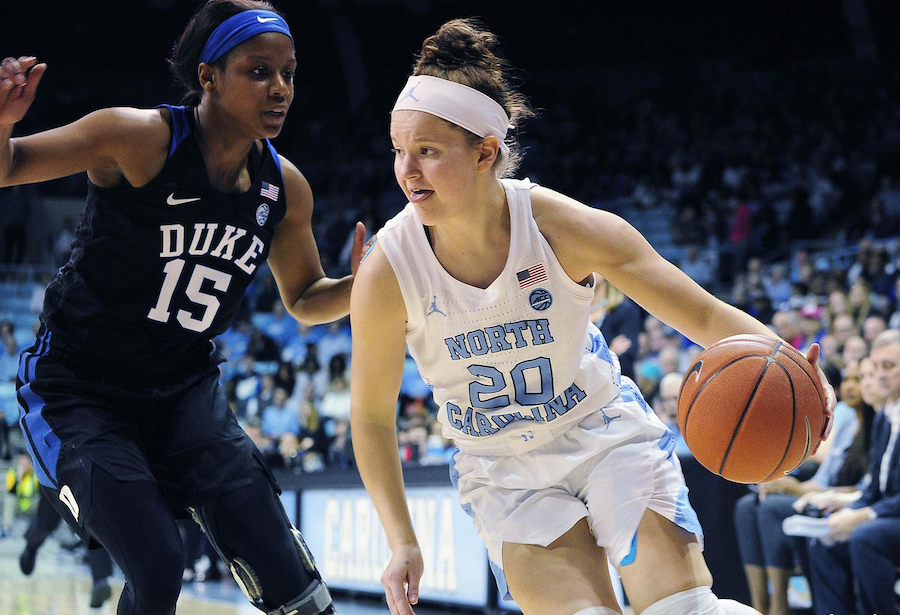 But when Hatchell resigned unexpectedly at the end of the 2018-19 season, after 33 years as the team's head coach, Leah was devastated.
"She's a strong Christian, and she had a chaplain that would do pre-game devotions and pre-game prayers and stuff like that. And so, for a Christian, it was a good culture."
Hatchell's successor quickly dismissed the team chaplain. And there were social and political agendas endorsed by the new staff, Leah said, so much that she feared remaining on the team for her senior season would compromise her Biblical beliefs.
"It wasn't worth losing my witness and sacrificing my convictions," she said. "Basketball's just a game. Eternity matters a whole lot more, and my stance for Jesus is going to be what people remember more than me making a three-point shot."
So, after leading the Lady Tar Heels in three-point shooting percentage for three seasons, Leah walked away from the basketball team and chose to graduate early from UNC in December 2020 with a degree in exercise and sports science and a minor in coaching.
She didn't play competitively for nearly three years while helping her dad organize his annual outdoor FaithFest concert and leading basketball skills training privately. In fact, she thought her college basketball playing days were over—until she received a text message on Sept. 30, 2022, from the head coach at Union University, a private Christian school in Jackson, Tennessee. She visited the campus—located eight hours from her home—in late October, just two weeks before practice for the upcoming season was scheduled to begin. The coach's game plan included a high-pressure, full-court press defense and an offense that featured the three-point shot.
On her drive back home, Leah remembered an encounter she had a month earlier at a church in Charlotte, North Carolina. She shared her story with an audience of several hundred people about leaving the Tar Heel basketball team to remain true to her Biblical convictions. Afterward, a woman approached Leah and told her that she had "a word from the Lord" for her. The woman simply said, "full-court press."
"Which are the exact words that Coach Campbell kept preaching to me," Leah said. "It was at that moment that I knew without a shadow of a doubt I was supposed to go to Union University and play my last year of eligibility."
In March, Leah, 24, concluded her collegiate basketball career with a conference championship. She is continuing to pursue a master's degree in Christian studies and speaks nationally. Her testimony of patient perseverance in pursuit of God's perfect plan is a message that she hopes encourages others to trust in God's purposes and perfect timing for their lives.
"This generation, more than any time in history, needs to hear how important it is to stand on the Word of God, and the importance of living for eternity, and not living for the here and now," she said. "That's kind of been what my whole life has been—waiting on the Lord." ©2023 BGEA
Photo: David Morrison/©2023 BGEA
Give To Where Most Needed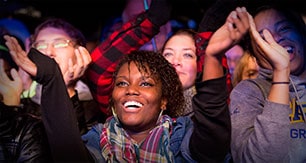 Help us fulfill our mission of proclaiming the Gospel of the Lord Jesus Christ to all we can by every effective means available to us and by equipping others to do the same.