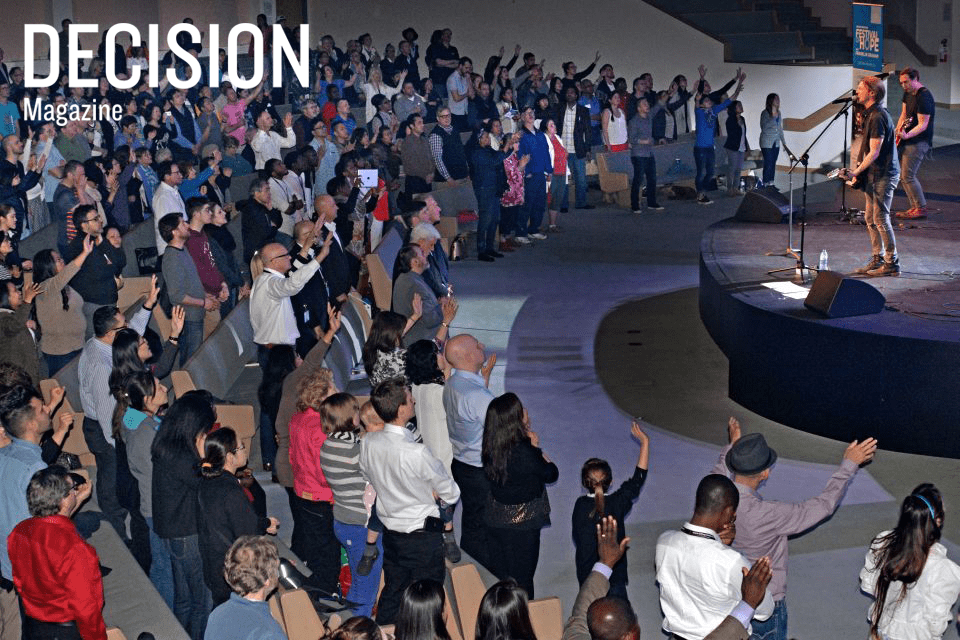 Kevin Cavanaugh was already a supporter of Billy Graham Evangelistic Association of Canada (BGEAC) initiatives such as the My Hope DVD ministry. So when pastors in the Vancouver area invited Franklin Graham to hold a Festival of Hope in his city in 2017, it was a no-brainer for Kevin to become involved.
"We're really grateful for the opportunity," said Kevin, the senior pastor at Cedar Grove Church in the Vancouver suburb of Surrey. "This Festival rallies a whole bunch of people to prayer and brings excitement in the region."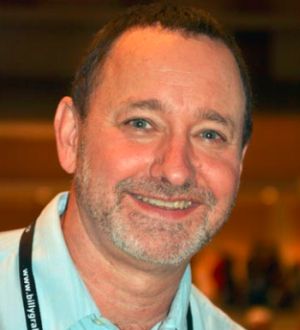 Kevin Cavanaugh, senior pastor of Cedar Grove Church, is grateful for the festival coming to Vancouver.
The Greater Vancouver Festival of Hope kicked off March 31 with a dinner and church rally that attracted nearly 1,300 pastors, church leaders, and Christians who are passionate about evangelism.
Just like the 2014 Greater Toronto Festival of Hope, the Vancouver Festival process will last about a year and include discipleship, evangelism training, and community outreach events. It will culminate with three nights of high profile outreach with Franklin Graham on March 3-5, 2017, at Rogers Arena, home of the NHL's Vancouver Canucks.
In 2013-14, Kevin's church used BGEAC's My Hope video ministry's powerful 30-minute programs to reach almost every group in the church, including junior high students, adults, and ESL (English as a Second Language) participants.
In the end, God used My Hope and Cedar Grove Church to bring more than 50 people to salvation.
Now, Kevin and other Christians at the Festival launch event are excited about what God will accomplish in the next year throughout their region.
"The only way for a region to change is for God to change people," said Olive Armstrong. She and her husband, Bob, are longtime BGEAC supporters and their daughter Shona is already a Festival volunteer.
Subscribe to Decision
Get your own subscription, or renewal, or bless someone by giving Decision Magazine as a gift.
SUBSCRIBE NOW
"We are so excited about the Festival, and we thank God for the people who had this vision for it," Olive said. "We know the Lord wants us to pray for it." Evangelist and BGEA Vice President Will Graham was the keynote at the launch. He challenged his listeners—and, indirectly, all Canadian Christians—to make evangelism a priority for themselves and their churches.
"You guys are passionate about hockey—you'll never lose your passion for it," Will said. "But are your guts wrenched for the 'lostness' in your community?" He noted that many believers "get distracted by things—and they may be good things. But they don't compare to the Gospel. And God hasn't given up [on this world]. If He hasn't, then why should we?" Norm Funk, a member of the Festival's leadership team, knows the value of evangelism. Just a year after he became a Christian at age 17, he served as an usher during the 1984 Billy Graham Vancouver Crusade at B.C. Place Stadium.
While ushering Crusade guests to their seats, Norm was stunned to see a high school classmate—to whom he had fearfully avoided revealing his new faith in Christ—enter his section with his girlfriend and sit down, not knowing Norm was nearby.
"I avoided eye contact with him," Norm recalled. "Then Dr. Graham preached, made an invitation for people to give their lives to Christ, and he and his girlfriend responded."
At that point, Norm said, "I was shocked, excited and amazed at the same time. I was also ashamed that I didn't share (my Christian faith) with him earlier." The two happened to meet a few months later, and it was his classmate who brought up the Crusade.
"He told me it changed his life," Norm said.
With this memory fresh in his mind, Norm told those attending the launch event: "March is a year away, but we don't have to wait until then to proclaim the Gospel. The time is now."
The same message applies to all of us. Let's start sharing the joy of our faith in Christ now!
Meanwhile, we need your prayers and financial gifts so God can work through every part of the Festival to bring as many people as possible to faith in Christ.
Give To Where Most Needed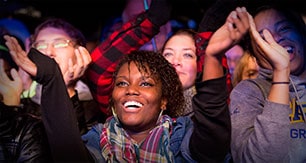 Help us fulfill our mission of proclaiming the Gospel of the Lord Jesus Christ to all we can by every effective means available to us and by equipping others to do the same.