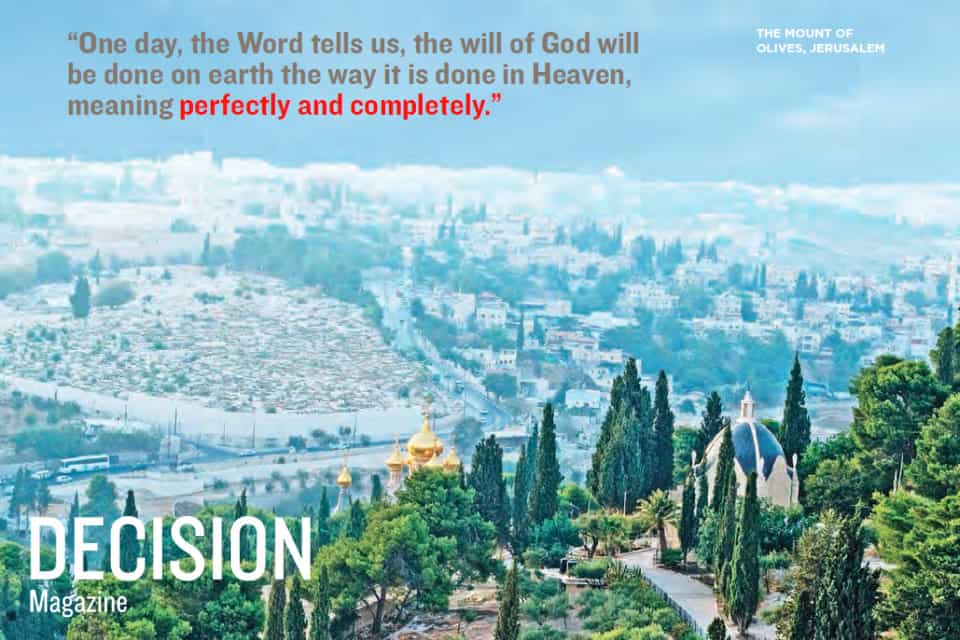 When I came to faith in Jesus in 1971 as a 16-year-old heroin-shooting, LSD-using, Jewish hippie rock drummer, my favorite songs quickly switched from Led Zeppelin's Dazed and Confused and Jimi Hendrix's Foxy Lady to hymns like When We All Get to Heaven.
We would sing those old hymns with great joy, looking forward to the day when we would see Jesus face to face. What a day that would be!
Well, I'm still looking forward to seeing my Savior, and I can't imagine how wonderful it will be to be in His heavenly presence.
But that's not all I'm looking forward to.
Subscribe to Decision
Get your own subscription, or renewal, or bless someone by giving Decision Magazine as a gift.
SUBSCRIBE NOW
I'm looking forward to the day when His kingdom becomes fully manifest on this earth, when the Son of God rules and reigns as King, when people will no longer "hurt or destroy in all [God's] holy mountain; for the earth shall be full of the knowledge of the Lord as the waters cover the sea" (Isaiah 11:9).
What an incredible day that will be!
Tragically, the earth today is filled with pain and suffering, as a mother weeps over her baby who died of starvation last night; as children kiss their father goodbye while he slips into eternity, his body ravaged with cancer; as whole neighborhoods are wiped out through natural disasters with no one left to bury the dead.
The earth today is filled with sin and evil, with people created in God's image committing atrocities against each other, slaughtering and torturing and raping and maiming their fellow human beings to satisfy their carnal lusts or their distorted religious beliefs.
But, thank God, this is not the way things will end.
One day, the Word tells us, the will of God will be done on earth the way it is done in Heaven, meaning perfectly and completely.
On that day, Isaiah prophesied, "the mountain of the house of the Lord shall be established as the highest of the mountains, and shall be lifted up above the hills; and all the nations shall flow to it, and many peoples shall come, and say: 'Come, let us go up to the mountain of the Lord, to the house of the God of Jacob, that he may teach us his ways and that we may walk in his paths.' For out of Zion shall go the law, and the word of the Lord from Jerusalem" (Isaiah 2:2-3).
And what will happen when the Lord rules as King of the world?
The prophet continued, "He shall judge between the nations, and shall decide disputes for many peoples; and they shall beat their swords into plowshares, and their spears into pruning hooks; nation shall not lift up sword against nation, neither shall they learn war anymore" (Isaiah 2:4).
Can you imagine a day when nations do not need armies and communities do not need police?
Can you imagine a day when there are no prisons because there will be no crime, a day when acts of terror, rape and murder, burglary and kidnapping, and thousands of other sinful acts will be all but forgotten relics of the past?
That day will surely come!
On that day, even the order of nature will be transformed to the point that, "The wolf shall dwell with the lamb, and the leopard shall lie down with the young goat, and the calf and the lion and the fattened calf together; and a little child shall lead them. The cow and the bear shall graze; their young shall lie down together; and the lion shall eat straw like the ox. The nursing child shall play over the hole of the cobra, and the weaned child shall put his hand on the adder's den" (Isaiah 11:6-8).
Whether these verses are to be understood literally (which seems likely) or figuratively, with the wild animals representing hostile nations (which is possible), the overall picture is the same.
It will be a world without war, a world without injustice, a world filled with harmony and peace, a world that many theologians describe as the millennium, when Jesus the Messiah rules and reigns over the earth for 1,000 years (see Revelation 20:1-3).
But that is not the end of the story.
According to Revelation 21-22—the last chapters of the New Testament—God's heavenly kingdom will come down to earth, and at that time, death itself will come to an end.
At that time, this word will be proclaimed from Heaven: "The dwelling place of God is with man. He will dwell with them, and they will be his people, and God himself will be with them as their God. He will wipe away every tear from their eyes, and death shall be no more, neither shall there be mourning, nor crying, nor pain anymore, for the former things have passed away" (Revelation 21:3-4).
This is what we have to look forward to forever, as Heaven literally comes to earth.
And in that perfect world without sin, Satan or the flesh, we will enjoy God forever, seeing Him face to face, with every tear having been wiped from our eyes, never to mourn or grieve again.
In anticipation of that perfect world to come, we do our best to alleviate suffering and fight against injustice in this imperfect world today, knowing that we the redeemed are destined to live here without suffering and injustice in the eternal ages ahead.
It is that vision of tomorrow that gives us great hope today, spreading the light in gross darkness until the whole world is ablaze with the light of the glory of God. D ©2016 MICHAEL BROWN
BIBLE VERSES ARE TAKEN BY PERMISSION FROM THE HOLY BIBLE, ENGLISH STANDARD VERSION, ©2001 BY CROSSWAY BIBLES, A PUBLISHING MINISTRY OF GOOD NEWS PUBLISHERS.
MICHAEL BROWN IS AN AUTHOR, SPEAKER AND THEOLOGIAN BASED IN CONCORD, N.C. HE HOSTS THE NATIONALLY SYNDICATED RADIO SHOW IN THE LINE OF FIRE AND HAS WRITTEN 27 BOOKS.
Give To Where Most Needed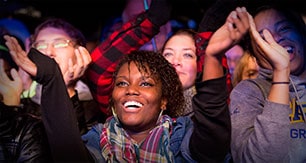 Help us fulfill our mission of proclaiming the Gospel of the Lord Jesus Christ to all we can by every effective means available to us and by equipping others to do the same.