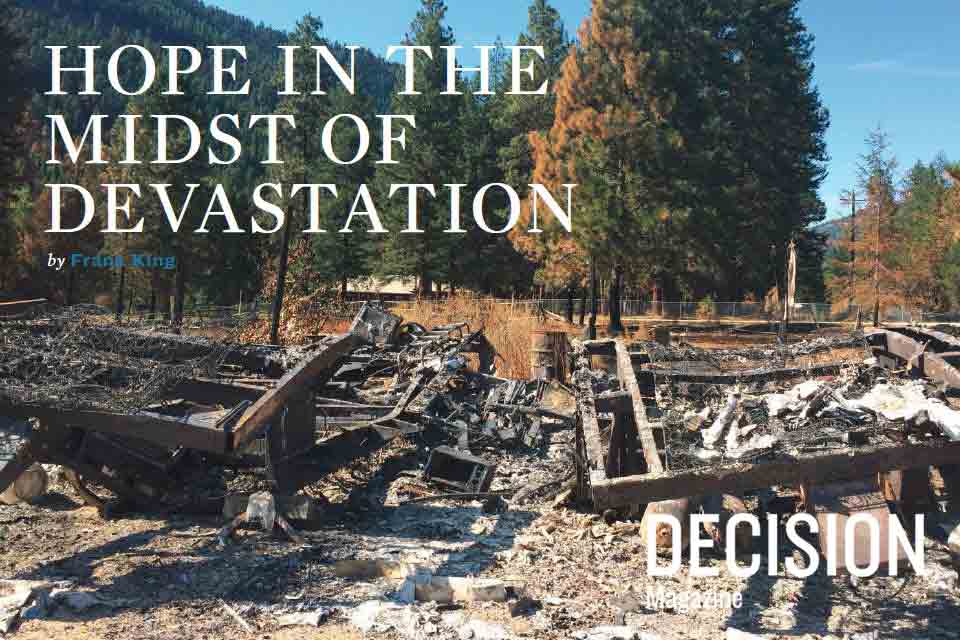 Rapid Response Team chaplains provide Christ's love and compassion to British Columbia fire victims
Shannon Kelly-Keough, her husband, Terry, and their twin adult autistic daughters saw nothing but charred debris when they looked at the remains of their property in the southern British Columbia hamlet of Rock Creek.
A catastrophic August forest fire claimed 30 houses and 11 other buildings in the area, including their home, a guest cabin, and a workshop where Shannon created paintings and fabric art. Nothing survived except a pair of copper earrings and a copper bracelet.
"It was very difficult, especially in the first few weeks because all we thought about was what we'd lost," Shannon recalled.
Subscribe to Decision
Get your own subscription, or renewal, or bless someone by giving Decision Magazine as a gift.
SUBSCRIBE NOW
Then volunteers from Samaritan's Purse showed up to help them clean up their property. And with them came two specially trained Rapid Response Team (RRT) chaplains from the Billy Graham Evangelistic Association of Canada (BGEAC).
"I found the experience with the chaplains really wonderful," Kelly said. "I know my husband had a hard time talking with anyone, but it was easier for me because the chaplains were females. I think I told them my whole life story."
Seven chaplains spent 16 days in the area, offering fire victims and first responders a shoulder to cry on, a listening ear, and prayers to the One who "will wipe away every tear from their eyes" (Revelation 21:4).
"We do our best, through the Holy Spirit, to be Christ's representative to people who have often lost everything," said RRT Manager Merle Doherty.
The Billy Graham Evangelistic Association established the Rapid Response Team ministry after the Sept. 11, 2011, terrorist attacks in New York City. BGEAC brought the ministry to Canada in 2004. In the 11 years since, Christians from across Canada have been trained to respond to disasters, including tornadoes in Ontario, the murder of three police officers in Moncton, NB, and, most notably, the devastating southern Alberta floods of 2013.
"Every disaster we attend is unique because of the impact on people's lives," Doherty said. "Our chaplains were well treated in Rock Creek, and on numerous occasions my team received appreciation from the community for being there."
"We do our best, through the Holy Spirit, to be Christ's representative to people who have often lost everything."
During their time in the Rock Creek area, Doherty and RRT chaplain Patricia Kanwischer accepted an invitation from a Royal Canadian Mounted Police officer to visit the local detachment.
"We were able to connect with this officer by sharing stories, providing encouragement, and speaking into his life," she said. "He was so grateful and stated our visit was his 'God moment.'"
On another occasion, Kanwischer met with a mother and daughter who had lost their home to the fire.
"The mother was resistant to God, but the daughter was clinging to every word I said. The mother allowed me to pray, but only for her daughter. I prayed for her daughter and slipped in a prayer for the mother, who was fighting against breaking down. After the prayer I just held her in my arms and allowed her to cry."
How important was the RRT to Shannon Kelly-Keough after the fire? "I'm sure I wouldn't have made it through that day without the chaplains. They were so sweet and understanding. They just listened."
The Keoughs don't attend church and Shannon admitted she hadn't prayed for a long time, but she did permit the chaplains to pray for her and her family.
"It was like a warm blanket," she said. In fact, "addressing the idea of going to church is easier now than it was before."
This is all music to the ears of Martin and Elaine Fromme, who live in nearby Midway. The Frommes are active in their congregation, the King of Kings New Testament Church & Academy, and are accustomed to opening their home to fellow believers.
"At first I thought, Why are they (the chaplains) here? Said Martin. "Then, I realized the chaplains don't work on their own (but with Samaritan's Purse volunteers) and I started hearing stories of how they minister—how there can be animosity at first and later tears (of grief and appreciation)."
The Frommes ended up hosting several Samaritan's Purse volunteers and providing meals for RRT chaplains.
"It's obviously a wonderful team ministry," Martin said. "I love it. In fact, I've applied to set up a Rapid Response Team training session in Midway so we can train people in ministering." D 2015 BGEA
SCRIPTURE TAKEN BY PERMISSION FROM THE HOLY BIBLE, ENGLISH STANDARD VERSION.
For more information on the Rapid Response Team, including how you can support this vital ministry with your prayers and gifts, please visit BillyGraham.ca/RRT or call 1-800-293-3717.
Give To Where Most Needed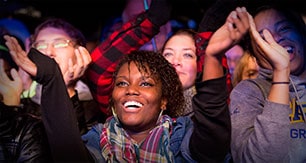 Help us fulfill our mission of proclaiming the Gospel of the Lord Jesus Christ to all we can by every effective means available to us and by equipping others to do the same.