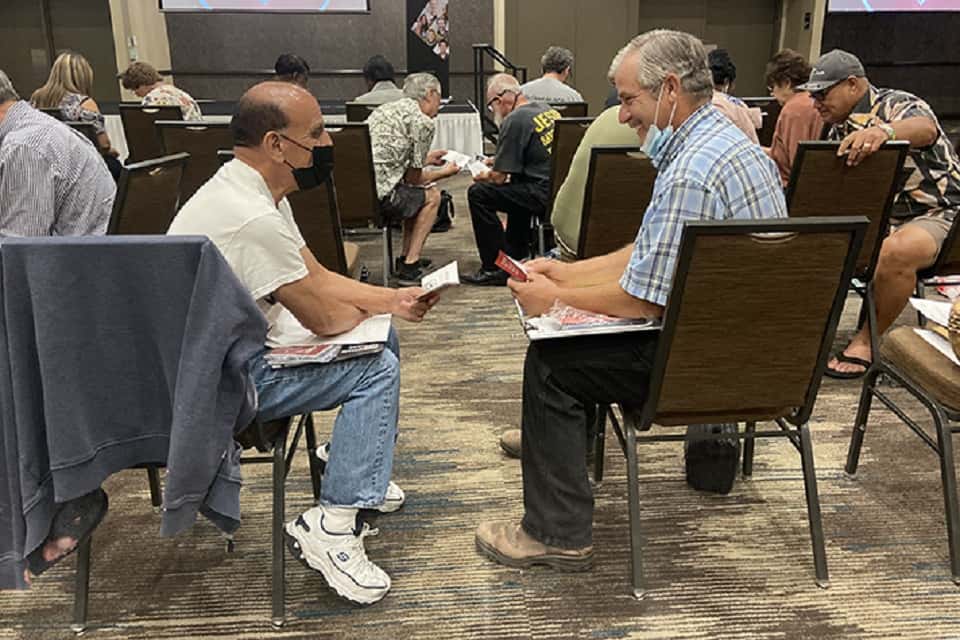 "Enter by the narrow gate. For the gate is wide and the way is easy that leads to destruction, and those who enter by it are many. For the gate is narrow and the way is hard that leads to life, and those who find it are few."
—Matthew 7:13-14, ESV
Sharing your faith can be tough.
That's why the Billy Graham Evangelistic Association (BGEA) is offering free evangelism training courses along Route 66 ahead of the God Loves You Tour.
The one-night Christian Life and Witness Course has two purposes: help people share their faith and train volunteers for the upcoming tour from Illinois to California.
This fall, these volunteers will have the opportunity to talk and pray with people who respond to the Gospel, which will be shared by Franklin Graham in eight cities, starting near Chicago, Illinois, and ending in San Bernardino, California.
>> Find the stop closest to you along the Route 66 God Loves You Tour.
"If you say, I'm scared [to share the Good News], I've never done it, I don't know what to do, well, we're going to help you," said Ken Ramey, who's engaging churches ahead of the Route 66 tour.
The three-hour course equips attendees with Gospel booklets, including the Steps to Peace With God—which Billy Graham Rapid Response Team chaplains use during every disaster deployment. The training also involves sessions on personal evangelism and provides time for attendees to practice talking about Jesus with others.
"Pastors … very rarely [teach congregants] how to share their faith, how to have a simple conversation across the table having coffee," said Mark Lingle, one of BGEA's national field directors. "So the class really helps them see how simple it is, and the Steps to Peace just make it more simple.
"It gives them courage and boldness. When they come to class … they get to experience what it's going to be like [to share their faith], whether it's in a coffee shop or the field at a Festival or on the tour."
>> More free evangelism classes are available in July, August and September. Interested? Register here.
The God Loves You Tour, which exists to reach the lost and revive the church, is BGEA's first multi-city tour since the start of the pandemic. Beforehand, Franklin Graham held a series of Decision America Tours, Gospel events that focused on certain regions across the United States.
Lingle recalls seeing how one Decision America Tour volunteer was transformed from the evangelism course to an evening at the tour.
A nervous volunteer was around 80 years old, and she'd never led anyone to Christ but took BGEA's evangelism course. During the tour, she stood and watched as other volunteers prayed with people coming forward. But then, a little girl came up to the front wanting to receive Jesus, and the older woman stepped up to the plate, telling her how to have a relationship with Him.
"It literally changed her life," said Lingle. "Her entire face lit up. That's what it's about. For me, getting people to a place where they're not scared, … they feel comfortable talking about Jesus.
"Everybody needs Jesus. Everybody needs hope. Everybody is looking for something. No matter who they are, no matter what age, there's always opportunities."
'It's Something to Carry With You Always'
This week, the June trainings wrapped up in San Bernardino, California—where Betty Gonzalez sat listening intently.
Three years ago, she was struck by the sight of volunteers praying with those who responded to the Gospel at Franklin Graham's Decision America Tour in Pasadena, California.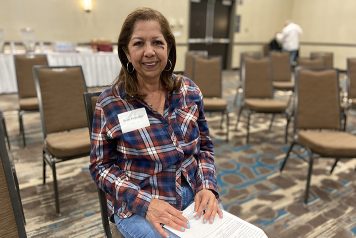 She desires to be that volunteer for the next person who wants to receive Jesus.
"I really hope God will use me at this event," said Gonzalez, who drove an hour-and-a-half to attend the course. Her life was completely changed by Jesus after a history of drugs, alcohol and gangs.
"After being involved in that for so long and going through all the process in my life, I came to a point where I was like, I need change," Gonzalez explained. "Either I'm going to be found dead somewhere or go to prison, that's the road I was leading to. God has a way of changing you. … You just don't understand how that transition happens. It's the power of God."
Now, she constantly tells people about Jesus through witnessing on the streets.
"I wanted to … come for this training because I wanted to see if there's something I'm missing or something I could do different [in evangelizing] to be used more by God in whatever way I possibly can," Gonzalez said. "This type of training can help you in your everyday life and walk with the Lord. It's something to carry with you always."
Give To Where Most Needed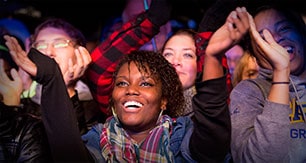 Help us fulfill our mission of proclaiming the Gospel of the Lord Jesus Christ to all we can by every effective means available to us and by equipping others to do the same.