Holly Lafont has sat with the first responders, the hospital staff. She's seen, first-hand, the pain in their hearts.
About a week after the deadly crash which shocked a country, and forever changed the town of Humboldt, Sask., the grief is still overpowering.
"At times like this," she said, "people wonder, 'is there a God? Why God? Where's God?'"
Lafont is one of four crisis-trained Rapid Response Team chaplains from the Calgary area, dispatched to Humboldt to provide emotional and spiritual support to heartbroken residents on behalf of the Billy Graham Evangelistic Association of Canada.
Regardless of religion or denomination, faith plays an important role in the healing process after tragedies like these, according to Lafont, whose first rapid response mission was five years ago following the 2013 Alberta floods.
"They have lots of crisis-trained people here, but we have the blessing of being able to bring emotional and spiritual support at the same time. I think that the two go hand-in-hand," Lafont said. "Just to sit down and have a little bowl of soup with somebody and just start the conversation to let them tell their story and vent and process, that's exactly what we're doing here. Just being available to whoever is sitting alone, wishing somebody was there to talk to them out in the community somewhere, and being that person to care enough to sit down and say 'hey, let's talk.'"
The magnitude of the fatal collision and its aftermath has rocked not only the town of Humboldt and province of Saskatchewan, but Canadians coast-to-coast, regardless of background. It's partly due to how relatable the circumstances were prior to the crash — kids on a bus were travelling to their next game.
"You know, there are so many accidents that take place everyday somewhere, but this was an accident that touched everybody's heart because those young boys were so innocent . . . They did not have their full life yet," said Calgary Imam Syed Soharwardy, who was sitting at the Regina airport when he heard the news last week.
"I can't imagine how those parents were feeling for those kids. It's so painful. It's so heartbreaking."
The day after the accident, the Islamic Supreme Council of Canada held two prayer services for the victims in Saskatoon and Airdrie. Soharwardy said he felt it was necessary to let his congregation express their grief in a meaningful way as they mourned the tremendous loss.
"A lot of people cried actually when we were having the memorial service because it's not something (where) 'it's not my children,'" said Soharwardy. "No, it is our children. It is our Canadian boys, those who were just starting their lives. They were just going on a hockey trip and tragically they lost their lives. Imagine their parents, their brothers, their sisters, their close friends (and) how they will be feeling . . . we felt their pain."
Inderjit Wadhwa, president of the Sikh Society of Calgary, said a special prayer is also planned at his gurdwara, or Sikh temple, this weekend, as is custom in the religion following a death.
"We try to give them the comfort that this is not in your hands, that whatever happened, it is planned by the mighty God who's the creator," he said. "Nobody predicts what happens in the next moment. This is up to the God that whenever he wants to take you away from this earth, he will take you away. It's nobody's fault. Whatever's happening is the will of the God."
Wadhwa said faith not only helps in times of tragedy from a spiritual lens, but also from the perspective of community support inherently available through places of worship.
"The community gets together and tries to provide them whatever possible and whatever their requirement," he said. "We tell them 'you are not alone. The whole community, the whole society is standing with you shoulder to shoulder.'"
That sense of solidarity has been felt at Calgary's Scarboro United Church as well, according Rev. Lee Spice.
"As humans, it is our wounds and the hurt that we have sustained that not only make us human, but enable us to reach out to others who are hurting," she said. "You need a release. You need to be able to just lay it out and release."
Spice described a sombre mood that overtook Sunday services one week ago as a second of silence was held for each life lost in the Humboldt crash. She said speaking of tragedy, however difficult, is a necessity at a time like this in order for faith to help heal.
"It's not time for moving past it yet," she said. "Right now, we are living in the grief and it has to be. It just has to be right now. There will be time for moving past it, but right now is a time for grieving and for reaching out to each other and holding onto each other and reaching out to the people who've lost the most."
For Lafont, being in Humboldt has helped her reach out to those struggling with the memories that linger from that fateful day on April 6. She said she hopes she's been able to bring comfort and hope to those who just needed a shoulder to cry on.
"When we are in a difficult situation, we recognize our need for life to be about more than just ourselves," she said. "That's the place where we start looking for that higher power. Depending on what your traditions and your culture and upbringing are, that higher power looks like different things."
Lafont acknowledged some may be questioning that higher power following the devastation of Humboldt.
"We don't have the answer," she said. "We're going to get to heaven, so we can get those answers when we get there."
Give To Rapid Response Team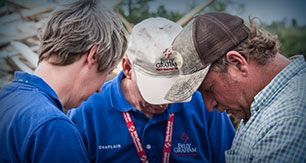 Your gift will provide for the training and deployment of our Rapid Response Team chaplains, who are deployed when natural or man made disasters strike in Canada and abroad. RRT chaplains serve and support hurting people affected by crisis, and share the message of hope found in Jesus.