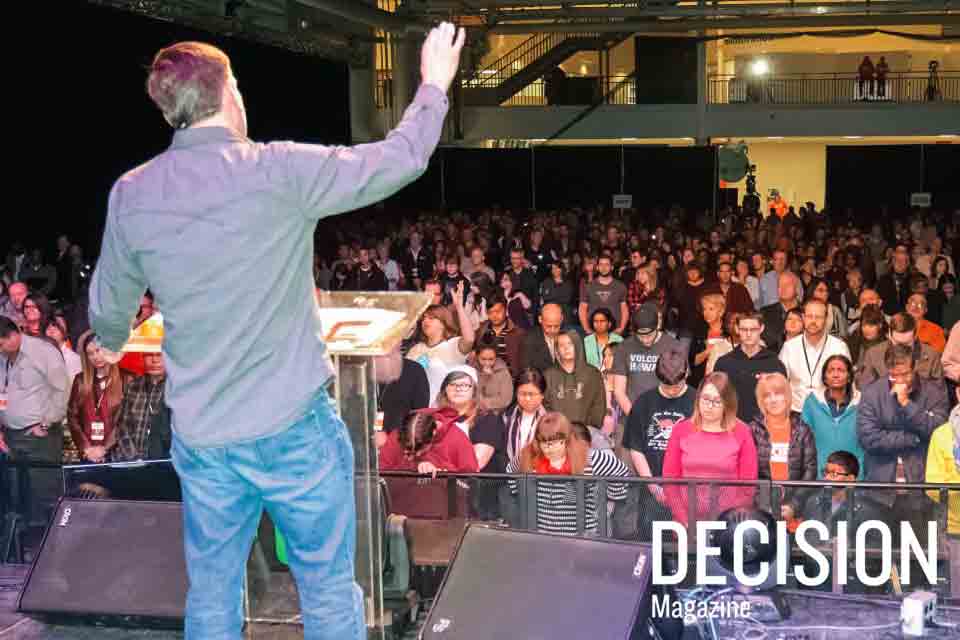 "You're not here by accident," Will Graham told more than 800 people attending one of two nights of outreach events at the Fort McMurray Celebration of Hope.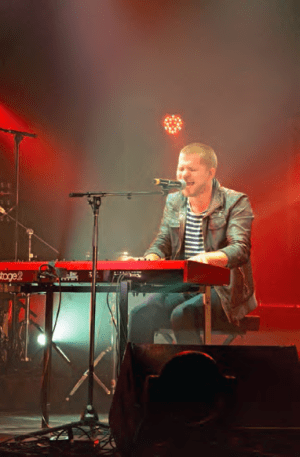 The City Harmonic presents the Gospel in song.
"God wants you here, and you can only fulfill your purpose when you place your life in your Creator's hands. Are you willing to give your life to Him?"
For 8-year-old Braden Gray, the answer was yes.
"I wanted to give my heart to God and Jesus," he exclaimed proudly, while his smiling mother looked on. "I prayed twice!"
The Celebration's high-profile evangelistic outreach was held during two nights in mid-November in the Nexen Energy Fieldhouse, part of an enormous community and recreation facility at Macdonald Island Park in this northern Alberta city of 61,000.
More than 1,600 people heard music and testimonies from popular Christian artists like Manafest and The City Harmonic, plus Will Graham's Gospel messages. Almost 100 secured their eternal salvation just like Braden.
Beyond the high-profile events, the Celebration—which was organized in partnership with 10 local churches—included many months of prayer, community outreach activities, and training Christians in discipleship and evangelism.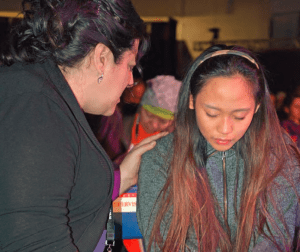 This young woman receives prayer from a Celebration of Hope counselor.
Braden's commitment to Christ was another happy milestone for his family, which has seen its share of challenges. Parents Curry and Rose moved to Fort McMurray from Newfoundland in 2005, seeking a better life.
It was fun in the beginning. The economy provided ample income for the couple, enabling the twentysomethings to buy an additional rental property.
Curry and Rose also got into the party lifestyle, even as they became parents in 2007 (to Braden) and again in 2012 (to Keysha). But during that time, things began to unravel.
"Even if they don't respond now, the seed is planted, just like it was with me."
—Kala Duguay,
volunteer Celebration counselor
"We had some marital issues," Rose revealed. "We were ready to give up on our marriage, our family, and leave each other." Will Graham's words at the Fort McMurray Celebration resonated with the Grays. "Maybe you made lots of money or you have a big old truck," he told the crowd. "Everything on the outside looks good, but something's missing. You're dissatisfied."
That's how Curry's and Rose's lives were.
"We had all the material stuff we needed, but it still couldn't make us happy together," said Rose. Fortunately, God brought Curry and Rose to a local church for help. They made a commitment to the Lord in May 2013.
The dramatic improvement in his parents' relationship made a strong impression on Braden, softening his heart for the work God did at the Celebration of Hope.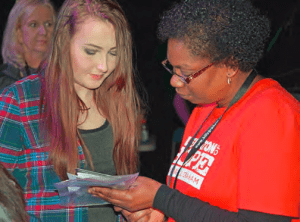 Trained volunteer counselors greet those seeking to make a spiritual decision.
Before leaving the Celebration, Rose turned to Braden and asked, "Do you like your life now, with God in it? Or the way it was?"
"Now, now," said Braden, breaking into a wide smile.
For volunteer counselor Kala Duguay, the Celebration was "an opportunity for people who don't attend church to hear the Gospel and respond.
"Even if they don't respond now, the seed is planted, just like it was with me."
Kala grew up in a Hindu family, but in 1978, at age 10, she attended a Billy Graham Evangelistic Association Crusade in Singapore. She didn't accept the invitation to commit her life to Christ then, but the seeds were planted, and she never lost her interest in Christianity.
Subscribe to Decision
Get your own subscription, or renewal, or bless someone by giving Decision Magazine as a gift.
SUBSCRIBE NOW
Seven years later, as she dealt with the death of her mother, Kala finally surrendered to the love of God and found that He "sets on high those who are lowly, and those who mourn are lifted to safety" (Job 5:11).
"Now I'm on the other side," Kala said joyously. "I received Jesus and I'm helping others come to God."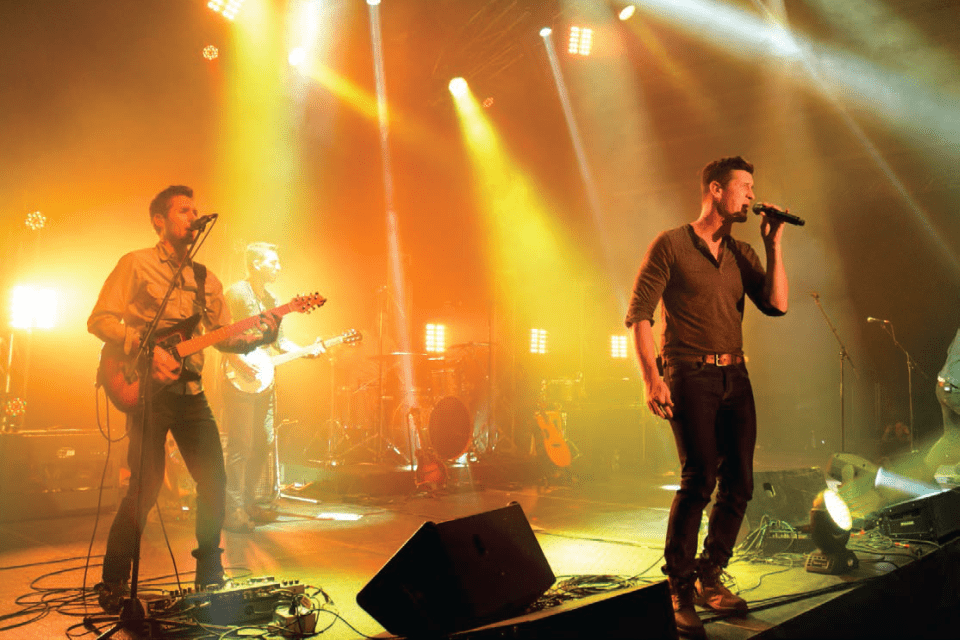 Country band High Valley helps new believers celebrate their salvation.
Planning is underway for Celebration of Hope events in Newfoundland and Labrador this fall. We invite you to financially and prayerfully support this evangelistic ministry by calling 1.800.293.3717 or donating online.
Celebration an answer to prayer for area pastors
Evangelism has long been a challenge in Fort McMurray, where the energy industry dictates odd and erratic work schedules that often make attending church difficult. Now, churches must deal with the fallout from massive layoffs caused by plunging global oil prices.
That's why pastors in this city of 61,000, more than 400 kilometers north of Edmonton, were so happy to partner with the Billy Graham Evangelistic Association of Canada to bring the Celebration of Hope to the Nexen Energy Field-house.
"We've been praying for a long time for God to make an impact in this community," said Rick Kirschner, associate pastor at McMurray Gospel Assembly. "So getting involved with the Celebration was a no-brainer."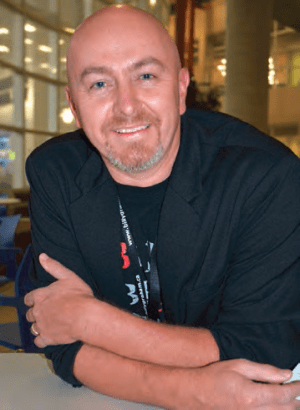 CRAIG RANDALL: The best part of the Celebration ministry was the evangelism and discipleship training phases.
Kirschner, who served as the Celebration's executive leader, added, "This is an excellent ministry and part of God's plan for this region."
For Craig Randall, the best part of the Celebration ministry was the evangelism and discipleship training phases—FM419 for youth and the Christian Life & Witness Course for all ages.
Randall, the Community Outreach Pastor at Family Christian Centre, noted, "These phases break down Christianity into its simplest terms and make evangelism all from the heart. People who attended told me they were blown away. It gave them new confidence (to share their faith in Christ). They realized 'I can do this.'"
For Kirschner, the focus on prayer was a highlight. Sitting in a quiet spot in the field house, while waiting for Will Graham to begin preaching, he noted that thanks to the Celebration, "we connected with a prayer network in Fort McMurray that we didn't know existed. So we aligned with something God was already doing." D
Photographs: Frank King
Give To Where Most Needed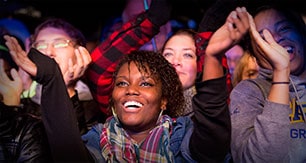 Help us fulfill our mission of proclaiming the Gospel of the Lord Jesus Christ to all we can by every effective means available to us and by equipping others to do the same.