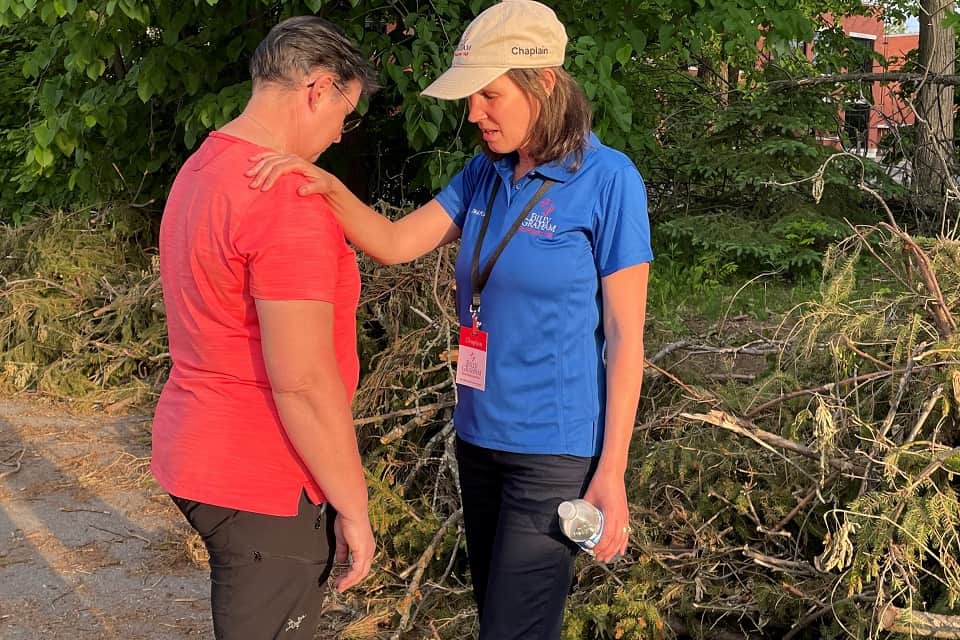 Tears streamed down Jillian's* face as she held a new Billy Graham Training Bible.
It was the first Bible she had ever owned.
The two Rapid Response Team chaplains who had given Jillian the Bible stood with her inside her Ottawa, ON home.
Just a few weeks earlier, Jillian's home was lashed by a derecho, a string of violent storms that tore trees from their roots, ripped at rooftops, and threw debris everywhere. Jillian had faced the terrifying ordeal by herself.
A team from Samaritan's Purse had come by to clean up the damage and debris, something that might have taken Jillian days or weeks on her own. Jillian shared how grateful she was for all the crew had done before she turned the conversation to spiritual matters.
Jillian showed the chaplains a book she was reading about miracles. She told them how it was opening her mind and teaching her how to empty her thoughts.
One of the chaplains used Jillian's new Bible to share a devotion from the book of Habakkuk about the chariot of salvation.
The message resonated in Jillian's heart, but when the chaplain asked if Jillian knew what Jesus had done for her, she waved it off at first: "Oh, sure," she replied.
But the chaplain asked again and offered to walk Jillian through the Steps to Peace with God booklet, to which she agreed.
When they came to the end of the booklet, Jillian was ready to trust Jesus as her Lord and Savior. She boldly prayed out loud the prayer of salvation and then wrapped her arms around the chaplains. Jillian was thrilled!
The chaplains gave Jillian a copy of Billy Graham's Living in Christ book to start her on her new journey with Jesus. They prayed that the Holy Spirit would heal her from a broken bone in her foot and connect her with a local community of believers. The chaplains also agreed to follow up with Jillian and help her spend time going through the Gospel of John.
Jillian said that she believed that God had a plan for her through the storms, especially since she faced them alone while her husband and daughter were overseas. We praise God for how he worked through your prayers and gifts to send chaplains to her and introduce Jillian to new life in Jesus Christ.
*Name changed to protect privacy.
Give To Rapid Response Team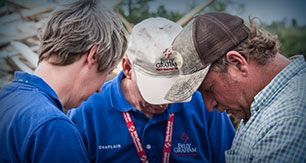 Your gift will provide for the training and deployment of our Rapid Response Team chaplains, who are deployed when natural or man made disasters strike in Canada and abroad. RRT chaplains serve and support hurting people affected by crisis, and share the message of hope found in Jesus.