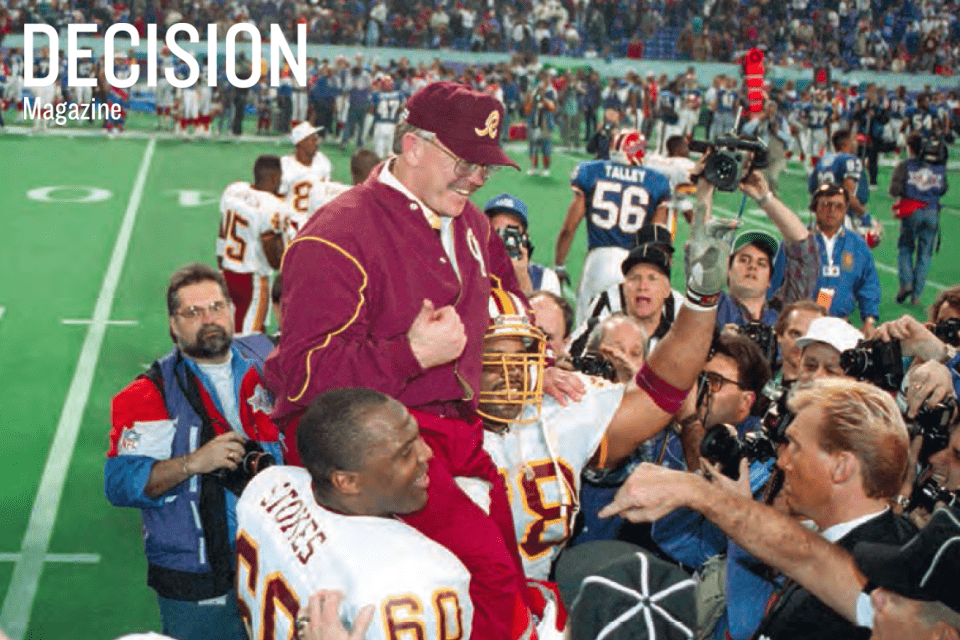 When Joe Gibbs calls something "one of the great sports stories I've been a part of," you can rest assured that whatever he's describing must be plenty special.
Now 75, he's been involved with the highest levels of sports for more than three decades. He had two coaching stints with the NFL's Washington Redskins (1981-92 and 2004-07), winning three Super Bowls and earning election into the Pro Football Hall of Fame. In auto racing, the NASCAR teams he still owns have won four Sprint Cup championships.
It was that fourth racing title—secured just three months ago by driver Kyle Busch—that had Gibbs gushing.
Subscribe to Decision
Get your own subscription, or renewal, or bless someone by giving Decision Magazine as a gift.
SUBSCRIBE NOW
Fittingly, it was a championship won against steep odds—in the midst of a serious family trial and following a horrendous crash by Busch in the first week of the season.
Adversity and testing, you see, have followed Gibbs nearly as much as success. In fact, they've usually been interwoven. Through it all, he has leaned on his deep relationship with God, trusting the Lord regardless of whether he could make sense of the challenges.
"So many times, we don't have the answer," Gibbs told Decision during an interview at his Huntersville, N.C., office. "Sometimes when we go through tough things, we can't see God at the time, but we know He's there. He's always there.
"I'm convinced that someday—it may be when I stand before the Lord—He'll explain it to me."
Gibbs and his family leaned on those truths early last year as the 2015 racing season was about to start. That's when it was discovered that J.D., the oldest of his two sons—and president of the Joe Gibbs Racing operation—needed treatment for symptoms affecting brain function, including speech and thought processing.
J.D. had always been extremely active and healthy for years, but now he could no longer perform his duties on a daily basis.
"Sometimes when we go through tough things, we can't see God at the time, but we know He's there. He's always there."
-Joe Gibbs
Just eight years earlier, one of J.D.'s sons, Taylor, then 2, was diagnosed with leukemia. Following extensive treatments, Taylor eventually was declared cancer-free.
The Gibbs family also faced a health crisis back in 1979 when Joe's wife, Pat, needed surgery for a brain tumor that left one side of her face partially paralyzed.
"When you go through stuff like that, it's a traumatic thing," Gibbs said. "You realize the only thing you really have is your faith."
J.D.'s brain issues shook Joe to the core. But he found encouragement reading God's Word and contemplating the Lord's faithfulness.
"When you're as old as I am, you remember things that happened in the past and how God showed up, and it reinforces your faith," Gibbs said.
Gibbs has repeatedly sought out biblical teaching on the topic of adversity, and he is constantly learning more about how to walk through it.
"For most of us as we go through life, we're going to have to deal with some real adversity, and it's going to be a test," Gibbs said. "I think the key in going through those things is keeping our eyes focused on the Lord and what He's trying to teach us.
"I'm not saying I do that all the time because it can be awfully hard. Many times, I just want to run from it. Our natural tendency is to say, 'Just let me get out of here.'"
But if there's a trademark of Gibbs and his sports teams, it's a dogged perseverance—an ability to meet challenges head-on—that has brought success belying the obstacles.
Two of the Redskins' Super Bowl wins were in seasons (1982 and '87) that were interrupted by player strikes. While many other teams succumbed to the chaos, the Redskins thrived.
"It's like that poem (by Rudyard Kipling) that says keep your head about you when all those around you are losing theirs," Gibbs said. "That gives you a better chance. I'm not saying I've always done that, but in the NFL, if you see big changes coming, you need to see it as an opportunity because odds are if big things happen, a lot of people are going to mishandle it. So if you handle it right, you're going to get a big jump."
But some things, like tragedy, can't be anticipated.
Nothing Gibbs had experienced prepared him for the challenge he faced in his final season with the Redskins in 2007 when one of his star players, Pro Bowl safety Sean Taylor, was killed with five games remaining. Taylor was only 24.
"There's no game plan for that," Gibbs said. "Nobody's written a book about that, so you're in uncharted territory, which can happen to us in life. I think those are the times when you lean the most on your faith and ask God for wisdom."
The entire team attended Taylor's funeral together. Many players were devastated and wept bitterly.
The Redskins had a 5-7 record at the time of the funeral, with four consecutive losses. But they somehow pulled together behind Gibbs' strong leadership to win their final four games and earn a playoff berth. They were eliminated in their first postseason game, but it was a huge accomplishment nonetheless.
With all of that as a back-drop, consider the moment last February when Kyle Busch lost control of his car during a race at Daytona International Speedway and collided head-on with a retaining wall. Busch had to be helped out of the vehicle and taken away on a stretcher with a compound fracture of his lower right leg and a mid-foot fracture in his left foot.
Gibbs hurried to see Busch in the hospital. Before the driver was taken into surgery, Gibbs told him, "Hey, I love you."
Gibbs already was dealing with J.D.'s health issues and suddenly also faced uncertainty about Busch's recovery.
Shortly thereafter, Gibbs gave a stirring motivational speech to his entire racing operation, which includes three other NASCAR Sprint Cup teams in addition to Busch.
Busch wound up missing 11 weeks, but returned better than ever, winning four Sprint Cup races in a five-week span.
By season's end last November, Busch and his team were one of four teams in contention for the season championship going into the final race at Homestead, Fla.
Busch took the lead at Homestead with seven laps to go and pulled away to capture the title, completing a remarkable comeback—one of the greatest sports stories Joe Gibbs says he has ever been a part of.
"The biggest thrill for me was that J.D. was right there with us and had a chance to celebrate that whole victory," Gibbs said. "It was a great family thing for us."
J.D. continues to receive treatments, but those moments together were like so many other times in Joe's life when he's been overcome with thanksgiving and joy.
"Why do I get a chance to experience great things like that?" he said. "It's nothing I can take credit for. It's just a gift from the Lord. I've been blessed."
Regardless of whether he's celebrating or suffering, Gibbs said he begins each day by visualizing that he's putting on the whole armor of God (Ephesians 6:10-17)—the belt of truth, the breastplate of righteousness, the Gospel of peace on his feet, the shield of faith, the sword of the Spirit and the helmet of salvation.
"I try to do it before I hit the floor," he said. "We need to be dressed for spiritual battle."
And amid the unpredictability of life, Gibbs has learned that God's armor is the most important uniform of all. D BGEA 2016
Give To Where Most Needed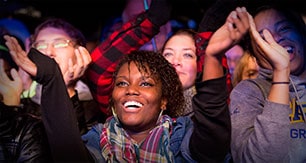 Help us fulfill our mission of proclaiming the Gospel of the Lord Jesus Christ to all we can by every effective means available to us and by equipping others to do the same.