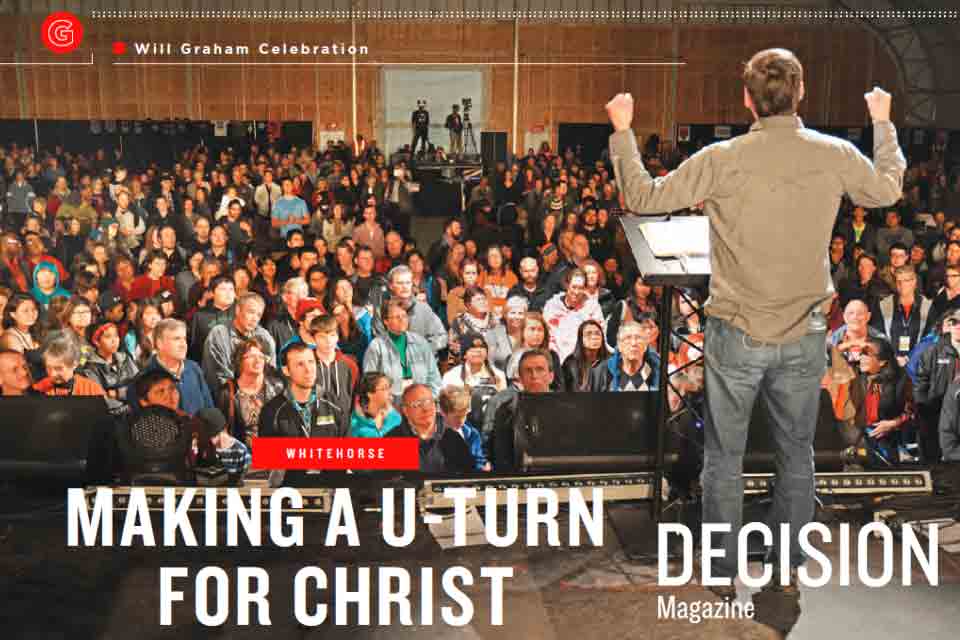 Despite last-minute venue change, God does amazing work at Celebration of Hope
When God wants to change hearts for all eternity, not even a last-minute change of venue can stop Him.
The Celebration of Hope in Whitehorse, Yukon, was scheduled to take place over two nights in October in a giant tent along the shores of the Yukon River.
However, significant moisture issues in the ground at Shipyards Park forced the Billy Graham Evangelistic Association of Canada (BGEAC) to move the two-day event to an empty airport hangar loaned to BGEAC by Air North.
This was just 10 days before Will Graham and several popular Christian musicians were arriving in Whitehorse to preach the Good News of Jesus Christ.
Hard work by BGEAC staff, plus volunteer support from 12 enthusiastic partner churches, made the switch possible with minimal disruption. Then the power of the Lord took over.
Subscribe to Decision
Get your own subscription, or renewal, or bless someone by giving Decision Magazine as a gift.
SUBSCRIBE NOW
"Some of you feel like you're going the right way because all your friends are going that way and it makes you feel good," Will told almost 900 people on the first night. "But the truth is, most of us have been going in the wrong direction most of our lives."
Gwen, a single mother of three girls, knew she was going the wrong way. So when Will invited people to make a U-turn and commit their lives to Christ, Gwen said yes.
"Everything in my life was OK, but I felt really empty inside," she said. "I wanted to change my life and know the Lord better. Now, I feel good because I was touched by the Holy Spirit. I can feel it."
Volunteer counselor Tara Leenders, who knew Gwen and helped her make a commitment to Christ, said, "I told Gwen the angels of Heaven are rejoicing because she's become my sister in Christ. I was overjoyed and ready to cry."
In total, more than 1,800 people in the community of 23,000 attended the Celebration, with more than 180 deciding to trust their lives to the One who "will not leave you or forsake you" (Deuteronomy 31:6, ESV).
Check out the photo gallery from the Whitehorse Celebration of Hope
Among those who attended was Yukon Premier Darrell Pasloski. "I'm so excited to be a part of the Celebration of Hope, to hear the words of Jesus Christ, and this great music," he told the audience on the second night.
"At the end of the day, wow," said a clearly impressed Roy Young of Bethany Church, one of the Celebration partner congregations. "Not only did the Celebration affect Whitehorse, a ton of people from the North-west Territories came as well. For our churches to share these kinds of discipleship opportunities is probably life-changing for the pastors. This wasn't just a splash event, it was a wave that's going to keep moving."
One person who came to the Celebration was Richard, a 50-year-old First Nations man with a troubled past in Canada's residential school system.
"I came because my dad was a preacher who really liked Billy Graham," he explained.
Richard's difficult life has been particularly challenging in 2015. "I'm always sinning," he said. "I live on the streets and I got into bad trouble with drug dealers."
Hoping to change his life now and for all eternity, Richard gave his heart to Jesus Christ.
"This is a chance to give my sins to Jesus," he said.
Longtime Whitehorse resident Cheryl McCormick was overjoyed to serve as a volunteer counselor at the Celebration. She helped a First Nations woman make a first-time commitment to Christ.
"I was scared to death," Cheryl admitted. "I thought, Lord, help me." And He did —not just to help someone make a faith decision, but to reaffirm Cheryl's commitment to work for Him.
Coming from a broken home, Cheryl committed her life to Christ at age 16. That commitment was crucial to helping her survive drug and alcohol problems, plus abuse by an ex-husband.
Serving as a counselor at the Celebration of Hope was her way of being part of Christ's redemptive work in a fallen world.
"I want people to accept Christ; it's in my heart," she said. "I know He can heal and restore."
Hope Restored at Siksika First Nation
Feeling overwhelmed by medical issues and the accidental drowning of her nephew, Cash, Cheryl Bear Chief felt herself turning away from God.
On medical leave from her job because of multiple sclerosis, Cheryl was dealt a second blow when Cash's body was found in May, nine days after he went missing."
I asked, 'Why didn't God save Cash?'" she recalled.
Feeling adrift from the source of her salvation, Cheryl decided to attend the Celebration of Hope at Siksika First Nation, east of Calgary, in October. That's when her life began to change.
"God hand-made you and me," Will Graham said to a crowded community gym inside the Deerfoot Sportsplex.
"He knows your fears, your joys, and everything about you. And not only does God have a purpose for you, He has a purpose for your people and your nation."
With renewed understanding of God's character, Cheryl was among 90 who went forward when Will invited people to commit their lives to the "Wonderful Counselor, Mighty God, Everlasting Father, Prince of Peace" (Isaiah 9:6, ESV).
Check out the photo gallery from the Siksika Celebration of Hope
"I've said the sinner's prayer, but never like this," she said. "I have hope, knowing where Cash (who was a Christian) is now. I know I'm going to recover."
The Siksika Celebration of Hope is the first evangelistic event the Billy Graham Evangelistic Association of Canada has ever done amongst Canada's First Nations. Will hopes there are more to come because, as he told the audience at Deerfoot Sportsplex, "It doesn't matter if you're white or part of the First Nations. God loves you." D
For more information on the Celebration of Hope, including how you can prayerfully and financially support this vital ministry, please call 1-800-293-3717 or donate online.
Give To Where Most Needed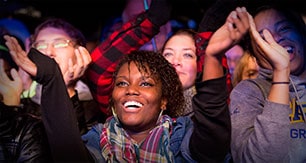 Help us fulfill our mission of proclaiming the Gospel of the Lord Jesus Christ to all we can by every effective means available to us and by equipping others to do the same.