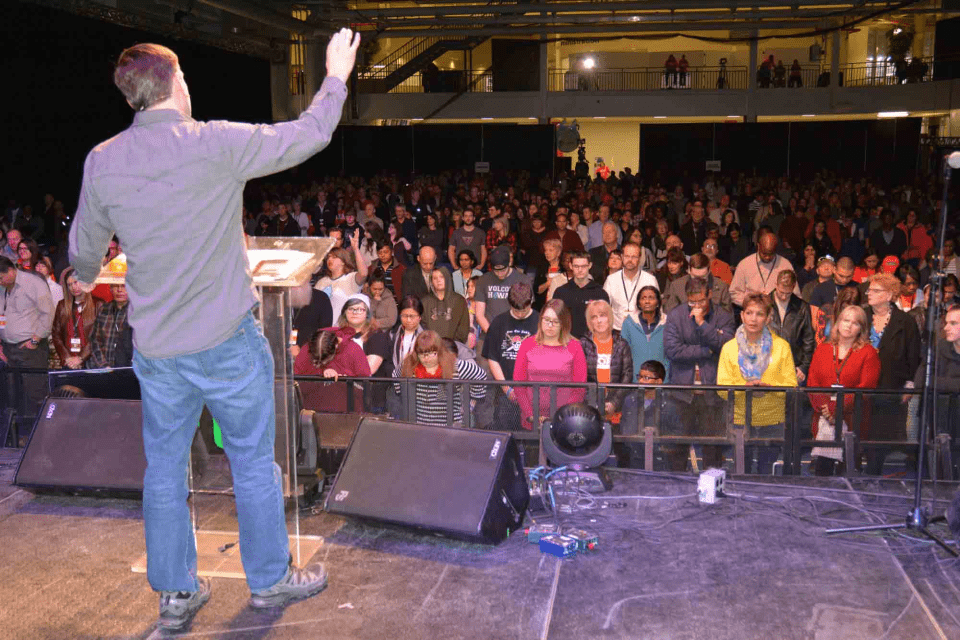 Unique ministry opportunities presented themselves when Will Graham took the Gospel to Northern Canada.
"Do not store up for yourselves treasures on earth, where moths and vermin destroy, and where thieves break in and steal. But store up for yourselves treasures in heaven … for where your treasure is, there your heart will be also." —Jesus (Matthew 6:19-20, NIV)
While Will Graham was sharing the Gospel at a Celebration of Hope event in Fort McMurray in mid-November, the early winter's first major snowfall was rolling in.
In the parking lot outside the Nexen Field House where the Celebration was held, snowflakes blanketed row upon row of shiny $50,000 trucks bought by people who have tasted the material rewards of the oilsands industry. Such is life in "Fort Mac," Canada's foremost boomtown, and a unique ministry opportunity for the Billy Graham Evangelistic Association of Canada.
"I've met lots of people who've left their family, wherever they came from, to come here and find work," said Cyndy Pickersgill, an event counsellor. "They think this is the place for them, where the money is, where the jobs are. If they find work, they bring their families with them."
View the photo gallery from the Fort McMurray Celebration Of Hope
It's a common story in Fort Mac. It's a transplant city—attracting those seeking opportunity, and sometimes escaping dismal work prospects in their home towns. Workers come from across the Prairies, the Maritimes, and countries as far away as the Philippines. The jobs are here, yet it's a difficult choice: Come to make money, but leave your roots, and live in this remote place where you don't know anyone. It can be lonely, and it's cold. Very cold.
Fort McMurray's spiritual climate is unique, due to the material wealth. "For people who have a lot, it's harder for them to come to Christ, I think," explained Cyndy. "More distractions, more opportunities to chase material things instead of putting their hope in Jesus."
"You were created for a relationship with God."
Will Graham spoke to the hearts of these distracted people, delivering a personable and poignant message of the Gospel. He encouraged listeners to clarify their direction in life.
"Our purpose is not man-centered but God-centered," preached Will. "Maybe you've made a lot of money, but there's still something missing in your life—and empty spot. Here's your purpose: You were created for a relationship with God."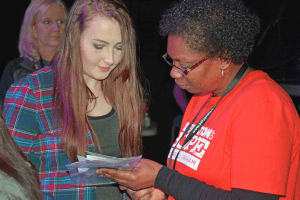 An emotional moment at the Celebration of Hope in Fort McMurray.
After Will offered an invitation to accept Jesus, Cyndy prayed with "Mary," a new resident of the city who came forward. In town for less than a month, Mary was still looking for work, and feeling adrift. The warmth shown by Celebration volunteers, combined with Will's invitation, gave Mary the courage to make a commitment to Christ.
"She seemed so happy after we prayed," said Cyndy. "I even gave her a ride home after the event, and showed her a church right around the corner from her house where she could attend."
Please continue to pray for the people of Fort Mac—that their lives may be changed by God's power and truth.
Give To Where Most Needed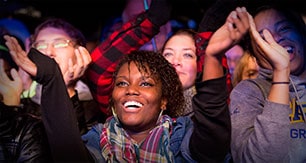 Help us fulfill our mission of proclaiming the Gospel of the Lord Jesus Christ to all we can by every effective means available to us and by equipping others to do the same.