Calgary, Alberta, June 9, 2017 – More than 10 million people worldwide have committed their lives to Jesus Christ through the Billy Graham Evangelistic Association (BGEA)'s Internet Evangelism ministry that began only six years ago.
Today, the ministry recorded the ten-millionth person on the planet—including many people in countries otherwise closed to Christianity—who have visited BGEA's evangelism websites, learned about the Gospel of Christ, and told BGEA they formally embraced Him as Lord.
"Each of those 10 million people represents a person who has indicated a response to the Gospel and experienced a changed life," said Fred Weiss, Executive Director of BGEA Canada. "It's very humbling that God is granting us the blessing to reach so many. The possibilities of the Gospel being presented on the Internet are exciting, and the harvest is there before us."
In the early years of Billy Graham's ministry, BGEA pioneered the use of radio, TV, films, and other mediums as evangelistic tools. Its PeaceWithGod.net website uses Bible passages and compelling video presentations to share the Gospel. Site visitors also have access to trained "online coaches" who answer faith questions and share spiritual encouragement and prayer.
BGEA's Internet Evangelism ministry began in April 2011, and only a year later, one million people had indicated decisions for Christ through its evangelism websites. Since then, as traffic on the ministry's websites have continued to increase, the number of faith commitments has rapidly escalated—reaching the five-million mark in November 2014.
Anyone can monitor the ministry's impact—including how many people are currently visiting BGEA's evangelism websites, and from what cities and countries around the world—at SearchForJesus.net. The site visually documents each time someone makes a faith commitment to Christ and from where the commitment was made. The same information is continually displayed in the lobby of BGEA Canada's headquarters in Calgary.
Donations Needed: To support BGEA's Internet Evangelism ministry, including the cost of online advertising that encourages people to visit PeaceWithGod.net, please go to BillyGraham.ca/EvangelismOnline or call 1-800-293-3717.
About BGEAC
The Billy Graham Evangelistic Association of Canada, established in 1953, partners with churches and Christian communities across Canada and worldwide to proclaim the Good News of Jesus Christ in word and deed. Through relevant language and methods, we share the saving message of Jesus to people of all ages and cultures. Learn more at BillyGraham.ca.
Media inquiries
Frank King News Media Relations Manager
Billy Graham Evangelistic Association of Canada
1-800-293-3717, 403-990-0161 (mobile) or [email protected]
Give To Internet Evangelism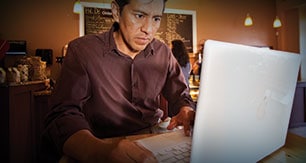 Help hurting people find Jesus online by supporting our internet ministries such as PeaceWithGod.net. Your gift helps us recruit and train e-coaches, buy advertising that promotes this website online, and follow up with Canadians who make online faith commitments.