Calgary, Alberta – July 23, 2018 – Crisis-trained Billy Graham Rapid Response Team (RRT) chaplains are in Toronto to offer emotional and spiritual support to shocked and heartbroken residents after a shooting rampage left three people dead (including the suspected shooter) and 13 injured in a busy tourist and restaurant district in Canada's largest city.
A total of 16 people were shot, including the alleged shooter, during the attack at about 10 p.m. Sunday, July 22 along Danforth Avenue in Toronto's Greektown neighborhood.
"We are praying for the people of Toronto and our chaplains are preparing to provide Christ's compassion, care, and love to hurting residents, restaurant employees, and emergency responders," said Merle Doherty, manager of the Billy Graham Evangelistic Association of Canada's RRT chaplains.
It's the second time chaplains have been sent to Toronto this year. Chaplains spent a week ministering in the city in April after a high-speed van attack along Yonge Street killed 10 people and injured 16.
During 2018, chaplains also offered a listening ear, a shoulder to cry on and, when appropriate, prayers to people in Humboldt, SK, after a bus accident killed 16 people, and to flood victims in New Brunswick and British Columbia.
"This shooting has impacted the people living in the Greektown district, along with everyone who was having dinner in the area's restaurants," said Doherty. "Our chaplains are able to provide assistance after horrible, tragic events like this because of the training they've received."
The chaplains will stay in Toronto for as long as needed.
News Media: Doherty is available for interviews at 403-619-7099.
Donations Needed
To support the Billy Graham Evangelistic Association's chaplain efforts, please visit BillyGraham.ca/rapidresponse (click on "Donate Now") or call 1-800-293-3717.
About BGEAC
The Billy Graham Evangelistic Association of Canada, established in 1953, partners with churches and Christian communities across Canada and worldwide to proclaim the Good News of Jesus Christ in word and deed. Through relevant language and methods, we share the saving message of Jesus to spiritually searching people of all ages and cultures. To learn more, please visit BillyGraham.ca.
Media inquiries:
Frank King, News Media Relations Manager
Billy Graham Evangelistic Association of Canada
1-800-293-3717, 403-990-0161 (mobile) or fking@bgea.ca
Give To Rapid Response Team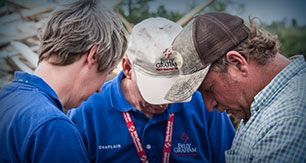 Your gift will provide for the training and deployment of our Rapid Response Team chaplains, who are deployed when natural or man made disasters strike in Canada and abroad. RRT chaplains serve and support hurting people affected by crisis, and share the message of hope found in Jesus.