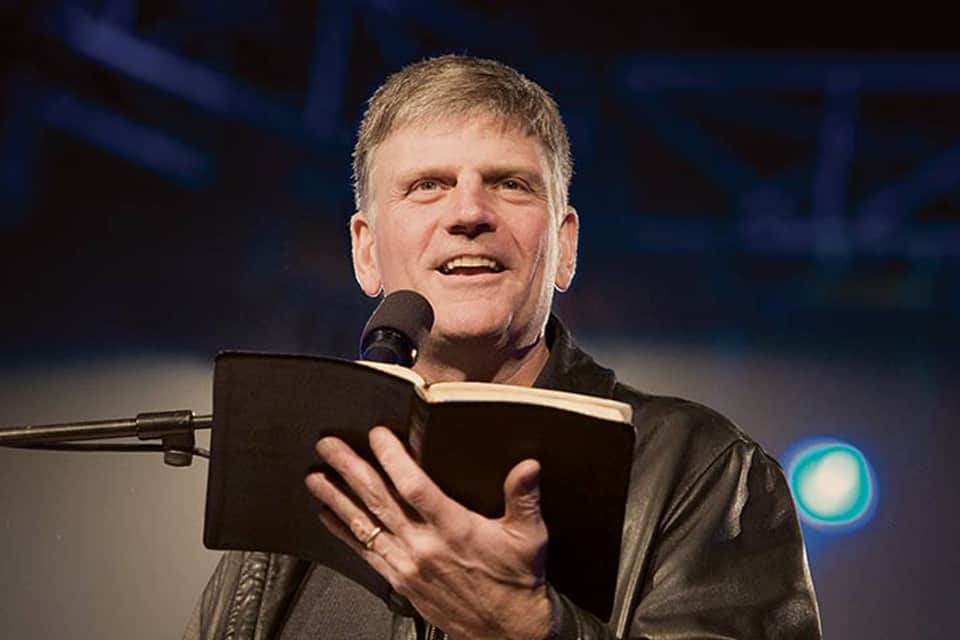 And Jesus came and said to them, "All authority in heaven and on earth has been given to me. Go therefore and make disciples of all nations, baptizing them in the name of the Father and of the Son and of the Holy Spirit, teaching them to observe all that I have commanded you. And behold, I am with you always, to the end of the age." —Matthew 28:18-20, ESV

A new year is bringing new opportunities to respond to Jesus' command to go and "make disciples of all nations"—known to many as The Great Commission. In 2018, BGEA has evangelistic Crusades planned for 39 cities in Canada, the U.S., Mexico, India, Portugal, Thailand, Australia and the U.K.
As Franklin Graham, Will Graham and other BGEA evangelists preach the Gospel around the world, the 24/7 online Search for Jesus ministry is expanding this year, bringing the hope of Christ to places where the Gospel can't be shared publicly.
"We have a very busy year ahead in 2018, and we ask for your prayers," Franklin Graham shared in a recent ministry update.
Here's a quick look at BGEA's plans for 2018. Thank you for praying for God's will to be done through the following ministries that are reaching people in the U.S. and around the world.
All Year
Search for Jesus, BGEA's 24/7 Internet Evangelism ministry, has recorded more than 11 million indicated decisions for Christ since it went live in 2011. This year, the ministry is expanding to include more languages to reach more people. The English website PeaceWithGod.net has already recorded tens of thousands of salvation decisions indicated by people in Middle Eastern countries like Iraq, Syria and Egypt. There are also Spanish and Portuguese versions of the site. Pray for God to continue to use the ministry in a powerful way as it expands this year.
As India continues to be a challenging place to preach the Gospel, BGEA has 13 evangelistic events planned across 10 states. Pray for God's favor as the hope of Christ is shared with the Indian people from January to December.
The Billy Graham Library and the Billy Graham Training Center at The Cove are continuing to welcome thousands of visitors. The Library has had more than one million guests since it opened 10 years ago; many of those guests have made decisions for Christ after taking The Journey of Faith Tour and experiencing the Gospel through Billy Graham's life story. The Cove, a Christian conference center in Asheville, North Carolina, is a place where Christ-followers can take a break from the rush and noise of everyday life and grow closer to God as they study His Word. Pray for these ministries to continue to be effective in sharing the Gospel.
April
Franklin Graham plans to preach the Gospel of Jesus Christ in Lisbon, Portugal, on April 7-8. The event will take place in a 19th century bullfighting ring.
Will Graham is already preparing for a Celebration in Tri-Cities, Tennessee, on April 27-29. The Tri-Cities area includes Johnson City, Kingsport and Bristol.
May
On May 20, Franklin Graham will begin a 10-city tour of California that will stretch into early June. The California Decision America Tour is aimed at sharing the hope of Christ in small- and medium-sized cities up and down the state. Starting in Escondido, in Southern California, the tour will cover The Golden State as Franklin stops in Pasadena (May 21), Oxnard (May 23), Bakersfield (May 25), Fresno (May 28), Modesto (May 29), Santa Clara (May 31), Berkeley (June 1), Chico (June 3) and Redding (June 5). Just like previous Decision America events in 2016 and 2017, the California stops will focus on praying for the people of the state and the nation.
While Franklin is in California, his son Will Graham will be sharing the Gospel 15,000 kilometers away in Kalgoorlie, Australia (in the western part of the country), on May 18-20.
June
Will Graham plans to travel to Falkirk, Scotland, for a Crusade event on June 15-17. Will has said he's excited to visit the home of his family's ancestral heritage.
August
Franklin Graham will continue his tour of the West Coast, this time heading to Washington and Oregon. The Pacific Northwest Decision America Tour will include seven stops: Medford/Grants Pass, Oregon (Aug. 1), Bend, Oregon (Aug. 3), Portland, Oregon (Aug. 5), Yakima, Washington (Aug. 7), Spokane, Washington (Aug. 9), Bellevue, Washington (Aug. 11) and Bellingham, Washington (Aug. 13). As he did in Texas and Tennessee last year, Franklin will call on the people of Washington and Oregon to repent of their sins and turn back to God.
September
On September 21-23, Franklin Graham will travel to Blackpool, U.K., on England's northwest coast. Pray for God's favor as Franklin seeks to share the love of Christ with the people of Lancashire.
October
Will Graham loves cold weather, and he's looking forward to coming to Canada this fall. He will be preaching at two Celebrations of Hope, one in Rankin Inlet, Nunavut on Oct. 26-27 and one in St. John's, Newfoundland on Nov. 2-4.
Franklin Graham plans to share the Gospel in Monterrey, Mexico, the capital of the northeast state of Nuevo León. Pray for many people in this bustling city to respond to the invitation to accept Christ as their Savior.
November
BGEA's My Hope ministry will come to Italy as churches and individuals share their faith with friends, neighbors and family members through the powerful 30-minute film, The Cross. Pray for the hope of Christ to spread across the country as Billy Graham's message is shared in Italian.
On Nov. 10-11, Franklin Graham will preach the Gospel in Bangkok, Thailand. Pray for many people in this capital city—known for its temples and shrines—to encounter the one true God.
December
Shortly after Franklin's trip to Thailand, Will Graham will also visit the country to share the Gospel of Jesus Christ. He'll hold a Celebration in Phuket, a mountainous island on the nation's far southwest tip.
Give To