An Okotoks woman was part of a group who helped to bring faith to the residents of Fort McMurray during the wildfires.
Holly Lafont was in the city for 10 days as a crisis trained rapid response team chaplain with the Billy Graham Evangelistic Association of Canada which worked alongside Samaritan's Purse.
Lafont says the group provides a great deal of emotional support.
"We have the privilege of stepping alongside people who are affected by a crisis situation, that are either in trauma or grief or both, and just letting them vent, being the hands and feet of Jesus if you will and sitting down with them and letting them share their story."
The team goes through extensive training in order to learn how to appropriately deal with certain situations.
"We have a program we teach partnering with churches and community organizations called Sharing Hope in Crisis," Lafont says. "We also take the psychological first aid course that's not required yet by the province but it's sort of on the docket for something that will be required in the future so we're ahead of that and we also take critical stress management courses."
She says with the Fort McMurray wildfires the Red Cross and Alberta Health Services realized they didn't have the staff trained to minister to the large number of people who needed it and they're appreciative of the group's work.
Lafont recounts her experience and says she saw everything from stoic resolution through to absolute trauma and disbelief.
"The first responders were trying so very hard just to be strong and it was a wonderful thing to be able to come alongside them and help them be able to do that. As chaplains to be able to stand with the homeowners at the edge of the property and support them as they were watching that happen was powerful, emotional, and humbling."
Currently, the Billy Graham Evangelistic Association of Canada has members deployed in Nice, France.
Anyone looking to become a member of the crisis trained rapid response team can click here for more information.
Give To Where Most Needed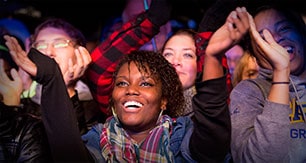 Help us fulfill our mission of proclaiming the Gospel of the Lord Jesus Christ to all we can by every effective means available to us and by equipping others to do the same.