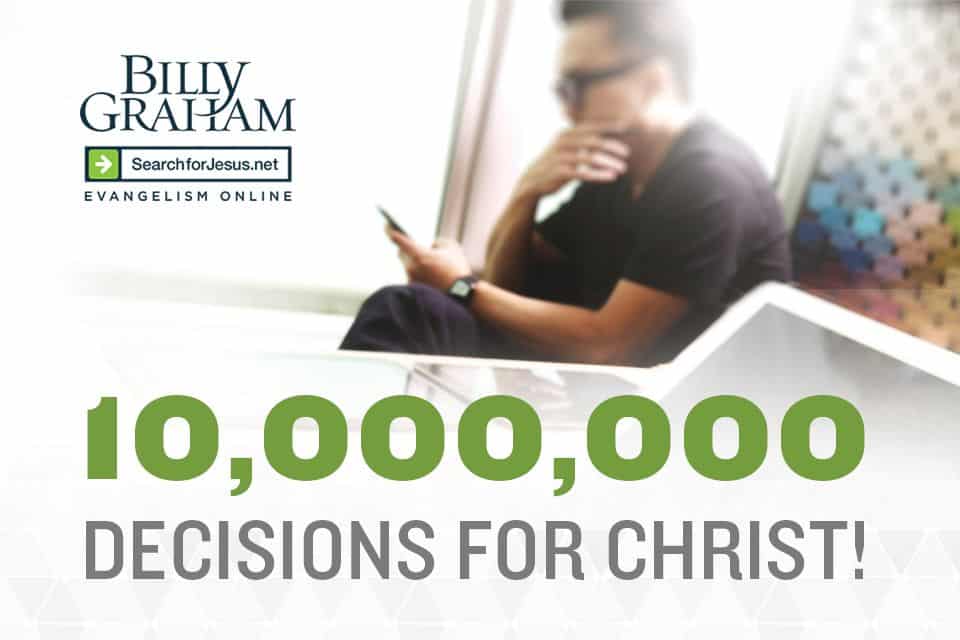 Each one has a name—and a story.
Like Ruth, a suicidal woman and self-described devil worshipper who felt unworthy of God's love because of her past mistakes.
Or Aban*, a 21-year-old Muslim man from Pakistan who wanted to know more about this Jesus who sacrificed His life for him.
In the past six years, over 50 million people like Ruth and Aban have come across BGEA's evangelistic website, PeaceWithGod.net (or PazConDios.net in Spanish). On Friday, the organization's Internet Evangelism ministry, Search for Jesus—which oversees PeaceWithGod.net—thanked God for the 10 millionth indicated decision for Christ.
"It's humbling and overwhelming to realize that God has given us the opportunity to introduce the Gospel to so many," said Search for Jesus Director Mark Appleton.
God has drawn people to PeaceWithGod.net all kinds of ways. Maybe it's through an online ad or a Facebook post or a link on someone's blog. However they get there, each one is exposed to the unchanging Gospel—how God's love for us runs so deep that He wants to guide us through life and spend eternity with us. And how we must first repair the broken relationship between us and Him by putting our faith in our mediator, Jesus Christ.
Each one of the 50 million visitors who have experienced the Gospel has had an opportunity to respond, and on Friday, commitments to Christ came from places like Argentina, Hungary, Egypt, Cuba, India, Malaysia, Bosnia and Herzegovina, and all over the U.S.—from Philadelphia to Detroit to Hermosa Beach, California.
Take 30 seconds to watch indicated decisions for Christ surpass 10 million.
It's not lost on the ministry that in each of these locations is a real person with real needs. The goal with all of them is to share the hope offered by Jesus Christ, to disciple them in their faith and, when possible, to connect them with a local church.
One-on-one connections and follow-up have taken place with over 1.3 million of those online visitors so far—the ones who have passed along their contact info so someone from the Search for Jesus team can be in touch.
"With the growth of our reach, God has also raised up a team of ministry partners all over the U.S., Canada and now Mexico to bring personal ministry to our online presence," Appleton said. "It is this team of nearly 600 trained coaches that bring depth and value to Search for Jesus."
The ministry just reached another milestone last month: five years of volunteers, each one trained to offer spiritual guidance through live chat, email or an online discipleship course called Know Jesus. With hundreds of volunteers now, the ministry has made personal connections with thousands of people around the globe.
Claire* recently found the ministry online and committed her life to Christ. Her comment to the team was short and sweet: "Thank you, I feel like a ton of bricks has been lifted off my shoulders. I just gave it to Jesus."
An Illinois man named Don decided to take the Know Jesus course and thanked his online discipleship coach, Dennis Fischer, at the end: "Thank you for the time you spent with me and the encouragement you supplied. I enjoyed this course and it has helped me to remember what God did for me. He accepted me as I am and continues to do a work in me. I have located a local church and am enjoying my daily prayer and study time with Christ, and I look forward to my journey now that I have been found."
Personal online ministry wouldn't be possible without a team of trained volunteer coaches making one-on-one connections. Join us in seeing lives changed by Christ. Learn more about our volunteer opportunities.
*Name changed to protect privacy
Give To Internet Evangelism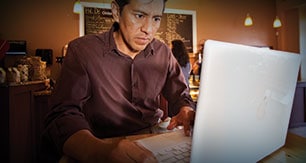 Help hurting people find Jesus online by supporting our internet ministries such as PeaceWithGod.net. Your gift helps us recruit and train e-coaches, buy advertising that promotes this website online, and follow up with Canadians who make online faith commitments.