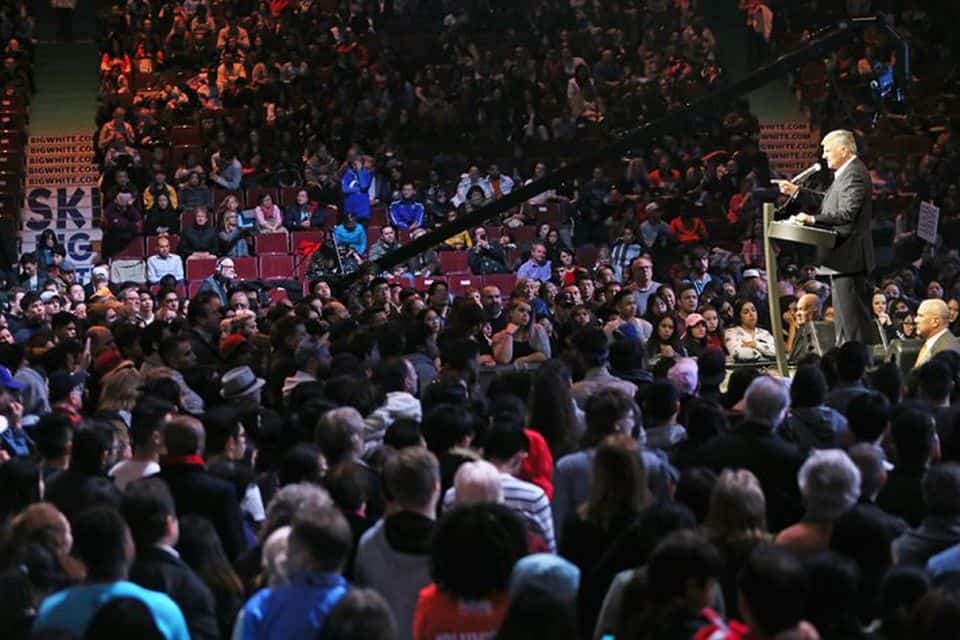 They say any press is good press.
And Friday night in Vancouver, Canada, that old adage rang true yet again as more than 12,000 people crammed inside the Rogers Arena for the opening night of the Greater Vancouver Festival of Hope with Franklin Graham.
In the weeks leading up to the event, a modest number of pastors protested by signing a letter—determined to keep Franklin Graham and the true message of hope out of their city.
But God had other plans.
"Just remember," Franklin Graham told the 750-plus attendees who covered the arena floor after the invitation to accept Christ. "God loves you. God loves you."
It was the fourth time Franklin Graham repeated those words, matter-of-factly delivered with love and a dash of conviction. And it came on a night where he stood firm on the Gospel message, including biblical truth that has become controversial.
"Every word of the Bible is true. Every word," he said 17 minutes into his sermon from Daniel 5. "God, first of all, gave us sex. And sex is a wonderful part of our life, but God said it's between a man and a woman."
That truth drew one of the biggest applauses of the night.
"You say, 'Franklin, society and culture up here in Canada, we accept all kinds of things,'" Franklin Graham continued. "Well, sin is a big deal to God."
The Good From the Bad
Admittedly, some of the 400-plus churches involved in the Festival wondered if recent headlines might keep the seats cold. But, their faith was renewed as an international crowd packed the arena up to the rafters.
"It's free advertising," said Ari Ukkonen, a Festival counselor who also lives next door to the Rogers Arena. "What people meant for bad, God used for good.
"Any news that is advertising is good advertising, right?" he continued. "Obviously, it was a lot of prayer from a lot of people."
But, what about all the negative publicity?
"It puts [the ministry] on the forefront of people's mind," Ukkonen explained. "People hear about it and search social media to see what it's about. They start thinking about it and then, the Holy Spirit works in their hearts."
While a group of about 20 protestors gathered peacefully with signs at the corner outside the arena, more than 21,000 people around the globe watched Franklin Graham's message of hope online in 38 countries. Inside, the floor at the Rogers Arena was so crowded, several attempts had to be made to shuffle people closer together to make room for those pouring down the aisles.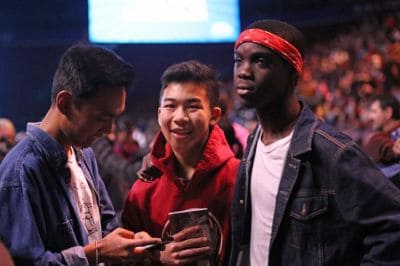 Beginning a new life in Christ with discipleship materials in hand.
A Message for All
Phil Wickham and Hillsong Young and Free were the headline bands. But an hour before the doors opened, many were standing outside simply because they had heard about the Festival in the news and were curious as to what this Franklin Graham was going to say.
"Franklin Graham is a sinner," he told the crowd in his message. "I'm no different than anybody in this room."
Including Gabriel. The 20-year-old was invited by a group of friends, and Ukkonen talked with him about beginning a new relationship with Christ. Gabriel was one of more than 300 over age 19 who prayed with Franklin Graham to make a commitment.
"It was the first time I've ever done anything like that," Ukkonen said, riding high on his first counseling experience.
With his zeal to share his faith will also come opposition, but Friday's event shows how God can move in spite of.
Calvary Chapel Albuquerque Pastor Skip Heitzig, who led morning devotions with BGEA staff and the local committee in Vancouver, reminded the group, "Jesus said preach the Gospel to everyone. … But there's consequences to that command."
As culture continues to deviate from biblical truth, standing on the Word of God will be seen as even more radical. Some may soon try to marginalize it as "fake news."
"We have just a short window of opportunity," Franklin Graham said. "We have three nights, but they're going to go fast. Let's just pray that His name would be lifted up throughout this city."
Give To Where Most Needed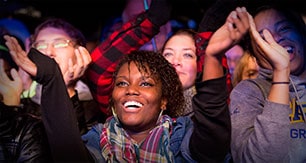 Help us fulfill our mission of proclaiming the Gospel of the Lord Jesus Christ to all we can by every effective means available to us and by equipping others to do the same.