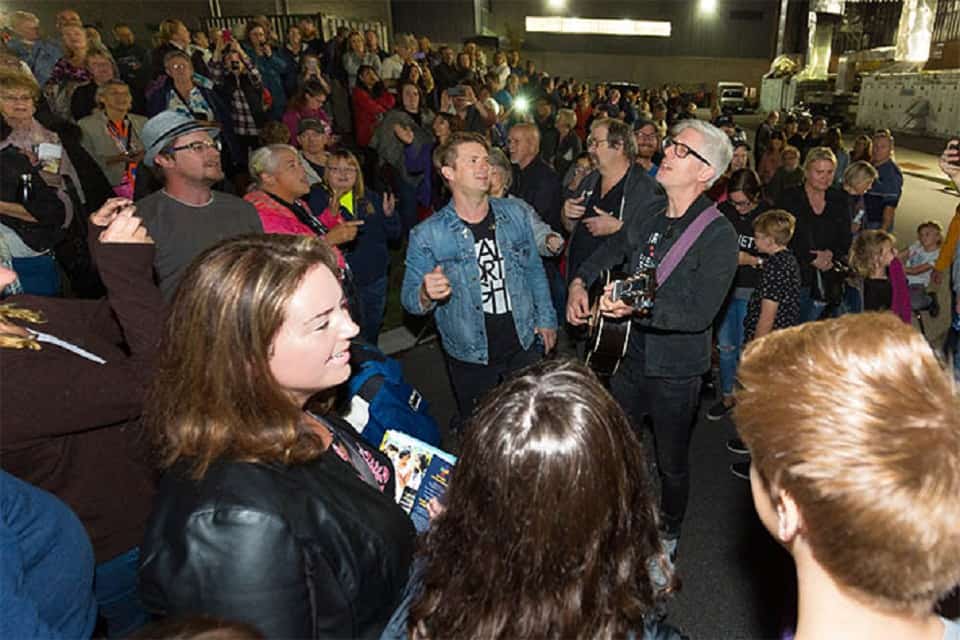 Although the Quinte Celebration of Hope in Belleville, Ontario, was planned by local church leaders for more than two years, an unexpected moment threw everyone for a loop Sunday evening.
Hundreds crowded the CAA Arena's stage, as Christian artists The Color, The Afters, and Matt Maher played and led the audience in praising the Lord in song, and then a fire alarm clanged—causing everyone to evacuate the arena.
"Apparently you guys sang so loud it turned on the fire alarm, or maybe it's the Holy Spirit showing up," Maher said.
A sea of 2,300 people poured out of the hockey venue's exits, but most didn't leave or complain. Instead, they gathered along the parking lot curbs in the brisk weather, waiting to return inside. Conversations soon turned into impromptu singing accompanied by Josh Havens, lead singer of The Afters, strumming his acoustic guitar alongside Maher.
"Greater things are yet to come, greater things are still to be done in this city," Havens sang, meandering through the scattered crowd that quickly became a huge choir.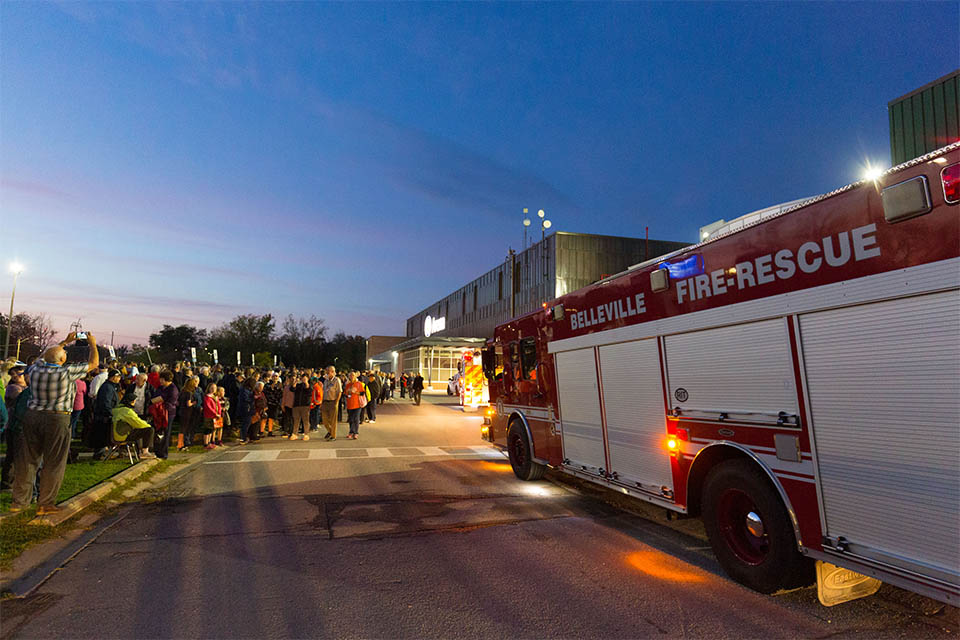 Doris Todd, 73, stood resolute outside the hockey arena during this 30-plus minute intermission of sorts.
"We're not leaving," she said. "I've got to hear Will."
In the meantime, her brown eyes twinkled in the dim night sky as she took in the beautiful picture of the body of Christ worshipping.
"This goes to show you don't need a building," Doris said, looking around. "This is church."
>> View photos from the final night of the Celebration.
Hours before, she and her daughter, Chantelle, were the first in line outside the venue, inspired by a decision their family member made earlier that weekend.
Doris's grandson Elliott was one of 71 children who went forward to receive Christ during Friday night's KidzFest, a free children's event that kicked off the three-day Celebration.
"[Elliott's mom] said all of a sudden he disappeared and ran up to the front [during the altar call]," Chantelle explained. "He's very shy so we were surprised!"
The nine-year-old had turned to his mother and said, "Did you hear that prayer, Mommy? Did you say it?" Then, he hopped out of his seat and excitedly went forward.
His grandmother, Doris, made the same decision to follow Christ 50-plus years ago when Leighton Ford, Billy Graham's brother-in-law, shared the Gospel in Kingston, Ontario. "The phrase that really got me was: 'This may be your last chance to give your heart to Jesus.'" Swallowing back tears, Doris said, "It still gets me … even after all these years!"
Indeed, some moments are unforgettable.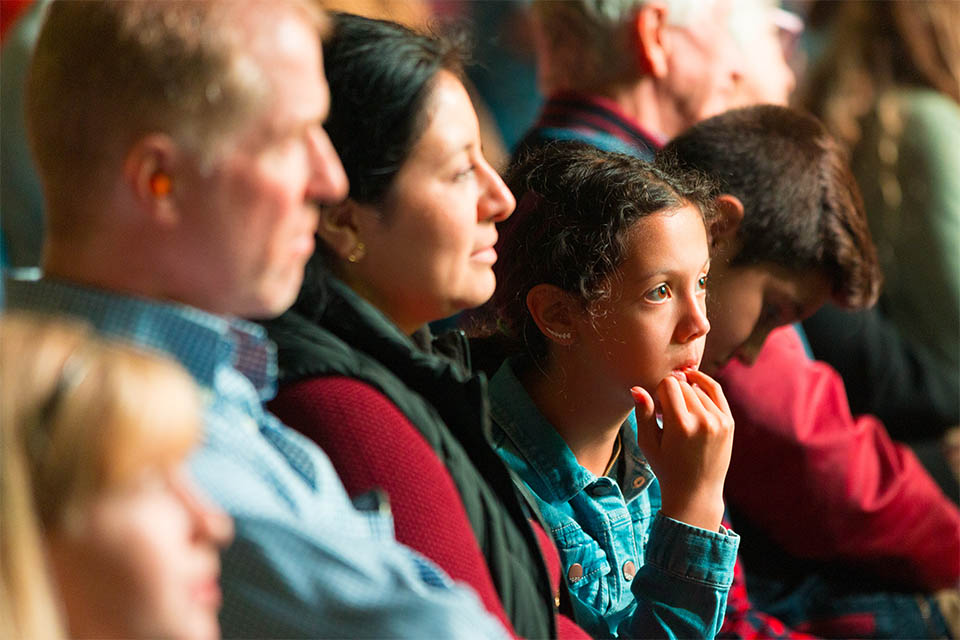 As the crowd was ushered back into the cleared building, Maher once again led worship. But this time, something in the air felt more resilient, stronger, as people of all ages raised their hands to honor Christ—and even a cane or two waved high.
"Well, I'm so grateful that you came back," Will Graham said, when it came his turn to speak. "Tonight is a night none of us are going to forget, are we?
"None of this was expected," Billy Graham's grandson and Franklin Graham's son continued. "I want to talk to you tonight about when life doesn't go the way you expect."
Sharing a story from 1 Samuel 1, Will Graham talked about a woman whose life hadn't gone the way she'd planned or hoped.
"You wonder, 'God, are You really paying attention? Are You really on my side? Don't You even care about me?'" Graham said. He then shared about a previous trip mishap to Alabama—when he drove two hours before realizing it was the wrong interstate.
"If I kept going down that same road, no matter how far I went, I'd never get to that destination," he continued. "I had to make a conscious decision to get off that comfortable road and go to a narrow road, a curvy road to get to the destination.
"Tonight is your one chance to get off that road and go toward Christ. You may never have another chance like this," Graham said, nearly reiterating the phrase that's stayed with Doris for decades.
"What do you have to lose? Your brokenness, your shame, your hurt?" Graham questioned. "Surrender that to Christ. He'll give you fulfillment, joy, happiness, purpose and meaning in life. You must be willing to come to Him."
Simon's feet began moving toward the altar.
The 20-year-old hadn't thought he would go down front at an event like this. In fact, he had simply come in hopes that his non-believing girlfriend would attend, too.
But following hours of worship and a convicting message, Simon realized he could no longer remain fallen away from his faith.
"The way I've been living lately, the things I've been doing, exposing myself to … it's hard [turning from those ways]," Simon said after praying and receiving discipleship materials from a trained prayer counselor. He swiped remaining tears from his cheeks while pushing his long hair away.
"The brokenness—giving it to God, trusting Him with that—it's something I need to learn to do to get off that road, that interstate," Simon said, opening his heart once again to Christ.
Nearby, Shari Dowling wholeheartedly took on her counselor role as she recognized an older woman who came forward to receive Christ.
"I didn't even know Kristen* was here, but I'm so thankful she came," Dowling smiled.
A resident of Belleville for 27 years, Dowling witnessed Kristen's daughter start a relationship with Christ in the youth group she led two decades ago.
Ever since then, Kristen's daughter has prayed for her mother to receive peace from God.
"It's been a journey," Dowling said. "Kristen told me, 'I knew for a long time that I needed to do this.'"
Even when something takes awhile or is interrupted like tonight's event, there's a Higher Power listening to our prayers and directing our lives.
"In the midst of chaos, community is happening," Dowling said in regard to the fire alarm evacuation, adding there was no Plan B for the situation.
"[This caused] a bigger expectation of what God was going to do," she continued. "[My husband and I have] contended for unity in this city. And when the body of Christ is unified, to be honest, it's pretty unstoppable."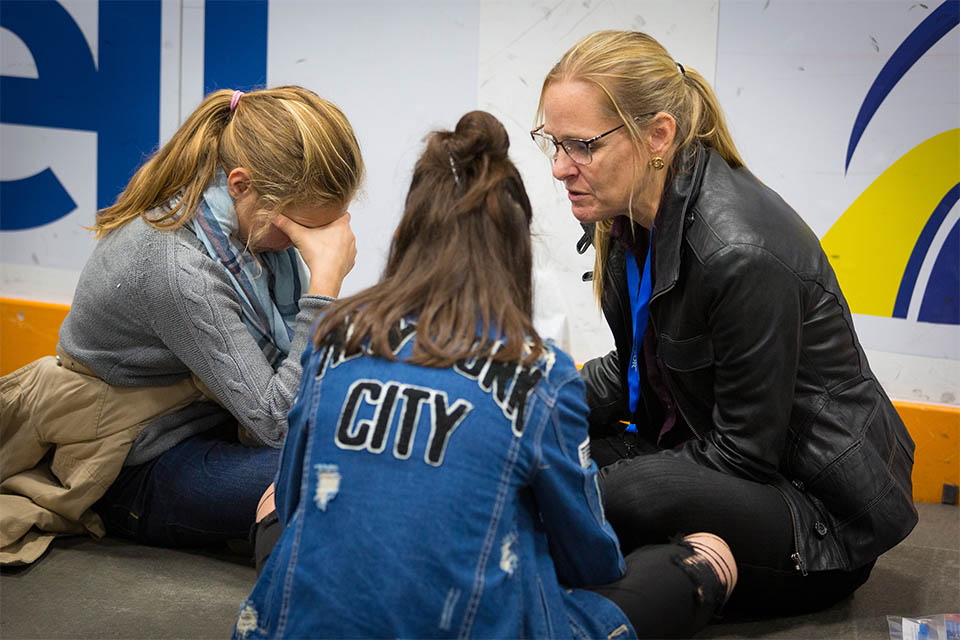 *Name changed for privacy.
Give To Festivals and Celebrations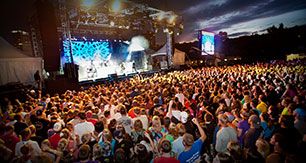 Your support will help us proclaim the Gospel of hope in Jesus through our Festival and Celebration evangelism events, which feature inspiring music from well-known Christian artists, powerful stories of transformation and Gospel messages by Franklin and Will Graham.