The good, the bad and the ugly.
There's no denying all three exist on social media. And yet for many people, these online platforms have become key sources of connection in a pandemic world.
But how should Christians navigate this powerful tool?
That's what Sadie Robertson Huff talks about in her new book, Who Are You Following: Pursuing Jesus in a Social-Media Obsessed World. And on its release date—Tuesday, February 1—the Christian author and speaker sat down with the Billy Graham Evangelistic Association (BGEA) to share how her faith affects her approach to social media.
Fittingly, the interview was streamed live on Instagram. Take a look at the Q&A below, taken from this livestream.
1. When did you decide to follow Christ?
"I grew up in a Christian household. … Everyone I knew was a Christian. We went to church on Sunday, church on Wednesday.
"Then when I went to Austria [at 13 years old], no one there that I knew was a Christian. … It was the first time in my life where I had this choice—I could either stick to my faith that I was raised in or I could go crazy, have fun, live it up in Austria. It was in that time that I realized I genuinely believe in Jesus. I genuinely want to live a life honoring Him and following Him.
"Then of course, life goes on and I had some stumbles along the way. … When I was 17, I recommitted my life to Jesus. At this point, I had become 'famous,' if you will. 'Duck Dynasty' had started. I was just off 'Dancing with the Stars.' I had to ask myself, 'What is my life going to be lived for?' And that's when I really decided that I'm going all in."
2. What has fame taught you?
"Fame in and of itself is definitely not a bad thing. … But someone from experience can tell you that fame cannot give you the desires of your heart. It doesn't matter how famous you are, how many followers you have, how many likes that you get, or how many people know your name. If they don't truly know your heart, it's not going to fulfill that desire in you to feel known, to feel loved, to feel accepted, and to feel celebrated.
"I did not find my contentment, my love or my joy in fame. I found it in Jesus."
3. What are the pros and cons of social media?
"Social media is an amazing thing. … I truly believe it can be used for incredible things. But it also has had a really negative effect on this generation as a whole. We've seen a lot more anxiety than ever, a lot of feelings of loneliness, a lot of eating disorders that we can directly relate to social media.
"With anything else in life, if we were struggling with something, we'd just call a mentor and say, 'Hey, whenever you were struggling with this, what did you do?' … But you can't call a 65-year-old friend of yours and say, 'Hey, when you were younger, what did you do when social media was ripping you apart or you got canceled?'
"We as the younger generation are leading this charge, [and] we need a little discernment and we need a little wisdom."
4. How should Christians approach social media?
"Whoever we're following, that's who is leading us. But we don't think about that when it comes to social media. We just follow, and we click on the app, and we don't realize the path that it's taking us on.
"One of the things with social media that could help us the most is just being a little more intentional about it. If something is a struggle for you, then get it out of your life. … Don't just keep going on the same pattern because that's [what] everyone else is doing."
5. What difference can Christians make online?
"You could have 200 followers or 2,000 followers or 20 followers and make a bigger influence on their lives than someone does with 2 million if you actually use it for the power of the Gospel. Influencer by definition means having the ability to affect someone's behavior or change.
"Everybody has the ability to be an influencer. I think the problem is we spend hours and hours on social media every day, and because we do that, we're measuring up with these other people and saying, 'We're not good enough. We're not significant enough. We don't have enough reach.'
"If you're looking at social media more than you're looking at Jesus, you're going to be confused on the truth about who you are. … The more you learn about who God is, the more you'll learn about who you are, and the more influence you'll see that you have."
6. How would you encourage Gen Z as they grow up with social media?
"Social media is ever-changing. It's so inconsistent. … When you try to put your hope on anything that's that inconsistent, you're going to waver. You're going to waver in your confidence. You're going to waver in your hope.
"When you follow someone like Jesus Christ, you don't have to wake up and wonder, 'What's He going to be like today? Is He going to show up? Is He going to love me?' … I'm not saying you won't have hard days, I'm not saying there won't be hard things that happen, but you have an eternal hope that will always be there."
For daily spiritual encouragement, follow the Billy Graham Evangelistic Association on Facebook, Instagram, YouTube, and more.
Give To Where Most Needed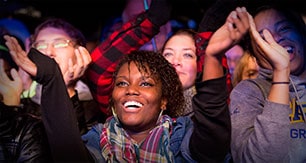 Help us fulfill our mission of proclaiming the Gospel of the Lord Jesus Christ to all we can by every effective means available to us and by equipping others to do the same.