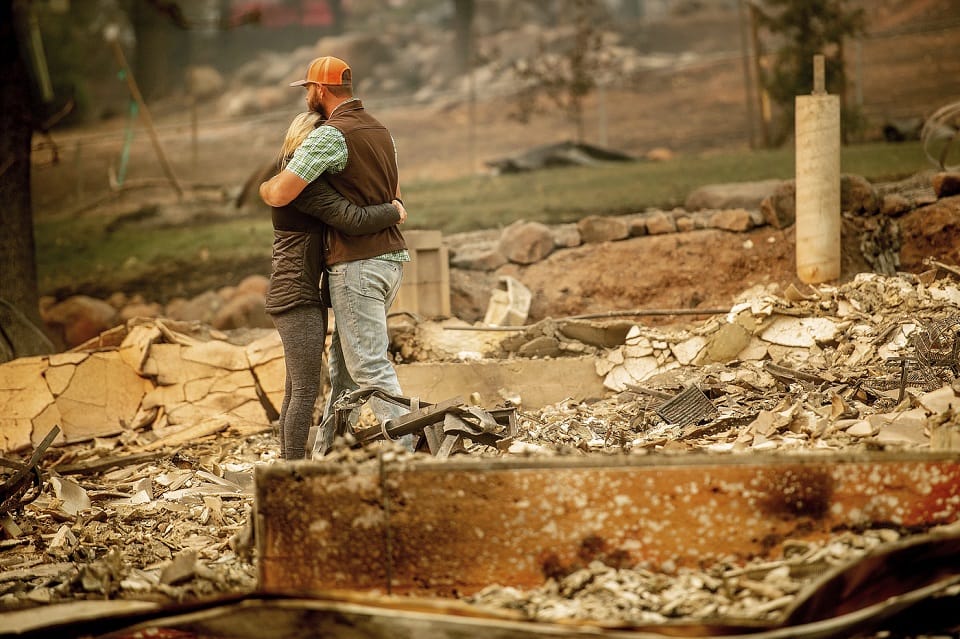 As devastating fires swept through British Columbia's Okanagan region this August, Billy Graham Rapid Response Team (BG-RRT) chaplains arrived to walk with families facing overwhelming loss.
John* and Helen* moved to the area many years ago after a family tragedy. Now, they face another. The wildfire that burned over 100 properties around West Kelowna also claimed their house and most of their possessions, including those of their late son, Chris.
Standing in the Ash
Kim, one of our chaplains, stood beside the couple while volunteers from our sister organization, Samaritan's Purse, searched for surviving items in the remains of their home. "The chaplains were very gentle with me and ready to pick me up," Helen said.
John and Helen hoped some of Chris' belongings, including a chess set, could be found in the ash. Kim stood with them while they watched the search take place.
"Helen didn't want to talk about the fire, so I asked about Chris, and that did her good," Kim said. "God led the conversation to the chess pieces, and I found out the importance of them." When over half the chess pieces were pulled from the ruins, Kim got to comfort and quietly celebrate with the couple.
"Kim was there to console me and was very happy and pleased they found something," Helen said. "She asked about Chris and his life, and that was okay for me to talk about. Kim made me feel very comfortable with no pressure. She was very supportive, and with me in case I broke down."
Ministry of Presence
We praise the Lord for these opportunities to gently reveal the God who "heals the brokenhearted and binds up their wounds" (Psalm 147:3, ESV).
"In these times of tragedy, we often simply share a ministry of presence, standing with families amid tragedy and praying that God would help them know His promise as 'our refuge and strength, a very present help in trouble'" (Psalm 46:1, ESV), said Holly Lafont, who leads the BG-RRT in Canada.
Pray for Christ's Hope
Please keep praying for families in West Kelowna and across British Columbia. As fire-damaged communities open up, more residents are returning to overwhelming loss. Another team of BG-RRT chaplains is headed to the fire-ravaged Shuswap region of British Columbia, where a wildfire destroyed more than 100 homes.
Ask God for open doors to offer Christ's hope during these difficult days. During the fire evacuations, one chaplain had a chance to share the Gospel with a mom who had never heard of Jesus before. We praise God for every opportunity to share His hope in crisis. God works through prayer and support to make this possible.
*Name changed.
Give To Rapid Response Team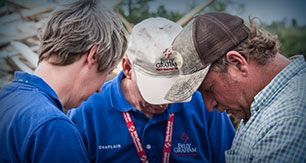 Your gift will provide for the training and deployment of our Rapid Response Team chaplains, who are deployed when natural or man made disasters strike in Canada and abroad. RRT chaplains serve and support hurting people affected by crisis, and share the message of hope found in Jesus.