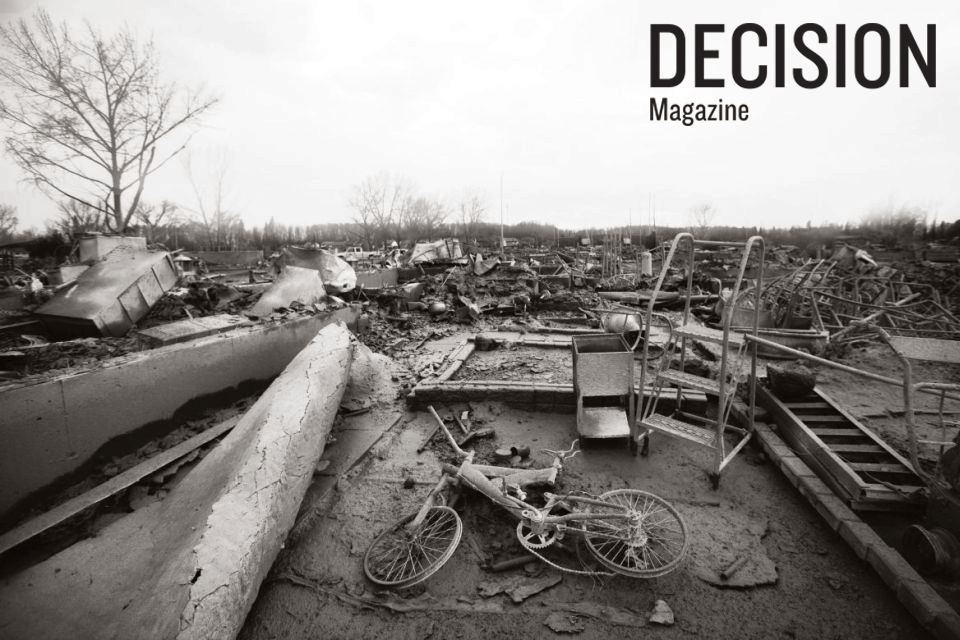 Left with only the wreckage of his burned Fort McMurray home, Harry Osteneck had no trouble explaining the value of the Billy Graham Evangelistic Association of Canada's Rapid Response Team ministry.
"These chaplains are doing a wonderful job," said the 60-year-old oil industry employee. "We're probably getting the best counseling possible, from them."
Harry and his wife, Stella, were among tens of thousands of residents of this northern Alberta city who barely escaped with their lives when a catastrophic wildfire roared through the area in May.
Subscribe to Decision
Get your own subscription, or renewal, or bless someone by giving Decision Magazine as a gift.
Subscribe Now
More than 2,400 buildings, most of them homes, were destroyed by the flames. In many cases, nothing was left but concrete foundations and burned-out shells of vehicles.
Almost a month later, when residents were finally allowed to return, many found that their dwellings had been without electricity for as long as three weeks. This meant their fridges and freezers were full of rotten food that made them toxic and unsalvageable.
Samaritan's Purse and the Billy Graham Evangelistic Association were invited to Fort McMurray by municipal officials to provide physical and spiritual help. Each team of crisis-trained chaplains spent a week in the city, accompanying Samaritan's Purse volunteers and staffing several welcome centers for returning residents.
While Samaritan's Purse volunteers moved fridges and freezers out of homes for pickup, or searched through ashes for valuables, chaplains offered homeowners a listening ear, a shoulder to cry on and, when possible, prayers.
Through this ministry, the Lord provided many opportunities for chaplains to tell people that even in the midst of their grief and loss, "God so loved the world that He gave His only begotten Son, that whoever believes in Him should not perish but have everlasting life" (John 3:16, NKJV).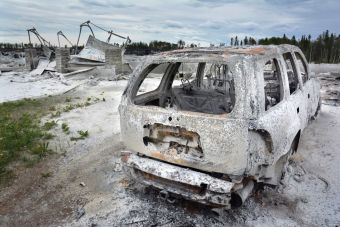 Fires leave only concrete foundations and burned out vehicles.
The Fort McMurray deployment was the second-largest in the Canadian Rapid Response Team history. Only the response to the 2013 southern Alberta floods was larger.
"It's fantastic that the chaplains are here to work through the psychological aspects of this," said Stella Osteneck.
Watching Samaritan's Purse volunteers sifting through the rubble of her home, she added: "I feel comforted just sitting here and talking with a chaplain. Even knowing they're available if I feel the need (to grieve) is huge."
Fred Friesen, one of the chaplains at the Osteneck home site, said it was important for the chaplains to be there, because the Ostenecks—like many in the region—have their unique story and pain to share.
"At a certain point, they'll want to know why we're here, so we can tell them it's because we care and God cares," Fred said.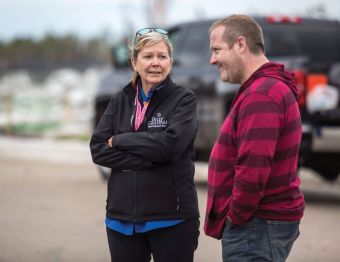 Rapid Response Team chaplain Wanda Burchert with resident Martyn Cairney.
It was that same message Rapid Response Team chaplain Cherie Sims shared in another area of the city, where she was part of a team that helped a resident commit her life to Jesus Christ.
They had gone to follow up with a couple after Samaritan's Purse volunteers had moved their fridge out of the house for pickup, but found no one home. A neighbor happened to be outside his house, so they engaged him in conversation.
After a short discussion, he was willing to accept one of the Billy Graham Evangelistic Association's Steps to Peace with God pamphlets. Then he brought his wife out to speak with Cherie and Gina, her chaplain partner. What ensued was an intense two-hour discussion with the man's wife, who was clearly struggling with all that Fort McMurray was enduring.
"It was such a long and difficult conversation, but I felt convicted to keep going," Cherie said. "The Lord used and stretched us and made a way for us to hang in there."
Their perseverance was rewarded when the woman invited Gina to walk her through Steps to Peace with God.
"She came alive when we asked if she wanted to pray the prayer of salvation," Cherie said. "There seemed to be an alertness that wasn't there before. She had clarity in her thoughts, especially when she first saw the Bible that we gave her. She said, 'I have to start reading again, and this is the next book I'm going to read.'"
Lucas Welsh, a pastor at Fort City Church—which hosted the Rapid Response Team chaplains during their entire two-month deployment in Fort McMurray—believes the chaplains filled a significant gap in the response to the wildfire.
"You have to take care of people's physical, emotional, and spiritual health," Lucas said. "If any of those are ignored, there's a problem. The chaplains are giving people spiritual direction." ©2016 BGEA
Give To Where Most Needed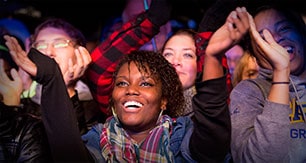 Help us fulfill our mission of proclaiming the Gospel of the Lord Jesus Christ to all we can by every effective means available to us and by equipping others to do the same.