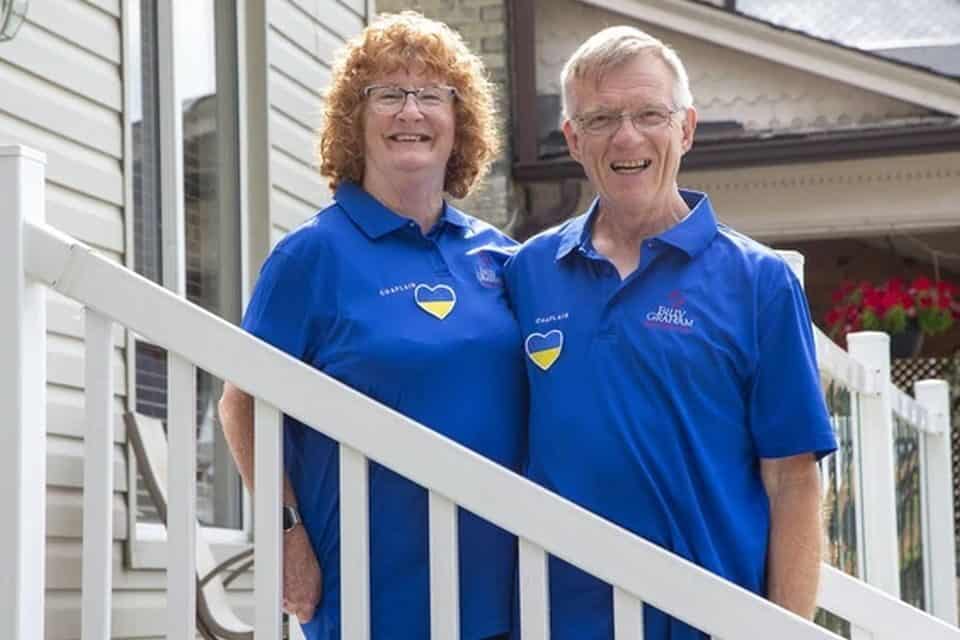 A St. Thomas couple volunteering with a Christian relief organization has been on the vanguard of helping Ukrainians who have fled to Canada, driving every week to Toronto to help those coming off flights from Poland.
David and Sandra McCandless of the Billy Graham Evangelistic Association of Canada have already travelled to Toronto's Pearson International Airport to welcome six flights of Ukrainians and were gearing up for yet another run on July 9.
A sense of relief emerges from the airport's Signature Flight terminal when the Ukrainians arrive, David said.
"The most prevalent state that we see is a feeling of relief, of huge peace," he said "It's been a long time getting here because their applications take so much time after they already had a terrible time getting out of Ukraine.
"One man told us he had to go to 35 checkpoints of Russians standing with guns ready to be lifted to their heads if they looked the wrong way."
Both crisis-trained chaplains with the Billy Graham rapid response team, David and Sandra are among the first faces to greet the Ukrainians when they step off the plane in Canada.
"We have a table set up with gift packages that we offer them as they arrive," David said. The packages include everything from a SIM card for a new cellphone to Walmart and Tim Hortons gift cards, along with snacks and water.
Using an interpreter, David and Sandra offer prayer and emotional support when needed, as well as providing transportation to connecting flights.
The pair estimate they dedicate about nine hours for each trip to Toronto, totalling now more than 50 hours of helping weary Ukrainians arriving in Canada. Luckily, the Billy Graham association supplies a rental car for their commutes to and from Toronto, David said.
They've been really good at giving us a full-size SUV so that we have room for big amounts of luggage or transporting a family if we're needed," he said.
Their role is a small but essential part of the organization, a part that Sandra describes as both "humbling and rewarding."
"It's really hard to fight back tears," she said from her home, her tone choked with emotion. "The children are so happy to have relief. It's amazing to see, with what they have been through with the bombings, leaving their home and the grief of loss."
About 5.6 million Ukrainians have fled the country into Europe since the Russian invasion began more than four months ago, with millions more people displaced within Ukraine, according to the United Nations.
Canada has approved the resettlement of tens of thousands of Ukrainians in this country, allowing them to live, work and study here for up to three years as temporary residents.
Self-described as having lots of "compassion for people," especially those who've endured hardship, the McCandlesses were quick to act when asked by a member of their organization about helping Ukrainians fleeing to Canada.
In the past Sandra housed and sponsored a Vietnamese family that fled their country after the 1975 Communist takeover there. "I helped teach them English and housed them for six months," she said.
David said their faith drives their willingness to help others. "We've received so much love from God, and we want to share that with people."
Volunteers with the Billy Graham Association for four years, the couple was also on the ground supporting Londoners in June 2021, after four members of a Muslim family were killed in what police allege was a targeted attack because of their faith.
The Billy Graham Association has transported hundreds of Ukrainians to safety in Canada, including nine DC-8 cargo planes from Poland to Toronto, David said. Its Samaritan's Purse ministry continues to regularly fly critical relief food and supplies into the wartorn country.
The organization "can only be generous because of the Canadian donors that give so generously to provide this," Sandra said, encouraging people to donate at www.billygraham.ca.
Give To Rapid Response Team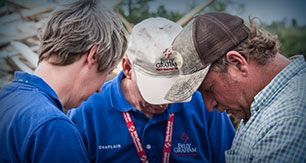 Your gift will provide for the training and deployment of our Rapid Response Team chaplains, who are deployed when natural or man made disasters strike in Canada and abroad. RRT chaplains serve and support hurting people affected by crisis, and share the message of hope found in Jesus.