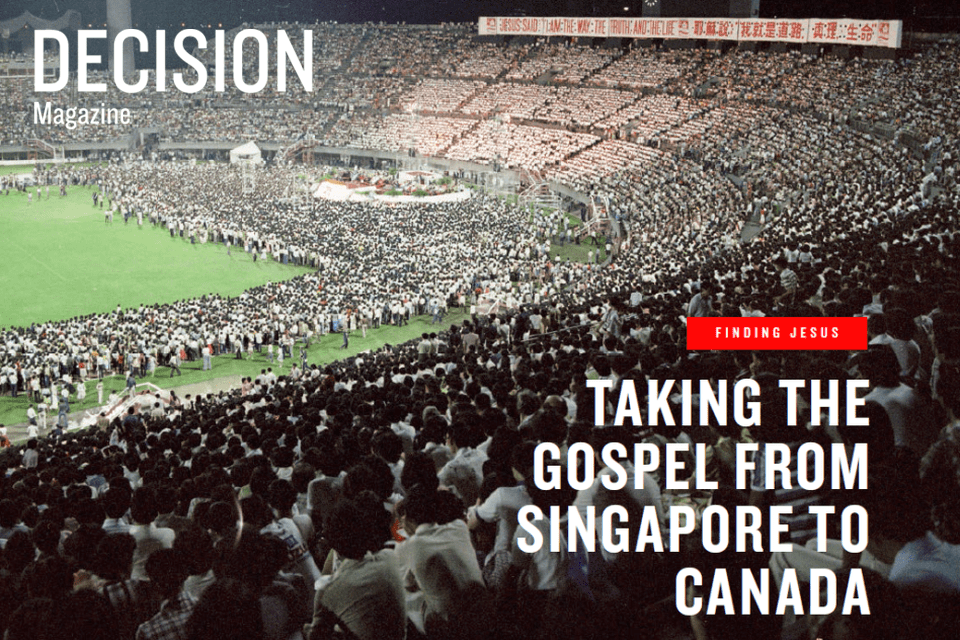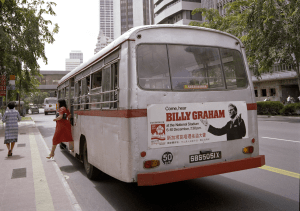 A bus ad from the 1978 Billy Graham Crusade in Singapore.
Thirty-six years ago, people crowded into the 55,000-seat National Stadium in Singapore to hear Billy Graham's message of hope and salvation. Over a five-day span, more than 337,000 people attended the event. One of them was 12-year-old James Lim.
Pressing through his fear and the crushing crowds at the 1978 Billy Graham Crusade, James stepped forward in response to Mr. Graham's call to accept Christ as his Savior.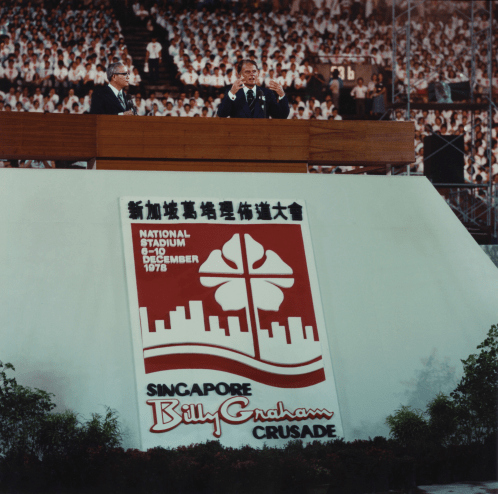 Billy Graham preaching at the pulpit from the 1978 Billy Graham Crusade in Singapore.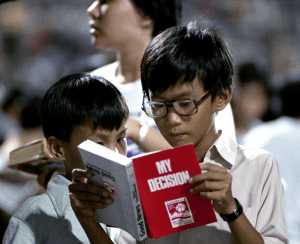 A young believer impacted by My Decision at the 1978 Crusade in Singapore.
"It took quite a bit of courage for me to stand up and go forward," he says. Public declarations of faith were unusual then in Singapore's conservative church culture. But James made his decision, and from that point forward he has wanted to serve the Lord. And God has placed people in his path to guide him along the way.
"My pastor gave me a Bible when I was 16. … He basically handed it to me and said, 'Go and preach the Gospel to all the world.'"
James took his pastor seriously. Beginning with his friends and classmates, he helped create a youth group that quickly grew from about 30 to 100. As they became bold in their faith, they began taking the Gospel message door to door.
"We just kept sharing the Gospel and bringing people to the Lord, and the church grew," James said. "We were out on the streets 10 hours a day, evangelizing."
After high school, James began his two years of mandatory military service, which extended to a 12-year stint in the Air Force. After he returned, he and some friends from church decided to take their ministry to the world—first to Taiwan, then Africa, and eventually to Canada.
"We thought it was time for Canada—that it really needed evangelical, missions-focused churches," says James, who by that time had become an ordained pastor. "Canada had become a post-Christian nation."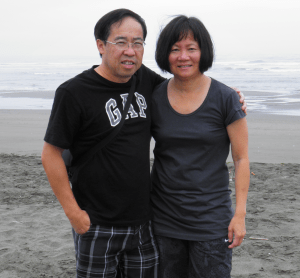 James Lim with his wife, Kim
In 1989, James and his wife, Kim, started Praise International Church in Vancouver, with a team of five missionaries out of Singapore, and an initial congregation of 20 local church members. Years later, the church opened a satellite location in Surrey, B.C.
In some ways, sharing the Gospel had been easier in Singapore.
"People weren't as antagonistic to the Gospel," James says. "In a lot of Asia, you could go door to door. We have tried literally every form of evangelism in this city (Vancouver)."
Gerald Phang, a youth pastor at Praise International, was introduced to James when he arrived in Canada in 1990 as an international student from Singapore. He had his first glimpse of James as the hands and feet of Jesus when James helped him move furniture into his new home.
Throughout the years, James and Kim have helped guide and support Gerald. The couple constantly opens their home to youth and other members of the church.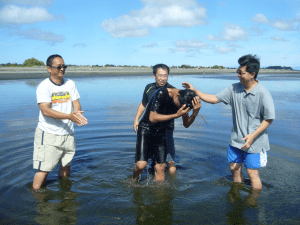 Pastor James with pastors Art Fabian and Gerald Phang at a baptism.
"James baptized me, officiated my wedding, and stood by me while I baptized my son," Gerald says. "He is, and always will be, a man after God's own heart, a man who loves God and His Word, and a man who loves the church with such authenticity."
James has never wavered in his love for the church or his calling to bring others to Christ. His approach echoes that found in 1 Corinthians, where the Apostle Paul says: "I have become all things to all people, that by all means I might save some. I do it all for the sake of the gospel, that I may share with them in its blessings" (1 Corinthians 9:22-23, ESV).
Becoming all things to all people for the sake of the Gospel has brought James full circle with the Billy Graham Evangelistic Association. Unlike the large-scale Crusade where he came to Christ, however, he and his congregation often share videos from My Hope with Billy Graham, which trains and encourages Christians to share the Gospel in their homes or other smaller venues.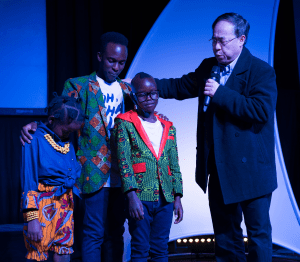 Pastor James praying over church members.
"We took the training, shared it with small groups, and [in 2014] the small groups shared it in 20 or 30 locations around Vancouver," James says. "It was tremendous—in one case a Bible study group invited six people, and all of them gave their lives to the Lord."
While James continues to share and promote the friends-reaching-friends outreach approach of the My Hope ministry, he says Canada's major cities need the same powerful Gospel impact seen at the 2014 Greater Toronto Festival of Hope.
Over three nights, more than 40,000 people attended the Festival outreach events in person, and more than 77,000 people from 150 countries watched online through live streaming of the event. In total, nearly 4,000 people responded to invitations to accept Christ as Savior.
"I think the one thing we're praying for now as a church is more Crusades," James says. "North America needs them. There is a spiritual unity that comes from working on Crusades together that is lacking when churches do it alone." D 2015 BGEA
SCRIPTURE QUOTATION IS TAKEN FROM THE HOLY BIBLE, ENGLISH STANDARD VERSION.
Tell us your story of how you came to Christ through a BGEA initiative and we might share it—with your permission—on our website and in Decision magazine. Just visit BillyGraham.ca/yourstory, type out some basics, provide your contact information, and send it.
Give To Where Most Needed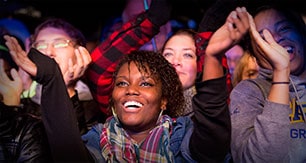 Help us fulfill our mission of proclaiming the Gospel of the Lord Jesus Christ to all we can by every effective means available to us and by equipping others to do the same.