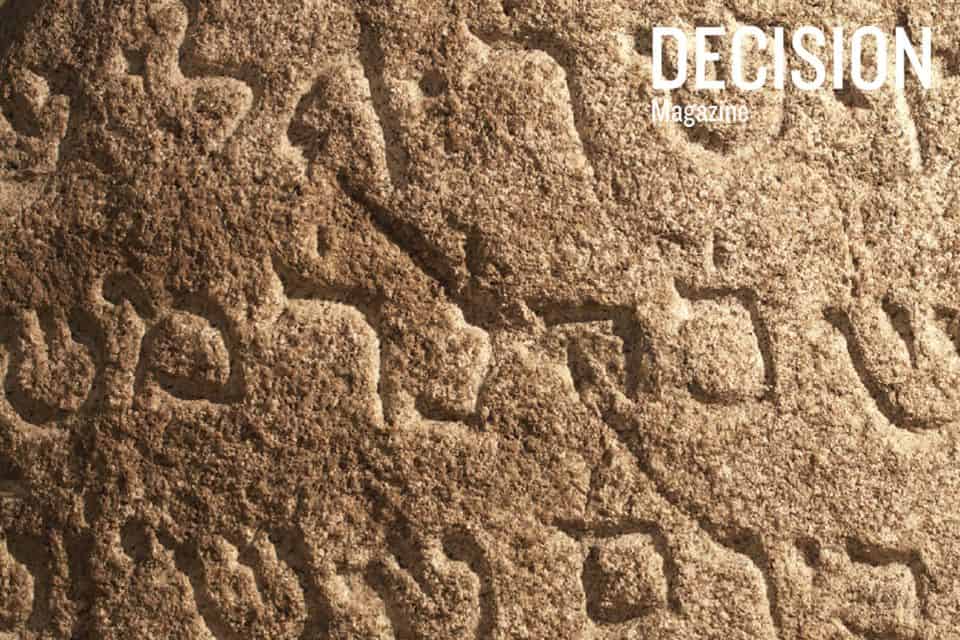 The children of Israel escaped from Egyptian slavery by the grace of God—and the skin of their teeth. They were a disorganized rabble with little or no idea how to be a called out community—the unique people of God. Soon after their exodus from Egypt, God gave them the Ten Commandments, which summarized how God's people are to do the two most important things—love God with all their hearts and their neighbors as themselves (Matthew 22:37-40). These commandments were 80 percent prohibitions—negative but necessary prohibitions to counter their waywardness and to develop God-honoring and people-nurturing relationships. One of these Commandments simply said: "You shall not bear false witness against your neighbor" (Exodus 20:16).
Subscribe to Decision
Get your own subscription, or renewal, or bless someone by giving Decision Magazine as a gift.
SUBSCRIBE NOW
Through the centuries, God continued to speak to His people, through prophets, priests and even some kings. The wise sayings of Solomon included proverbs such as: "A false witness will not go unpunished, and he who speaks out lies will not escape" (Proverbs 19:5).
The Lord Jesus left no room for uncertainty when He linked "false testimony," or lying, with murder, adultery, theft and sexual immorality as ugly manifestations of the evil lurking in the human heart (Matthew 15:19).
Why does God put such emphasis on telling the truth and not lying? First, lying is absolutely contrary to God's nature. In Jesus' prayer before His trial and crucifixion, He prayed, "Sanctify them by Your truth. Your word is truth" (John 17:17).
Again and again, throughout Scripture and history, we see that everything God says is true. What He decrees will stand. What He promises, He will do. He is completely trustworthy, because, as the Psalmist says, "The entirety of Your word is truth, and every one of Your righteous judgments endures forever" (Psalm 119:160).
Lying, on the other hand, comes from Satan. Jesus said: "There is no truth in him. When he lies, he speaks his native language, for he is a liar and the father of lies" (John 8:44, NIV). Satan, who is also called the deceiver (Revelation 12:9), seeks to demolish our relationships—with God and with others. And it isn't hard to see how damaging lies are—how they harm both the liar and those who are lied to. Consider:
• Lying often comes from fear. Fear of the consequences of wrongdoing, combined with instincts of self-preservation, produces lies that compound the initial problem. A small boy will deny stealing even when caught with his hand in the cookie jar. Grown men have been known to handle similar emergencies as ineptly and wrongly.
• Lying is always deceptive. Deceiving people in order to make a profit or gain an unfair advantage is common in the secular world, even when strict rules forbid such practices and severe penalties are in place. Man's competitive nature and lack of integrity regularly combine to abuse trust and defile truth in search of personal gain.
• Lying is destructive. Malicious talk may be as popular and commonplace as gossip or as heinous as character assassination. But in either case, reputations, well-being, friendships and relationships are destroyed. Ironically, the peace of mind of the liar is also frequently disturbed by fear of exposure.
• Lying is cumulative. Lies invariably lead to more lies, and cover-up begets further untruths. What started as a third-rate burglary at the Watergate Hotel in Washington, D.C., led eventually to the resignation of the most powerful man on earth after countless outright lies, misleading information, half-truths and cover-ups constructed an unmanageable maze of deception that finally collapsed.
• Lying is demeaning. Jesus taught that God's law was fulfilled in the two commands to love God and to love our neighbor as ourselves. The first two of the Ten Commandments are about loving God, and the last eight, including the prohibition on lying, are about loving our neighbors. Lying is not loving. It's all about seeking to gain an unfair advantage over others. It shows no respect or regard for the person being abused.
• Lying is repulsive. The liar lacks integrity and cannot be trusted. Lying is so callous and calculating, so self-centered and indifferent to damage done, that it is no surprise to read of the Holy City of Revelation: "There shall by no means enter it anything that defiles, or causes an abomination or a lie, but only those who are written in the Lamb's Book of life" (Revelation 21:27).
The story of Ananias and Sapphira teaches us much about human deceitfulness and God's response to it. This couple sold property and brought some of the proceeds to the Apostles serving the church in Jerusalem. Apparently they conveyed the impression that they were bringing 100 percent of the proceeds, presumably in an effort to gain the approval of the church members. They acted a lie! Peter saw through their falsehood and said, "Ananias, why has Satan filled your heart to lie to the Holy Spirit?" Then he added, "You have not lied to men but to God" (Acts 5:3-4).
In a few short words, Peter showed that lying is inspired by Satan and is utterly offensive to the Father and the Spirit. Those who lie need to understand that their behavior is unacceptable to God, it is devilishly inspired, it is contrary to God's commands, it is destructive of human relationships and it serves not only to separate man from man but also to alienate man from God.
In marked contrast, Jesus said, "If you abide in My word, you are My disciples indeed. And you shall know the truth, and the truth shall make you free" (John 8:31, 32).
Jesus is Himself the epitome of truth (see John 14:6). He is the fully authentic and accurate demonstration of who God is, what man was created to be and what delights God. He exemplifies truth. He teaches truthfully. And He imparts true knowledge which, when applied to the human heart, delivers us from Satan's power; establishes a life of loving, serving discipleship; and brings us into a relationship with God in which "the Spirit of truth … will guide [us] into all truth" (John 16:13). D 2015 STUART BRISCOE
STUART BRISCOE IS MINISTER AT LARGE FOR ELMBROOK CHURCH AND FOUNDER OF TELLING THE TRUTH MINISTRIES. TELLINGTHETRUTH.ORG UNLESS OTHERWISE NOTED, SCRIPTURE QUOTATIONS ARE TAKEN FROM THE HOLY BIBLE, NEW KING JAMES VERSION. THE SCRIPTURE QUOTATION MARKED NIV IS TAKEN BY PERMISSION FROM THE HOLY BIBLE, NEW INTERNATIONAL VERSION®, ©1973, 1978, 1984, 2011 BY BIBLICA, INC.™ USED BY PERMISSION. ALL RIGHTS RESERVED WORLDWIDE.
Give To Where Most Needed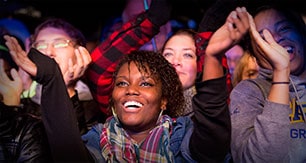 Help us fulfill our mission of proclaiming the Gospel of the Lord Jesus Christ to all we can by every effective means available to us and by equipping others to do the same.