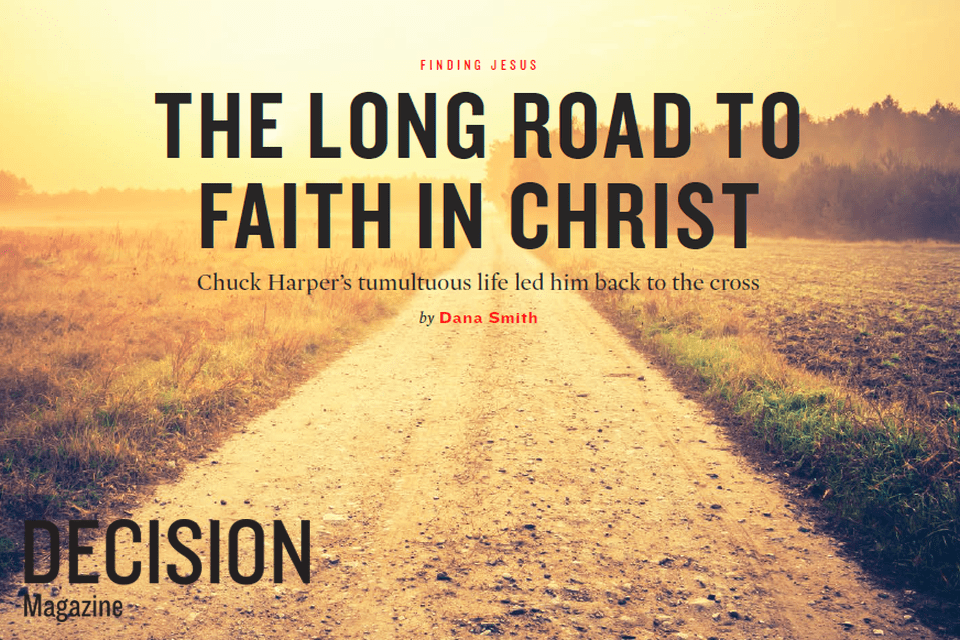 The Billy Graham Evangelistic Association of Canada recently launched an Internet-based initiative designed to gather stories of people who came to faith in Jesus Christ through our ministry. This is one of those stories.
Chuck Harper's journey to faith in Jesus has been a winding and bumpy path.
The odds were stacked against Chuck from an early age. As a transient 'Army brat,' he had a tumultuous home life in New Brunswick.
"I was always the new kid on the block," he says. "And the new kid on the block often gets picked on, so you learn to toughen up."
Chuck faced hard times with kids at school and even harder times when he came home each day to his unpredictable and volatile father.
Subscribe to Decision
Get your own subscription, or renewal, or bless someone by giving Decision Magazine as a gift.
SUBSCRIBE NOW
"I have lots of memories of being beaten up, and my mom being beaten up," he says. "I'd go to school with black eyes and fat lips and sometimes would miss school altogether."
After years of physical and mental abuse from her alcoholic husband, Chuck's mom had had enough.
"It got really bad at the end," Chuck recalls. "My mom grabbed me, my six-week-old brother, and my younger sister and we hopped a train to B.C."
While she was hoping to leave abuse behind, a few years later his mother faced a new abuser. By the time Chuck was 16, he had begun to drink and was often violent with his mom and siblings.
As bad as this period was—with Chuck even being kicked out of his family's home for a time—he also had brushes with Christianity.
In B.C., Chuck, his siblings and their mom lived beside a church, and the pastor took on a fatherly role in Chuck's life, even leading him to commit his life to Christ.
"I made a profession of faith, but I didn't really know what I was doing," he says. "I'd go to church on Sunday and then cause trouble the rest of the week."
Stewart Wright had met Chuck at Bible camp when they were both about 13. Chuck was fun-loving and unpredictable. He often felt like he had to live down the reputation of his home, and he did so by impressing people—even though that sometimes meant making bad choices.
"I made a profession of faith, but I didn't really know what I was doing," he says. "I'd go to church on Sunday and then cause trouble the rest of the week."
"I don't think he ever stopped to think about the consequences," Stewart says. "That was definitely the attraction though—he was fun to be around because he was always doing something."
When Chuck was about 18, his father started writing to him. The relationship that had been so scarring and damaging began to mend. Chuck even returned to Ontario to live with his dad. But the elder Harper was still battling alcoholism, and Chuck, too, seemed to be heading down that path. At one point, to pay off a phone bill, he even robbed the gas station where he worked. He was charged, given three days probation, and told by police to leave the town.
The years that followed became even more tumultuous. Chuck's girlfriend, who would become his first wife, became pregnant and the couple moved to Calgary, where Chuck took a job as a cab driver. But by the time they were expecting their second child, Chuck's lifestyle of drinking, partying, and promiscuity had led to the breakdown of his marriage.
Stewart recalls that this was a period when his fun-loving friend became a stranger.
"He was not a good husband, and that was very frustrating to see," Stewart says. "The lies were rampant."
Chuck recognized more than ever that he needed to rebuild his relationship with God. But the rebuilding got off to a bumpy start.
"In a drunken stupor, I realized once again that I needed to get my life right with God," he recalls of one specific night in his early 20s.
Thankfully, Chuck had a pastor friend he had met years before who had helped him through tough times when he first moved to Calgary. This pastor was part of a church group that ran the Burning Bush, which was established to meet the physical needs of people in Calgary's downtown core.
Harper began volunteering at the Burning Bush and even led Bible studies.
The core group from the Burning Bush, including Harper, would go on to launch the Mustard Seed, which started with humble beginnings as a street ministry in Calgary's downtown.
The Mustard Seed has become a powerful voice for the homeless, offering innovative programs and services at its downtown and shelter locations.
By this point, Chuck knew he wanted to be in full-time ministry, and his first opportunity came when he started working full time with Youth for Christ in Calgary. That's when he was introduced to the Billy Graham Evangelistic Association.
Chuck took evangelism training through BGEA, and in his zeal to give Christ his all, he again rededicated his life to the Lord during a 1981 Billy Graham Crusade in Calgary.
"It took God to do some work, but that work took hold, and I've been living for the Lord ever since."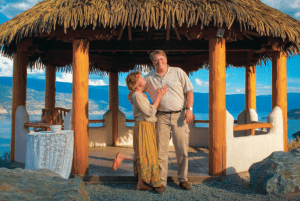 "It took God to do some work, but that work took hold, and I've been living for the Lord ever since." -Chuck Harper
Today, Chuck and his second wife, Cindy, have been married for 35 years. Chuck continues to do ministry with the homeless in Vernon, B.C. Last year, he spearheaded development of a memorial to the 14 homeless people who had died in that community in 2014.
Chuck started Vernon's community chaplaincy program and works full time as a residential worker at the John Howard Society. He says street ministry has 'been in his DNA' since his early days at the Burning Bush and the Mustard Seed.
"It's not a job I do, it's a life that I live," he says. "I get to serve Jesus and serve people." ©2015 BGEA
Tell us your story of how you came to Christ through a BGEA initiative and we might share it—with your permission—on our website and in Decision magazine. Just visit BillyGraham.ca/yourstory, type out some basics, provide your contact information, and send it to us.
Give To Where Most Needed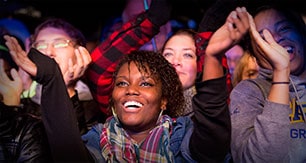 Help us fulfill our mission of proclaiming the Gospel of the Lord Jesus Christ to all we can by every effective means available to us and by equipping others to do the same.