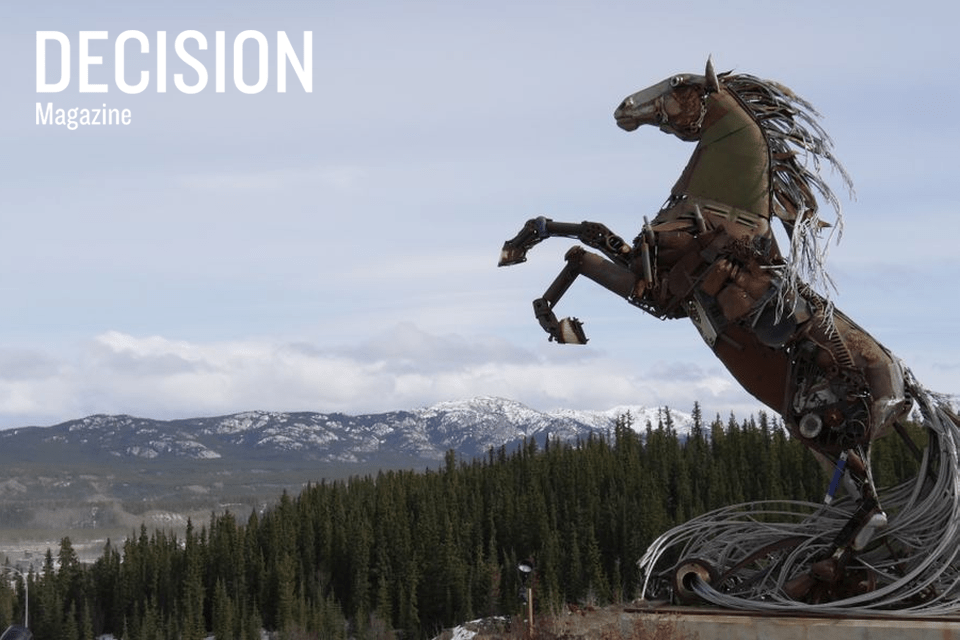 The Billy Graham Evangelistic Association (BGEA) is partnering with local churches in three Western Canadian communities hundreds of kilometers apart this fall to organize Celebration of Hope evangelistic events featuring Will Graham, eldest son of Franklin Graham.
Subscribe to Decision
Get your own subscription, or renewal, or bless someone by giving Decision Magazine as a gift.
SUBSCRIBE NOW
BGEA representatives visited Whitehorse, YT; Fort McMurray, AB; and the Siksika First Nation in Alberta recently to officially launch the Celebration of Hope ministry.
Launch events included times of prayer and worship as churches began to plan for Celebration activities, including evangelism training, which will culminate in October in Siksika and Whitehorse, and in November in Fort McMurray. That's when Will Graham will share the Gospel at outreach gatherings as Christians bring their non-believing family and friends to meet the Savior.
The enthusiasm and sense of God's timing … that was felt at the launch event points to an incredible move of God's Spirit," says Dion Collins, BGEAC's assistant director of ministry. "We're praying this will result in many changed lives through the acceptance of the Gospel."
True to Jesus' call to carry the Gospel to the ends of the earth, the Celebration in Whitehorse will take the message to one of Canada's most northern communities, with a population just over 36,000.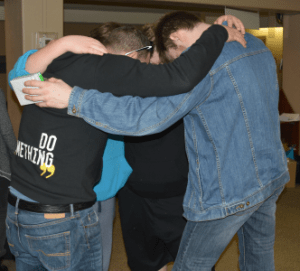 A group of men pray for the Celebration of Hope in Fort McMurray.
Christians in this region are excited about the opportunity to receive evangelism training, says Pastor Greg Anderson, co-chair of the Whitehorse Celebration. Some drove for three hours to attend the launch event, and believers throughout the area are looking forward to inviting non-Christians to an event featuring a member of the Graham family.
"Jesus called us to be His witnesses to the ends of the earth," Anderson says. "Here we are, from the perspective of Jerusalem to Whitehorse, at the ends of the earth."
Whitehorse resident Cheryl McCormack says the northern community, like many across Canada, is a place where many young people abuse drugs and alcohol to mask the sadness in their lives.
"There is so much pain, abuse, and broken marriage, and that can be hard for children," McCormack says. "I was raised here and know how hard it is to fit in when you don't drink or party. I just don't want young people to go through that hurt and pain. I want to tell them that God so loves them."
The October event in Whitehorse will be held in a large tent in scenic ShipYard Park along the Yukon River—echoing the 1949 "Canvas Crusade" in Los Angeles that helped launch Billy Graham's worldwide ministry. Since that time, more than 21 million people have accepted Christ through BGEA ministries, which include Franklin Graham Festivals, Internet Evangelism, and My Hope.
The Whitehorse Celebration will also feature high-energy performances from hip-hop artist Manafest and illusionist Brock Gill—both of whom have a strong record of attracting young people who would never attend a traditional church service.
The community of Siksika, east of Calgary, is relatively unknown compared to Whitehorse. The second largest First Nation in terms of land mass, Siksika has 4,000 residents, most of whom live in houses atop rolling hills.
But some residents live in the flood plains along the Bow River, an area devastated by the same historic flood that put much of Calgary under water in 2013. Chaplains from BGEAC's Rapid Response Team were deployed to the region during this time to provide emotional and spiritual care. The chaplains worked alongside staff and volunteers from Samaritan's Purse, BGEA's sister organization, who cleaned out flood-damaged homes.
The assistance BGEAC and Samaritan's Purse provided helped build strong bonds between the organizations and some of Siksika's Christian leaders, including Pastor Derick Bearchief.
"I went home [one night at the peak of the flood] with a real heaviness in my heart and prayed to God: 'How can I be of best use to these people, because I don't really have a whole lot to offer,'" says Bearchief, senior pastor at the SURE House church in Siksika. God then reminded him of Jeremiah 29:11, which promises hope and a future.
"The Lord told me, 'That's what you're giving my people—hope.'"
Bearchief became convinced it was time for a Gospel outreach in Siksika, and he asked BGEAC to help. The organization's response included an invitation for Bearchief and his wife to attend last September's Greater Toronto Festival of Hope with Franklin Graham so they could experience first-hand the enormous impact such an event can have in a community.
"Many people in our society will never fulfill their purpose because they have no hope," Bearchief says. "I thought it would be so amazing to see something like that here for my people and surrounding areas."
BGEAC agreed to the request from Bearchief and other church leaders to organize a Celebration of Hope in Siksika.
According to Bearchief, exposure to the Gospel has been marred for many First Nation people by years of abuse at the hands of Christian leaders in the residential school system for First Nations children. This abuse left in its wake generations of broken people, broken families, and broken communities.
Poor leadership by Christians in the school system created a distrust and disinterest in the Gospel, Bearchief says.
As the Bible says in John 10:10, the devil comes to steal, kill and destroy, he adds.
"The devil meant to try and destroy our people, but it is God who is bringing us back to Him through his Son, Jesus Christ."
About 750 kilometers north of Siksika is Fort McMurray, a city known internationally for oilsands projects that have brought immense material wealth to the entire region. Most of the city's 116,000 residents were attracted by its high-paying jobs. But despite their affluence, many are desperately lonely. Far from family and other support structures, they are falling prey to cocaine and other addictive drugs, plus a myriad of other social problems.
Amid their world of long, often round-the-clock work shifts, and the lure of recreational and other activities, it can be very difficult to focus their attention on the Gospel, or on a saving relationship with Jesus Christ.
That's where the Celebration of Hope comes in, says Michelle Burry, a member of the McMurray Gospel Fellowship Church in Fort McMurray."
I'm excited about the Celebration of Hope because that's exactly what it is," Burry says, "the hope of what Christ is going to do here, and what He's already done.
"There are people who know there's something missing in their lives but they're not sure what it is. They're going to know after this." D
For more information on the Celebration of Hope with Will Graham, including how you can prayerfully support this vital ministry, please visit celebrationofhope.ca or call 1-800-293-3717.
Give To Where Most Needed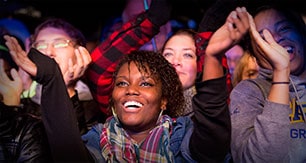 Help us fulfill our mission of proclaiming the Gospel of the Lord Jesus Christ to all we can by every effective means available to us and by equipping others to do the same.