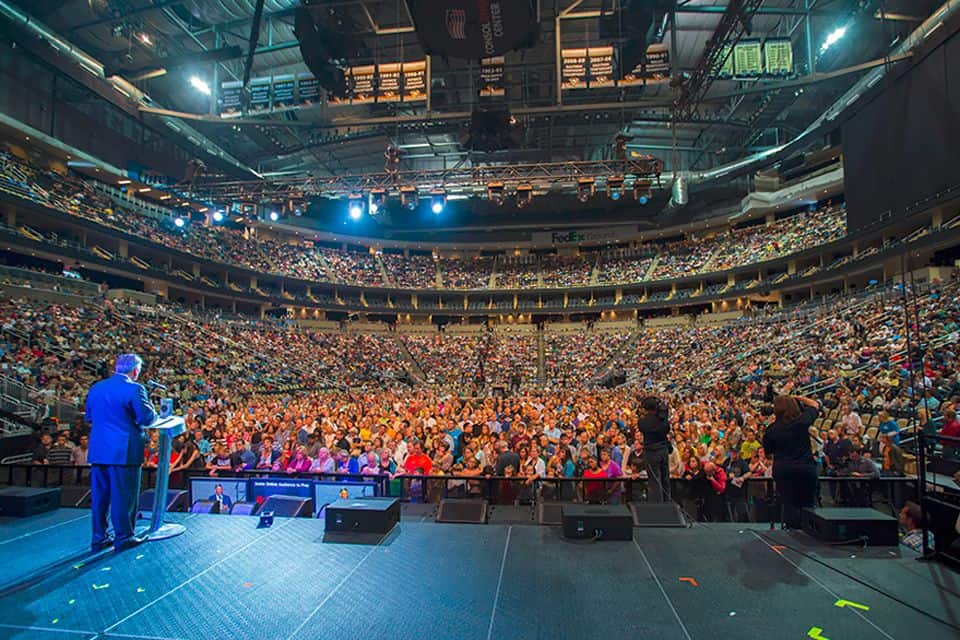 Dawson's life teetered on disaster. His aunt's death last summer shoved him over the edge. The 18-year-old fell hard. He partied, he drank, he smoked weed, all with greater frequency. But afterward, he always felt guilty.
Dawson turned to his good friend Seth. They grew up in church together and had even made decisions early on to accept Christ into their hearts, but they strayed. In fact, as Dawson's life was fraying, Seth, too, struggled with temptations of his own. They longed for a fresh start.
When the young men heard about the Festival of Hope, they knew they could discover answers there.
Dawson and Seth sensed God speaking to them when Franklin Graham quoted Jesus' words from John 14:6: "I am the way, the truth, and the life. No one comes to the Father except through Me."
Franklin then declared, "Jesus Christ died in your place for your sins and took the penalty of death, which you deserve. Tonight you can be cleansed of your sins. Tonight you can know without any shadow of doubt that God has forgiven you."
Both Dawson and Seth felt the Holy Spirit's tug to return to God. When Franklin invited people to come forward, the two young men rushed to the front of the counseling area, along with hundreds of others who packed the floor to capacity, and surrendered anew their lives to Christ.
"I never want to go back to my old ways," Dawson told Rami, the volunteer Festival counselor who talked with him. "I want to follow Jesus the rest of my life.
"So many people came for-ward each night of the Sept. 12-14 event at the Air Canada Centre that security o'fficials had to close o" the arena floor. Additional counselors were dispersed into the stands to talk with people who wanted to make a decision for Christ.
"I was in awe at the way God worked," said Hany Boghossian, lead pastor of The Well on Bayview and executive leader of the Festival. "We saw the harvest, and we'll see its impact in our city for months and years to come."
Randy Nielson, lead pastor at Bramalea Christian Fellowship, not only praised God for how He drew people to Himself but for how He also brought some 650 churches together for the cause of evangelism. "This was a strategic time to hold this Festival," Nielson explained. "Earlier this year, a Gay Pride Celebration was held, and next year Toronto will host the Pan American Games. In between, God used the Billy Graham Evangelistic Association to unite our churches to lift up the name of Jesus for salvation."
Since Toronto is highly cosmopolitan, the Festival reflected the city's ethnic diversity. Meetings were interpreted into Arabic, Cantonese, Farsi, Mandarin, Russian and Spanish.
Two Christian colleagues invited Linda, a 38-year-old woman of Chinese descent, to the Festival. The Holy Spirit touched her heart, and she went forward to pray to receive Christ as Savior. Linda's co-workers rejoiced at her decision and promised to help her grow in her relationship with Christ. "It was moving to see how these friends cared about Linda's eternal destiny," said her counselor, Pat.
Richie's father expressed concern about his son's spiritual condition. That hadn't always been the case. After moving their family from Cambodia to Canada, Richie's parents divorced. Richie stayed in Montreal with his mom, while his dad moved to Toronto. Richie's dad remarried, and his new wife invited him to church. That's where Richie's dad dedicated his life to Christ and got on fire for the Lord. He often called Richie and told him he, too, needed to accept Christ. Richie shrugged off" that notion.
Then Richie's dad recently asked his 18-year-old son to move to Toronto and live with him. Richie agreed. His dad kept witnessing to him and invited him to the Festival. On the first night, Richie put his faith in Christ.
"My dad told me about giving my heart to Jesus," Richie told his counselor, "but I kept putting it o"ff. I wasn't ready. Tonight, I was ready." ©2014 BGEA
Give To Where Most Needed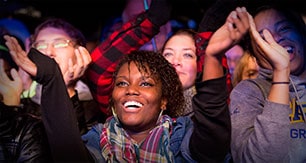 Help us fulfill our mission of proclaiming the Gospel of the Lord Jesus Christ to all we can by every effective means available to us and by equipping others to do the same.