A Waterloo couple have returned from a two-week stint helping victims of the Fort McMurray fire.
Don and Judy Prince led a team of eight chaplains who are serving with the Billy Graham Rapid Response Team that is part of the Billy Graham Evangelistic Association of Canada.
"We are here primarily for the emotional and spiritual care," said Don. "To listen to people, encourage them, share in prayers if they would like. Share in hope."
The chaplains are trained in crisis programs and stress management courses such as suicide prevention and supporting individuals through grief following a traumatic experience.
Different experience
The Princes have travelled to a number of communities experiencing a crisis, including Calgary following the massive flood of 2013.
The situation in Fort McMurray is slightly different, because the chaplains are working with two groups of people: police and firefighters who have been on the job for an extended period of time, and victims of the fire.
"The people whose homes were burned to complete ash. Two story homes and only a foot of ash. Just like a total cremation," said Don Prince.
"Then we have the contrast of a house turned to ash and the next house standing. So then you have people feeling guilty because their house wasn't burned, and yet thankful their house wasn't burned."
Highlights of hope
Although the couple witnessed plenty of tragedy during their stay in Fort McMurray, they also heard some great stories of people who had found property that was meaningful to them.
"There have been people who have found jewelry, particularly rings. If it was in a box – they were sometimes – it's melted together, and the gems might be retrievable."
"A family were looking for a graduation ring and a wedding ring and they actually found both of those rings," said Judy Prince.
"So it's almost like panning for gold, but you're sifting ashes. It's very time consuming for the workers and the people who just keep hoping."
Chaplains receive help too
After spending a day comforting the rescue crews and victims of the fire, the chaplains made sure to also look after themselves.
Everyday they would have a debriefing, where chaplains would share stories of what they had seen.
"We can share the happy times and the things that have impacted us," said Judy Prince.
"We try to be conscious with the volunteers, to listen to what may have caused them some trauma."
Give To Where Most Needed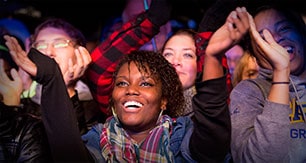 Help us fulfill our mission of proclaiming the Gospel of the Lord Jesus Christ to all we can by every effective means available to us and by equipping others to do the same.