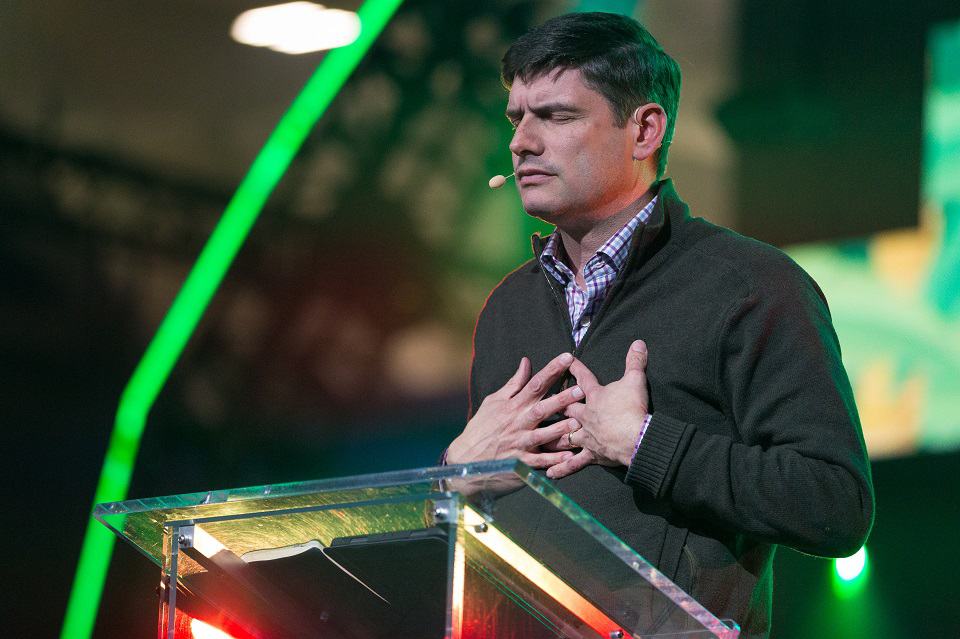 Subscribe to Decision
Get your own subscription, or renewal, or bless someone by giving Decision Magazine as a gift.
SUBSCRIBE NOW
Sylvia Thomson remembers teaching Zack* in her eastern Ontario Sunday School class, but as he reached his teenage years, she was saddened to see him stray from Christ and follow the troubling ways of the world.
But all that changed during the second night of the 2019 Quinte Region Celebration of Hope outreach weekend in the city of Belleville last October.
Zack attended with his family, and that's where a surprised and delighted Sylvia saw him "dancing and enjoying the worship music." Months later, Zack's mother—who was part of the Celebration's prayer team—brought joy to Sylvia (who served on the Celebration's community engagement committee) by revealing that her son rededicated his life to Christ at the Celebration.
"By this time, she'd seen Zack working to turn his life around, so she was very humbled and emotional," recalled Sylvia, who praised God for how He used the worship music and Will Graham's Gospel presentation to change lives.
The Quinte Celebration's three-day evangelistic outreach, made possible by prayers and donations, took place a year ago this month at CAA Arena in Belleville.
A partnership with more than 80 area churches, the Celebration was the culmination of nine months of spiritual investment in the Quinte region, including prayer gatherings, evangelism training classes, and worship events.
Nearly 6,000 people attended, and at least 7,000 more watched online when the Celebration's second and third nights were live streamed.
Close to 600 people responded to Will's invitation to repent of their sins and commit their lives to Jesus Christ, "the Word [who] became flesh and dwelt among us" (John 1:14, ESV).
"It was a lot of work, but when it all came together, it was a great weekend where we saw eternity change [for many people]," said Jeremy Cosco, one of the Celebration's three co-chairmen. "So, all the work and meetings and planning was worth it."
Jeremy, the lead pastor at Bethel Pentecostal Church in Trenton, saw 12 young people, all connected to his church, attend the Celebration weekend and make a commitment to Christ. Some were in the church's youth group. Others were invited by youth group members.
"My son, Nathan, invited a boy from his soccer team and prayed that he'd accept," Jeremy said. "The
boy came with his mother and went forward on the first night." "Nathan was so happy and so excited that his friend is now in the Kingdom. Someone even showed us video of the two of them praying together."
Celebration Co-Chairman Kevin Dowling reported similar good news at his church, Desert Stream Christian Fellowship, in Belleville. At least 10 people made commitments to Christ; one was the mother-in-law of fellow Desert Stream pastor Marc Henshaw.
During one of the outreach evenings, "she just got up on her own" and went forward when Will invited people to come to the front of the stage and publicly commit their lives to Christ, Kevin said.
"Marc and his wife were flabbergasted," he added. "They were sitting with her and didn't nudge her or say anything."
Since then, Marc's mother-in-law took an Alpha course to better understand her new faith and, until the pandemic hit in March, attended church every week.
Looking back at his involvement in the Celebration, Kevin admitted that he was never a big fan of crusade evangelism. He preferred one-on-one, but at the invitation of the Billy Graham Evangelistic Association of Canada, he attended the 2018 Avalon Celebration outreach in St. John's, Newfoundland.
Almost 6,500 people attended the Avalon outreach evenings, while more than 21,500 others from around the world watched online via live streaming.
Over 900 responded to Will's invitations to commit their lives to Christ at the services, online, and during evangelism training classes held in the weeks and months before.
"When I saw the amazing attention to detail and the thoroughness of the follow-up at the Avalon Celebration, I was extremely impressed and decided we had to do this in Quinte," Kevin said.
Jeremy Cosco also attended the Avalon Celebration and came away so moved at how God used the outreach weekend that after returning home, holding a Celebration in Quinte was the topic of his first Sunday message.
"Will Graham talked about the privilege of standing on the sidelines and watching eternity change for so many people, and that's exactly how it felt," Jeremy noted. "I made that the subject of my sermon."
For Jeremy, a key moment during the Quinte outreach took place on the final night.
That's when the fire alarm went off before Will had a chance to preach, forcing 2,300 people out of CAA Arena and into the parking lot.
At that point, Jeremy said, "There was this sense of 'Oh no, is this going to ruin the whole night?'"
But it didn't. Christian musicians Matt Maher and Josh Havens, lead singer of The Afters, wandered through the crowd singing worship songs and encouraging people to sing along.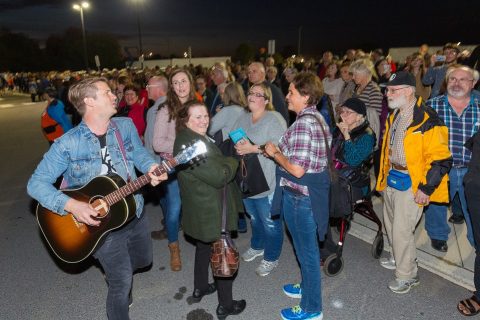 Many hundreds did, turning the evacuation into an enthusiastic praise and worship event.
When the evacuation ended, almost everyone who left the building stayed and went back inside. And at the invitation, 130 people received Christ.
"To see how faithful God was—that there were almost as many decisions that night as the other nights, it was God at work," Jeremy said.
"God says 'Do the preparation, and because you've prayed and believed, I'm going to do the work.'"
One of the goals of Celebrations and Festivals is to bring unity to Christians and churches. Christians saw that happen in Quinte.
"We continue to connect through Zoom to discuss how we can support our communities," Sylvia said of the partner churches, noting the impact of the pandemic.
"It has been challenging, but the relationships established through the Celebration have helped us to communicate better," she said. "We are more willing to reach across denominations to meet the needs of the most vulnerable."
Kevin Dowling noted that thanks to the Celebration, the Belleville ministerial association has been inviting churches from other parts of Quinte to attend meetings.
"I've had lots of phone conversation with the other leaders, encouraging each other during the pandemic," he said. "There's a genuine concern for one another." Kevin advised churches in other parts of Canada to welcome the chance to be part of a Celebration or Franklin Graham Festival.
"This might be a cliché, but you have everything to gain and nothing to lose," he said
Give To Where Most Needed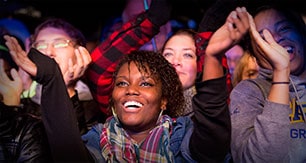 Help us fulfill our mission of proclaiming the Gospel of the Lord Jesus Christ to all we can by every effective means available to us and by equipping others to do the same.