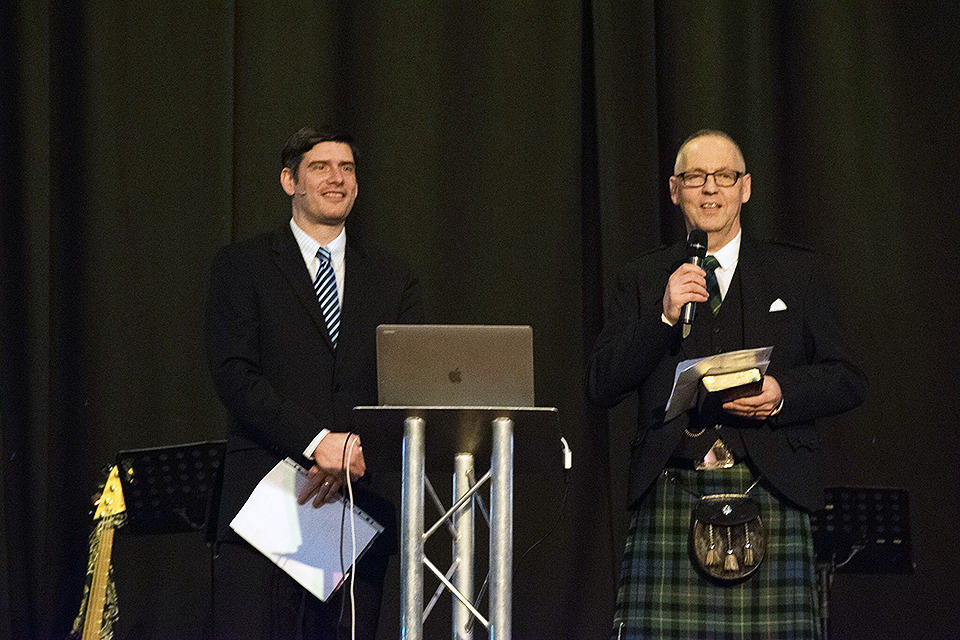 A blizzard swirled in Falkirk, Scotland, blinding motorists and making roads nearly impassable. Billows of white spun in the deep darkness of night.
Still they came.
The bitter weather outside did nothing to dampen the warm spirit inside the Grangemouth Town Hall as the Central Scotland Will Graham Celebration of Hopewas announced. The three-day campaign is scheduled for June 15-17, 2018, at Falkirk Stadium.
Falkirk is a community of more than 32,000 people, which sits equidistant between the well-known cities of Edinburgh and Glasgow, approximately 20 miles from each.
"This Scot loves the snow," Will joked as he began sharing his hope and vision for the Celebration in the land of his ancestors. His lineage is three-quarters Scottish, with forefathers from the Graham, Bell and Cunningham lines all hailing from the country.
As Will discussed the eternal importance of the evangelistic outreach, he challenged those in attendance to join him in praying and preparing for the Celebration.
"There isn't a briefcase that we walk around with, that we open and then, 'poof,' revival happens," Will said. "It's the churches who get together that make a difference."
He added, "My grandfather didn't call anyone forward. Will Graham can't call anyone forward. It's the Holy Spirit that calls people forward," to begin a relationship with Jesus Christ.
Mr. Alistair Barton, who is heading up the Prayer Team for the Celebration of Hope, reiterated the need for prayer in the spiritual battle against evil.
"In military terms, prayer is the air force, bombing, degrading and destroying [of] the enemy's defenses and strongholds, preparing the way for the ground troops—the evangelists, the pastors, the teachers—to invade the enemy's territory, to occupy the ground, and to establish God's kingdom in the lives of individuals and of communities."
Mr. Barton continued, "The church in Scotland has been described as a 'sleeping giant.' But tonight I want to declare: The Sleeping Giant is stirring!"
Over the next several months, a steady stream of events will take place in and around Falkirk, in preparation for the Celebration of Hope.
"This cannot be a Will Graham thing. It cannot be a Billy Graham Evangelistic Association thing. It cannot be a Presbyterian thing or a Baptist thing. It's a God thing," Will said.
This campaign follows the 2016 North East Scotland Celebration of Hope in Peterhead. Approximately 4,800 people attended that event in a community with a population of 18,500. More than 240 responded to the invitation to make a commitment to Jesus Christ.
Give To