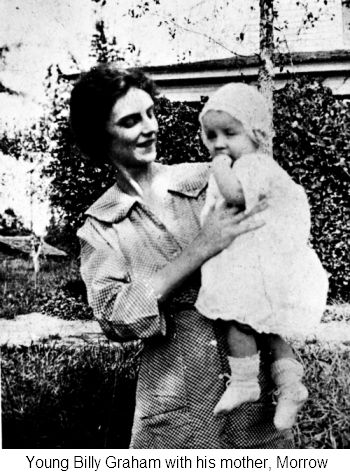 The story of how God called Billy Graham from humble beginnings into what has become a globally recognized ministry speaks of God's faithfulness in response to simple obedience.
The Billy Graham Evangelistic Association of Canada (BGEAC) has grown from a small office established in 1953 for receiving donations and fulfilling mail orders to today's multi-faceted ministry center that is developing and leading a wide range of uniquely Canadian initiatives to reach people with the Gospel message in many cultural contexts.
From the Farm
Billy Graham was born on November 7, 1918 in a frame house on a North Carolina dairy farm. Like many others in their day, his parents were hard-working people who knew the value of a dollar and the meaning of self-discipline. Perhaps less ordinary, however, was their belief in God and devotion to seeking His wisdom and blessing for their family and for a world in need.
To them, the Bible was the very Word of God, and their prayers declared their dependence on Him through any circumstance. As the times proved, circumstances were trying and challenging. From drought to depression, dust and destitution, people everywhere desperately searched the horizon for hope, that place where answers to prayer lives. God's faithfulness, as always, would prove gracious and absolute.
To the Pasture
In a time of penny candy, nickel sodas, hair tonic, blushing brides, travelling preachers, and Sunday suppers, people were optimistic and busy. With so many other things to do, most young people were not thinking about things like Christian service and dying to self. Although it is true that Billy Graham enjoyed having fun, there was more. Somewhere deep, something fundamental was working inside him.
In May of 1934, the Christian businessmen of Charlotte, NC, secured permission to hold an all-day prayer meeting at the Graham farm. On that day, a prayer was raised – that out of Charlotte the Lord would raise up someone to preach the Gospel to the ends of the earth.
It was in that year the previously reluctant Billy Graham gave his life to the Lord at a revival meeting led by travelling evangelist Rev. Mordecai Ham. At 16 years old, Billy Graham was about to experience the transformation of a traditional farm boy into an instrument of God.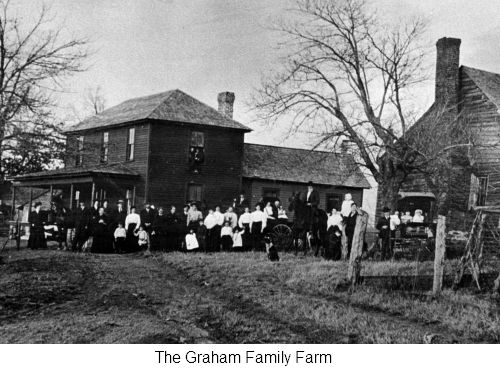 In the Woods
In a time of burgeoning modernism, of science and philosophy, Billy Graham walked in the woods one night seeking God's direction for his faith. The answer? The Bible – sealed by a prayer: "Father, I am going to accept this as Thy Word – by faith! I'm going to allow faith to go beyond my intellectual questions and doubts, and I will believe this to be Your inspired Word."
Preaching Career Begins
After graduating from high school, Billy enrolled at Florida Bible Institute, now Trinity College, and began to lead prayer meetings at a nearby trailer park and downtown mission hall. He also preached at a local church, as an ordained minister of the Southern Baptist Convention. Other churches began inviting him to speak.
In 1940, Billy enrolled at Wheaton College in Wheaton, IL, studying anthropology. He graduated in 1943 and two months later married a fellow student – Ruth McCue Bell, whose parents were missionaries in China. Billy applied to become a U.S. Army chaplain but was told he needed pastoral experience first, and therefore accepted a call to a small Baptist church in Western Springs, IL.
While there, he was offered the opportunity to host a 45-minute religious program called "Songs in the Night" on Chicago's largest radio station. It was there he met and became friends with Canada's George Beverly Shea, a soloist on the show.
In 1945, Billy was invited to become the first full-time organizer for Youth for Christ – establishing a lifelong path for him as an evangelist.
In 1948, Billy Graham began a series of evangelistic meetings in Modesto, Calif., along with his ministry team, comprised of Cliff Barrows, George Beverly Shea ("Bev") and Grady Wilson. Through a series of conversations about ministry life and its challenges, the group met together in Modesto and resolved to uphold the highest standard of Biblical morality and integrity. Many pastors, ministries, parachurch organizations and individuals have been inspired over the decades to adopt these philosophies. Read more about The Modesto Manifesto: A Declaration of Biblical Integrity.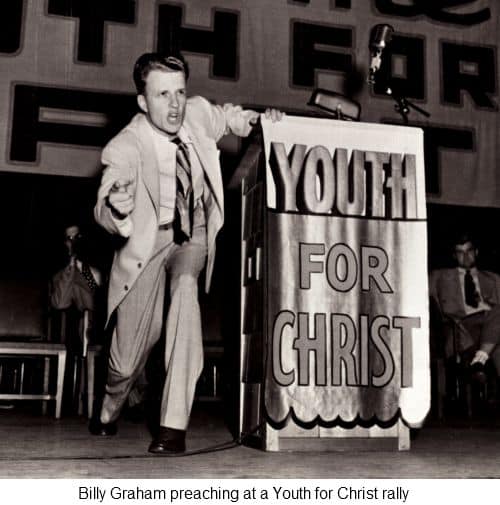 National Profile
Four years later, while Billy was conducting evangelistic meetings in Los Angeles, the news media began covering him. There were local stories, but also in the wire services and in Time, Life, and Newsweek magazines. What was initially supposed to be a few weeks of meetings attracted such large crowds that they continued for months.
Shortly afterward, Billy began a national weekly radio program, The Hour of Decision, that continues today on hundreds of stations in the U.S., Canada, and overseas.
During this very busy period, it became apparent that a formal organization would be needed to manage the growing momentum of a ministry that was once informally known as the Graham-Barrows Campaigns. In 1950, papers for incorporation were filed in St. Paul, MN, and the Billy Graham Evangelistic Association (BGEA) was born with the following mission: "to take the message of Christ to all we can by every effective means available to us."
Since then, the BGEA has been comprised of a team of men and women who work and pray, behind the scenes and in plain view, to make it all possible. "We have a whole team of people and most of us have been together for nearly 50 years. I'm introduced as though I'm doing it all . . . but it's the Lord using this group of people," Dr. Graham said.
Around the World
"I have had the privilege of preaching the Gospel on every continent in most of the countries of the world. And I have found that when I present the simple message of the Gospel of Jesus Christ . . . He takes that message and drives it supernaturally into the human heart," said Dr. Graham.
God's word has been spoken through Billy Graham in humble sincerity to millions over the decades. Of himself he admits, "I am not a great preacher, and I don't claim to be a great preacher . . . I'm just communicating the Gospel in the best way I know how."
Frequent and extensive travel exposed many of the realities of human suffering, a fact which prompted the BGEA to form the World Emergency Fund in 1973. When people began seeing Christ's love in action, even more doors for evangelism opened. By the end of the 20th Century, Billy Graham had preached the Gospel on every continent.
Today, the same message is communicated to hundreds of thousands, bridging gaps of distance and change. Of this new day, Dr. Graham says, "God has given us new tools to do His work – electronic and visual tools, such as radio, films, television, and telephones – and each of these has played an important role in the expansion of our ministry."
From living room audiences gathered around radios and television sets, to packed stadiums, images of God at work in the world are entrenched in the hearts and memories of generations. Taken literally is the invitation to "come just as you are" to Christ, and countless lives begin anew.
North to Canada
Right from the start, unsolicited donations from near and far poured in to the BGEA. Interest and support from Canada was so great that the decision to create a full-fledged Canadian office was made.
In 1953, George Wilson, a BGEA official, secured a young Canadian attorney named Don McCarthy to help register the new office in Winnipeg, MB. Mr. Wilson rode the overnight train from Minneapolis and established the new Canadian ministry, complete with office, furnishings, and a secretary, all in one day.
Since then, Mr. McCarthy has been an integral part of Billy Graham's Canadian ministry, and helped to identify its mandate: to share the Gospel with all Canadians and scatter the seed over a vast landscape.
In 1955, Canada's first Billy Graham Crusade was held in Toronto, ON. More than 7,000 men and women left their seats to stand for Christ while tears rained and prayers ascended to Heaven. Since then, Billy Graham has preached at 13 Canadian Crusades, from Vancouver to Halifax, urging thousands to come to the Savior.
It was in Saskatoon, SK, that Franklin Graham, fourth child and eldest son of Billy and Ruth Bell Graham, first preached on behalf of the BGEA in November of 1983. Invited and encouraged by BGEA's Canadian associate evangelist John Wesley White, Franklin stood before an audience of 1,000 to tell the old, old story. Dr. White continued his encouragement until Franklin's call to preach was sealed six years later in Alaska. Since then, Franklin has preached in many locations around the world, including 16 major evangelistic events in Canada.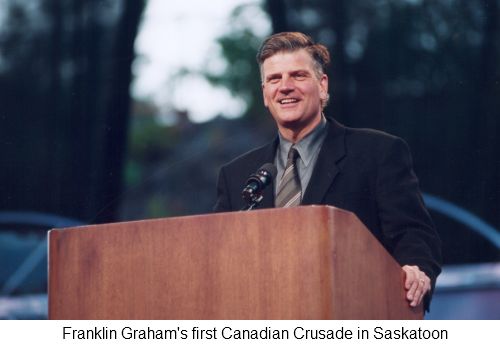 A New Day
After decades of ministry, Billy Graham knew it was time for a successor. "I realized that my ministry would someday come to an end," he said. "I am only one in a glorious chain of men and women God has raised up through the centuries to build Christ's church and to take the Gospel everywhere."
And, indeed, God raised up one to continue the ministry entrusted to his father. "Sons are a heritage from the Lord, children a reward from Him" (Psalm 127:3, NIV). In 1979, Franklin joined the BGEA board of directors. In the same year, he also assumed leadership of Samaritan's Purse, an international Christian relief organization founded in 1970 by friend and mentor Dr. Bob Pierce.
Although Franklin Graham now serves as president and CEO of the BGEAC, he and his father acknowledge God's ownership of all they do. "It is God's organization, not mine," Billy Graham emphasized. "And if we ever lose sight of that fact, God will withdraw His blessing from our work."
Of his son's call, Billy Graham said: "Franklin's appointment not only ensures the continuity of our organization, but it also signals a renewed commitment by the board to the vision for world evangelism that gave birth to the Billy Graham Evangelistic Association."
Here and Now
Franklin's eldest son, Will Graham, has assumed an increasingly important role with the BGEA in Canada – preaching at BGEAC public gatherings in many communities across Canada. There are now three generations of Grahams proclaiming the Good News of Jesus Christ.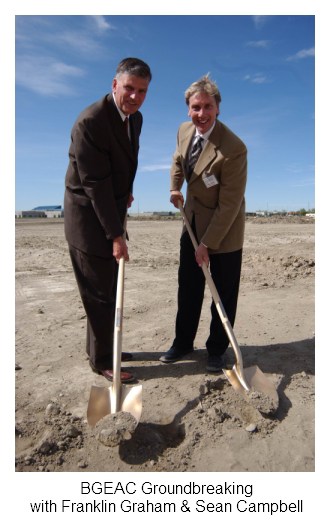 In July 2003, the Billy Graham Evangelistic Association of Canada (BGEAC) moved from Winnipeg to Calgary where it now resides in a ministry center together with Samaritan's Purse Canada (SPC). More than offices and warehouse space, the ministry center is a place where people can come to learn, plan and prepare to take the Gospel of Jesus Christ to a wide variety of cultures and communities in Canada and worldwide.
"The programs the BGEAC has been initiating in recent years – for children, for youth, for adults, or for people internationally, plus the training – I'm so impressed with them," said Don McCarthy, the now-retired Winnipeg lawyer and former BGEAC board member who helped establish the BGEA in Canada in 1953. "There's always something new going on to reach out to Canadians and tell them about Jesus Christ. When I think about it, and I do often, I'm so happy with what the BGEAC is doing today."
Thank You Canada
To this day, faithful Canadian partners, many of them dating all the way back to the very beginning, continue to support the BGEAC through their prayers and gifts. Those who remember the days of Sunday afternoon broadcasts and jam-packed Crusades and the resonance of conviction in Billy Graham's voice smile today at the continuation of God's blessing through the lives of His servants. Their faith and commitment is used by God to feed His Word to a starving world, a work that will continue until the Savior's return.
Through hearts submitted to the power of God, the BGEAC is moving forward in a new millennium. The struggles of the world's poor and suffering are a stark reminder that the Gospel message is the only true and lasting answer. There will be hunger, pain, and thirst. There will be war, anger, and grief. But one thing remains sure: that hope, peace, and salvation are available through faith in Jesus Christ.
Whatever the future holds for the BGEAC, its foundation remains sure, its hope abundant, and its people ready to meet it with boldness, joy, and unwavering faith.
In twilight reflection, Billy Graham admits, "As I look back over the years, I know that my deepest feeling is one of overwhelming gratitude. I cannot take credit for whatever God has chosen to accomplish through us and our ministry; only God deserves the glory, and we can never thank Him enough for the great things He has done."
Of the future, Franklin Graham says, "I just want to be faithful to the same message that he (my father) has been faithful to, and that is the preaching of the Gospel."
Over the past 61 years, BGEA associate evangelists have preached the Gospel at more than 200 Crusades across Canada. Leighton Ford, John Wesley White, and Ralph Bell are among many Canadians who have faithfully proclaimed God's word. Dr. Ford held Crusade events from 1962 to 1990, Dr. White 1964 to 1996, and Dr. Bell 1971 to 2003. Through these events, tens of thousands of Canadians heard the message of salvation and many have responded to the Good News of Jesus Christ.
Billy Graham's Canadian Crusades and other outreach events to date:
Ottawa, Ontario – 1998
Toronto, Ontario – 1995
Montreal, Quebec – 1990
Hamilton, Ontario – 1988
Vancouver, British Columbia – 1984
Calgary, Alberta – 1981
Edmonton, Alberta – 1980
Halifax, Nova Scotia – 1979
Toronto, Ontario – 1978
Winnipeg, Manitoba – 1967
Toronto, Ontario – 1967
Vancouver, British Columbia – 1965
Toronto, Ontario – 1955

Franklin's Canadian Festivals and other outreach events to date:
MARCH 3 – 5, 2017
Greater Vancouver Festival of Hope
Vancouver, British Colombia
SEPTEMBER 12 – 14, 2014
Greater Toronto Festival of Hope
Toronto, Ontario
SEPTEMBER 29 – 30, 2012
Rock the River Ottawa
Ottawa, Ontario
SEPTEMBER 17, 2011
Rock the River – West
Winnipeg, Manitoba
AUGUST 28, 2010
Rock the River Tour – West
Edmonton, Alberta
AUGUST 21, 2010
Rock the River Tour – West
Calgary, Alberta
AUGUST 7, 2010
Rock the River Tour – West
Fraser Valley, British Columbia
OCTOBER 20 – 22, 2006
Central Canada Festival
Winnipeg, Manitoba
OCTOBER 15 – 17, 2004
East Coast Festival
Halifax, Nova Scotia
OCTOBER 28 – 31, 1999
Calgary Festival '99
Calgary, Alberta
OCTOBER 6 – 9, 1996
Kitchener Crusade
Kitchener, Ontario
OCTOBER 26 – 29, 1995
Saskatoon Crusade
Saskatoon, Saskatchewan
SEPTEMBER 8 – 10, 1995
Heart of the Rockies Crusade
Cranbrook, British Columbia
OCTOBER 12 – 18, 1992
Moncton Crusade
Moncton, New Brunswick
OCTOBER 4 – 11, 1992
Fredericton Crusade
Fredericton, New Brunswick
NOVEMBER 1989
Saskatchewan Crusades
Swift Current, Saskatoon, Regina, and Moose Jaw, Saskatchewan
NOVEMBER 1983
Saskatoon Crusade
Saskatoon, Saskatchewan
Will's Canadian Celebrations and other outreach events to date:
OCTOBER 23-24, 2021
London Celebration with Will Graham
London, ON
OCTOBER 16-17, 2021
Sudbury Celebration with Will Graham
Sudbury, ON
OCTOBER 26-27, 2019
Baker Lake Celebration of Hope
Baker Lake, NU
OCTOBER 4-6, 2019
Quinte Celebration of Hope
Quinte Region, Ontario
NOVEMBER 2 – 4, 2018
Celebration Of Hope
Avalon Region, Newfoundland
October 26 – 27, 2018
Celebration Of Hope
Rankin Inlet, Nunavut
NOVEMBER 3 – 5, 2017
Celebration Of Hope
Charlottetown, Prince Edward Island
NOVEMBER 12 – 13, 2016
Celebration Of Hope
Happy Valley-Goose Bay, Newfoundland & Labrador
NOVEMBER 5 – 6, 2016
Celebration Of Hope
Grand Falls-Windsor, Newfoundland & Labrador
NOVEMBER 14 – 15, 2015
Celebration Of Hope
Fort McMurray, Alberta
OCTOBER 16 – 17, 2015
Celebration Of Hope
Whitehorse, Yukon
OCTOBER 15, 2015
Celebration Of Hope
Siksika Nation, Alberta
APRIL 21, 2012
Epicentre Waterloo-Wellington
Kitchener, Waterloo, Guelph, and Cambridge, Ontario
MAY 1, 2010
Epicentre Lethbridge
Lethbridge, Alberta
FEBRUARY 26, 2010
Engage Your World
Ottawa, Ontario
MAY 9, 2009
Epicentre Saskatoon
Saskatoon, Saskatchewan
JUNE 22, 2008
Epicentre Moncton
Moncton, New Brunswick
2008
Will Graham Starfield Tour
Belleville, Ontario; Barrie, Ontario; Newmarket, Ontario; Sudbury, Ontario; Thunder Bay, Ontario; Brandon, Manitoba; Caronport, Saskatchewan; Prince Albert, Saskatchewan; Medicine Hat, Alberta; Lethbridge, Alberta; Lloydminister, Alberta/Saskatchewan; Fort McMurray, Alberta
SEPTEMBER 28 – 30, 2007
Central Alberta Celebration
Red Deer, Alberta
SEPTEMBER 5, 2007
Epicentre London
London, Ontario
SEPTEMBER 30, 2006
Epicentre Victoria
Victoria, British Columbia
APRIL 7 – 9, 2006
Wild Rose Celebration
Leduc, Alberta
OCTOBER 9, 2005
Epicentre Halifax and Saint John's
Halifax, Nova Scotia, and Saint John's, Newfoundland
NOVEMBER 16, 2004
Epicentre Barrie
Barrie, Ontario
Eternal Results
Click here to see the impact of the Billy Graham Ministry over 65 years.