Distraught people around the world are finding a source of strength and compassion in the midst of their pain: crisis-trained Rapid Response Team chaplains from the Billy Graham Evangelistic Association of Canada.
We have a team of more than 150 Canadians who are prepared to deploy in the midst of human or natural tragedy. In the last few years, they have been sent to more than 50 crisis locations in response to tornadoes, floods, wildfires, shootings, terrorist attacks, and civil unrest.
At each deployment, our Rapid Response Team chaplains partner with local churches, then go to work bringing encouragement and, when permitted, prayer and the love of Jesus Christ to people in crisis, to their families, and to first responders.
The chaplains' goal is that as Christians, they "may be able to comfort those who are in any affliction, with the comfort with which we ourselves are comforted by God" (2 Corinthians 1:4, ESV).
In Canada, these deployments have included:
"Often, it's with us that people let their tears fall for the first time," said chaplain Janet Voth. "(Disaster) victims often feel that they have to stay strong for the people around them. It feels like we give them permission to grieve, to feel the pain."
I've been blessed to see the Rapid Response Team chaplains in action. In Fort McMurray, I watched as they simply provided a ministry of presence to residents who stood and stared at the remains of their burned homes and possessions.
During other times in Fort McMurray, chaplains had quiet conversations with residents while volunteers with our sister organization, Samaritan's Purse, sifted through the debris and ashes of their homes, looking for anything that might have survived the blaze.
On one such occasion, Harry, a Fort McMurray oil industry employee who lost his home to the wildfire, told me: "These chaplains are doing a wonderful job. We're probably getting the best counseling possible from them."
Just as meaningful for the chaplains have been overseas deployments. In the past few years, Canadians have travelled to Berlin, Munich, Nice, Brussels, and Paris as part of multinational Rapid Response Teams providing emotional and spiritual support to people traumatized by deadly terrorist attacks.
"So many people were killed or wounded that everyone we talked to either had been directly affected or knew someone who had been," said bilingual Canadian chaplain Laurent Trabadello, who led the Rapid Response Team in Paris after a 2015 ISIS attack killed nearly 130 people and injured more than 350 others.
When responding to these attacks, chaplains spend time in teams at memorial sites, often praying with shocked and fearful friends and relatives of those who were killed.
We often find that grieving people who normally don't acknowledge the existence of God are open to being prayed for, and hearing about the love and eternal hope offered by Jesus Christ. In 2016, this openness led to more than 30 Fort McMurray residents deciding to become Christians or to renew their Christian faith.
Besides bringing prayer and encouragement in crisis situations, our chaplains often play an important leadership and "equipping" role in helping churches and other Christian organizations join in providing practical and spiritual support.
Sometimes, this equipping role inspires churches invite us back to lead training sessions for people in their congregations who feel called to help fellow citizens in crisis. What a blessing this is for us!
Give To Where Most Needed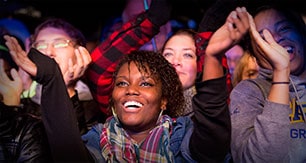 Help us fulfill our mission of proclaiming the Gospel of the Lord Jesus Christ to all we can by every effective means available to us and by equipping others to do the same.