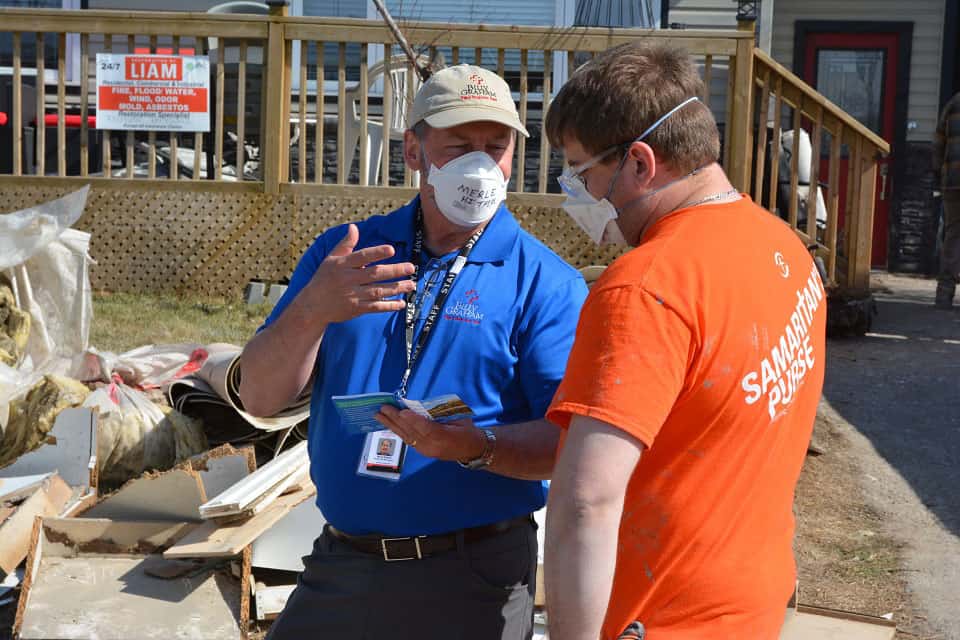 When Connor* began his third day of volunteering with Samaritan's Purse in Fort McMurray, he didn't know that he'd finish it as a changed man.
He was helping out homeowners whose properties had been damaged due to an ice jam on the Athabasca River. Severe flooding ensued, forcing about 13,000 people from their homes.
Dozens of Samaritan's Purse volunteers, including Connor, had been helping 'mud out' families' flooded basements. It was during a much-needed break that Connor and a fellow volunteer approached a Rapid Response Team (BG-RRT) chaplain.
What started as a simple question about the chaplain's role led to a meaningful time of prayer. Connor was surprised at how 'easy' it was to pray and confirmed to our chaplain that he had never decided to follow Jesus.
Using a Steps to Peace with God booklet, the chaplain explained the Gospel to Connor, who was eager to hear more.
"He wanted to make a decision today—right now—for accepting Jesus into his life," reported BG-RRT Manager Merle Doherty .
Upon Connor's return to the basement, he announced to the other volunteers that 'Jesus had knocked on his door and he had opened it to let Him in.' All the mud couldn't dampen the eruption of cheers and congratulations that followed.
In Canada and also internationally, BG-RRT chaplains are on the frontlines of the emotional and spiritual battles caused by disasters. Those impacted are often left reeling from the trauma they've experienced. Trained BG-RRT chaplains from the Billy Graham Evangelistic Association are on their doorstep—figuratively and literally—to offer encouragement, hope, and prayer.
"Fort McMurray has been emotionally devastated," said Doherty. "From the forest fires exactly four years ago, to the recent economic downturn due to the drop of oil and gas prices, to the COVID-19 pandemic, and now—the flood."
It's the sort of city where BG-RRT chaplains shine the light of Christ in every house they enter: "You are the light of the world. A city set on a hill cannot be hidden. Nor do people light a lamp and put it under a basket, but on a stand, and it gives light to all in the house" (Matthew 5:14-15, ESV).
The donations and prayers of people like you are what open the doors for this life-changing ministry to happen. Please join us in these eternal efforts.
*Name has been changed for privacy
Give To Rapid Response Team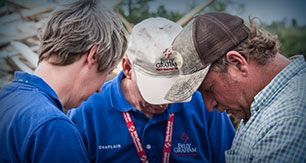 Your gift will provide for the training and deployment of our Rapid Response Team chaplains, who are deployed when natural or man made disasters strike in Canada and abroad. RRT chaplains serve and support hurting people affected by crisis, and share the message of hope found in Jesus.