We are seeing more and more disasters in Canada and we are not as immune to them as many Canadians may think. As believers, it is our responsibility to be "ready" to share the reason for our hope, especially when times are tough. And that can apply to anyone in our realm of influence. We will all face loss, illness, divorce, addictions, and everyday life traumatic events, but the question remains: ARE WE READY?
Do we know what to say and what not to say? Do we know how to appropriately share God's love in a way that will bring healing and restoration to those in need? Or are we going to stand back and be silent because we don't know what to do? It is our duty as God's ambassadors to "be" there for those we love most in their time of need. Learn more about training opportunities.
Rapid Response Team chaplains are specially trained volunteers who respond to community-wide disasters or personal crises, serving as the hands and feet of Jesus to those who are struggling in the midst of difficult situations.
Our chaplains have been deployed to many hurting Canadian communities.
Rapid Response Team – National Deployments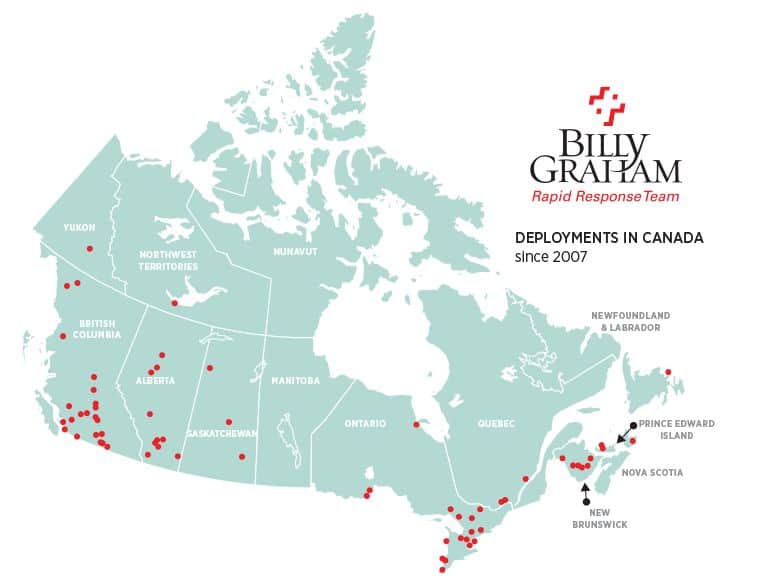 Billy Graham Evangelistic Association Rapid Response Team chaplains come alongside to minister to the emotional and spiritual needs of hurting people. Here are the crises where Rapid Response Team Chaplains have served:
Hurricane Katrina 2005
Terrace BC, Flood 2007
Abbotsford BC, Floor Collapse 2008
Fredericton NB, Flood 2008
Chilliwack BC, Flood 2009
Vancouver BC, Olympics 2010
Leamington ON, Tornado 2010
Medicine Hat AB, Flood 2010
Bonavista NL, Flood 2010
Burt's Corner NB, Flood 2011
Noyan QC, Flood 2011
Slave Lake AB, Fire 2011
Goderich ON, Tornado 2011
Perth Andover NB, Flood 2012
Thunder Bay ON, Flood 2012
Huntsville ON, Flood 2013
Minden ON, Flood 2013
Sussex Corner NB, Flood 2014
Belleville ON, Flood 2014
Melville SK, Flood 2014
Burlington ON, Flood 2014
Calgary AB, Operation Christmas Child CONNECT Conference 2015
Operation Christmas Child Alberta Regional Areas Retreat 2015
Ottawa ON, Truth and Reconciliation Commission 2015
Cache Creek BC, Flood 2015
Calgary AB, Operation Christmas Child Christmas in July 2015
Siksika First Nation AB, Memorial Service 2015
Ferguson MO, One year anniversary of Michael Brown shooting 2015
Blairmore AB, Blanchette Memorial Service 2015
Red Deer AB, Bott Memorial Service 2015
Aberdeenshire, UK, Flood 2016
Houston TX, Flood 2016
Abbotsford BC, Murder 2016
Lil'wat First Nation BC, Flood 2016
Vancouver BC, Festival of Hope 2017
No Greater Love Music Festival, Morley, AB 2017
No Greater Love Music Festival, Cochrane, AB 2018
Gatineau QC, Flood, 2019
Renfrew County ON, Flood, 2019
Paddle Prairie AB, Fire, 2019
Cochrane AB, No Greater Love Music Festival, 2019
Atlantic Canada, Hurricane Dorian, 2019
Thunder Bay ON, COVID-19, 2021
Attawapiskat ON, COVID-19, 2021
Kelowna BC, Crane Collapse, 2021
Vernon BC, Wildfire, 2021
Lytton and Cache Creek BC, Wildfire, 2021
Faro YT, Shooting, 2021
Abbotsford BC, Flooding, 2021
Merritt BC, Flood, 2021
Morinville AB, Church Arson, 2021
Fort Smith NWT, Murder and Hostage Taking, 2022
Ottawa, ON, Trucker Protest, 2022
Hay River NWT, Flooding, 2022
Innisfil, ON, Police Shooting, 2022
Edmonton, AB, Police Shooting, 2023
Ottawa, Calgary, Kelowna, Regina, Ignite Prayer Events, 2023
Nova Scotia, Wildfire 2023
Calgary AB, Fatal Plane Crash 2023