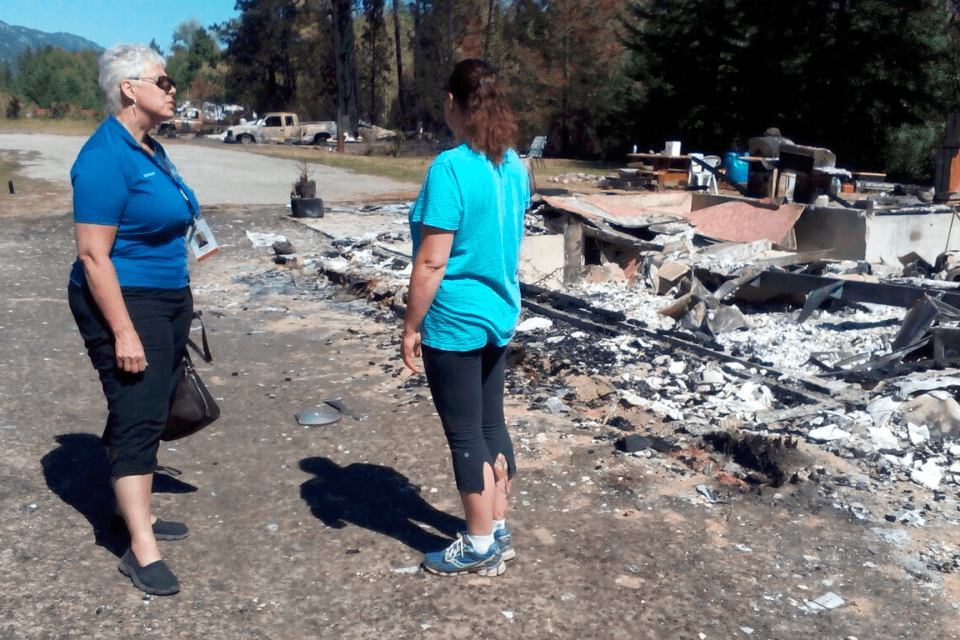 Piles of rubble where homes once stood—and the heavy lingering haze of the wildfire that tore through the region—are all that remain for dozens of families in southern British Columbia.
The region has been hit hard by wildfires that swept across the U.S. border from Washington state. The wildfires have destroyed more than 30 homes and damaged others around Oliver and Rock Creek.
The emotional toll for those facing the loss of their homes and possessions is overwhelming in an area where many homes have belonged to families for generations and are, in most cases, uninsured.
The Billy Graham Evangelistic Association (BGEA) sent 7 specially trained volunteer Rapid Response Team (RRT) chaplains to southern BC to offer prayers, comfort, and support to those facing loss and trauma from the wildfires.
RRT Chaplains were onsite and supporting Samaritan's Purse Canada teams, first responders and the affected community. They prayed for 69 individuals and 67 volunteers. One person also rededicated their life to Christ.
"It's been tremendously difficult," says RRT chaplain coordinator Patricia Kanswicher. "Most of the people who have lost their homes have lost everything, and they don't know how to begin again."
Some of the homes destroyed by wildfire were built by the current owners' grandparents or great-grandparents—making the loss especially painful.
Kanswicher notes one woman has been hit especially hard.
"There was one elderly lady who lost her husband about a month ago. The fire came and took away the mobile home where she lived with her husband and all of it's gone—all the memories. We prayed with her, (and) even though she said she doesn't believe in prayer, she welcomed it."
Kanswicher says conditions after the fire remain difficult, and there are many people who still haven't returned from a forced evacuation of the region to see what—if anything—remains of their homes.
"There are mountainous ridges to the north and south in Midway (the community where Samaritan's Purse's Disaster Response Unit and RRT chaplains are temporarily stationed)," she says. "The past few days, we haven't been able to see those mountains (due to the smoke), and helicopters haven't been able to fly to fight the fires."
Also, Kanswicher notes, "those who didn't lose their homes saw their livelihoods deeply impacted. Some people lost workshops and others lost livestock in the fires—one woman lost 6,000 chickens. That's devastating. How do you replace that?"
Please pray that the Lord would comfort and strengthen families affected by the fires.

Give To Rapid Response Team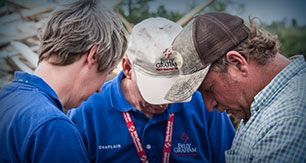 Your gift will provide for the training and deployment of our Rapid Response Team chaplains, who are deployed when natural or man made disasters strike in Canada and abroad. RRT chaplains serve and support hurting people affected by crisis, and share the message of hope found in Jesus.