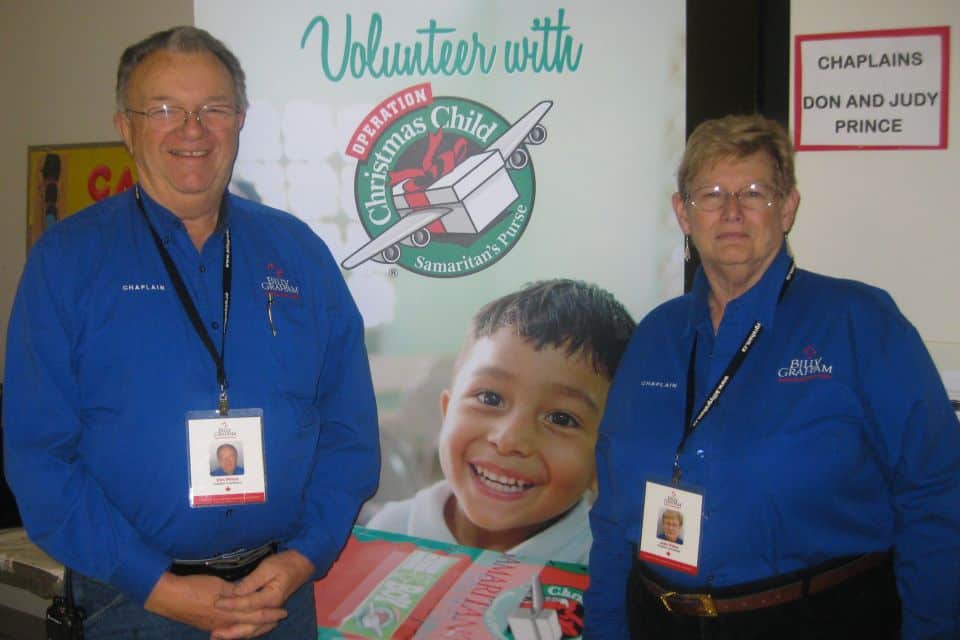 From Melville to Belleville and many communities and crisis in between, Billy Graham Rapid Response Team (RRT) chaplains Don and Judy Prince have helped Canadians through some of the most difficult times in their lives.
These days, however, you can find the couple under the 'palm trees' at Samaritan's Purse's Operation Christmas Child shoebox processing centre in Kitchener, ON.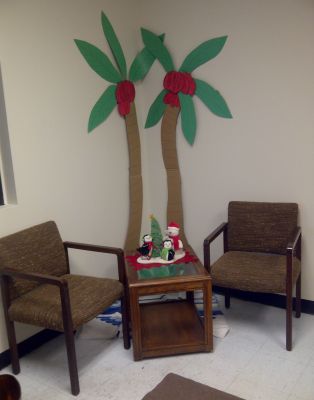 'Meeting under the palm trees,' which began as an inside joke last year between the couple and processing plant managers, has become an easy-to-see meeting place for anyone who wants to pray or talk with the chaplains.
"It's a good place for some relaxation, under some imaginary trees," says Judy of the cardboard trees with green paper leaves and hand-painted red coconuts. "One day when it was really cold here we had a volunteer mention that we should add a heat lamp to that."
Don adds with a chuckle, "We've had people say it's warmer sitting there."
The warmth shared by Don and Judy—who worked as a pastoral couple for 32 years—has been felt for many years by staff and volunteers.
Since taking the RRT training through Billy Graham Evangelistic Association in 2006 the couple, along with more than 250 rapid response chaplains across the country, has been providing prayer and support to Samaritan's Purse staff, volunteers and victims during times of disaster or crisis
In recent years, the Princes have been on the front lines to support disaster victims and Samaritan's Purse recovery workers after flooding in Melville SK, Belleville, Huntsville and Thunder Bay ON, as well as High River AB and the Siksika First Nation southeast of Calgary after the historic 2013 floods.
"Deployments can be very tiring and we're there to provide emotional and spiritual support for staff," said Don. "In every one of these deployments what's always amazed us is the hope people (in the midst of tragedy) have. We try to plant hope in the hearts of people even amidst a disaster."
While being a chaplain in a shoebox processing center might look a little more calm than being at a tragedy or disaster, the Princes say it can be a trying time of year for staff and volunteers with the hectic pace of the Christmas season on top of personal issues they may be facing.
Don says between 2009 and 2013 they responded to more than 600 prayer requests, most of them coming by way of a prayer request box near the volunteer entrance and sign-in area.
"That's a lot of prayers over the last few years," said Don. "Whenever we pray for anyone, we always keep track of those prayers."
While many of the volunteers—and all of the employees—at the processing centre are Christians, the Princes say those who aren't see something special that usually brings them back.
"Often the people who come that aren't Christian really notice the harmony of the workplace, and that really touches people. A lot of them catch that, and that's why they want to come back," said Don.
"People want to know what's different here and the odd time that leads to a deeper conversation, where we can explain that we're all serving Christ in different ways under this umbrella, and we want to share His love."
Give To Rapid Response Team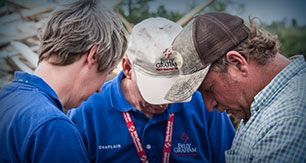 Your gift will provide for the training and deployment of our Rapid Response Team chaplains, who are deployed when natural or man made disasters strike in Canada and abroad. RRT chaplains serve and support hurting people affected by crisis, and share the message of hope found in Jesus.