Heaven is a 30-minute film that features the very latest message from Billy Graham. It includes compelling stories and testimonies from Monique Lépine and firefighter Cheyane Caldwell.
Monique Lépine is the mother of Marc Lépine, the perpetrator of the Montreal Massacre. Monique shares her testimony and faith story in Decision Magazine.
Watch the English version of Heaven with testimonies from Laurie Coombs and firefighter Cheyane Caldwell.
Click here to visit Mon Espoir avec Billy Graham
Dear Heavenly Father, I know that I'm a sinner. And I ask for your forgiveness. I believe you've died for my sins and rose from the dead. I turn from my sins. I repent of my sins. I invite you to come into my heart and life. I want to trust and follow you as my Lord and Savior. In Jesus' name, Amen
Did you pray this prayer today or do you have a question about a relationship with Jesus Christ?
Give To My Hope Canada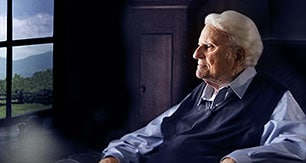 Your gift will help Christians share Jesus with their friends, family, and neighbors through My Hope, a series of Gospel videos featuring powerful testimonies and life-changing messages from Billy and Franklin Graham.